As in-person gatherings are cancelled in response to the COVID-19 pandemic, South Puget Sound Community College (SPSCC), is continuing to introduce new and prospective students to academic programs, resources and student life through alternative mediums. Despite the inability to gather in a traditional sense, South Puget Sound Community College is conducting a Virtual Open House Week, from June 1-7. With a multitude of remote sessions scheduled throughout the week, participants have the opportunity to learn about financial aid options, pathways of study, college athletics and student groups.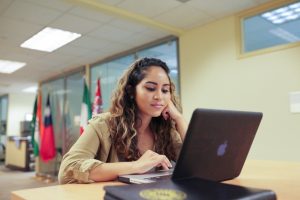 The SPSCC Virtual Open House is the first week-long event in a series of three that are set to take place throughout the spring and summer. In response to the COVID-19 pandemic, the SPSCC outreach team sought out potential open house options that would still provide information to students while also complying with social distancing guidelines. After researching the methods of fellow colleges, SPSCC plans to model their virtual sessions after similar virtual open house offerings at The University of California, Berkeley.
Inspired by UC Berkeley's virtual open house, new and prospective students will have the opportunity to participate in presentations and interactive question and answer sessions over Zoom. Erin Rust, an outreach and admissions specialist at SPSCC, says that organizing the Virtual Open House Week has been a true team effort from the outreach department. Working remotely, SPSCC staff has worked around the clock to offer a wide array of sessions to new and prospective students.
"We are pretty good at working on our toes and being really flexible," explains Rust. "So, I think everyone's been really great about responding quickly and trying to get everything put together in such a short amount of time."
Although conducted in an online forum, Rust says that the SPSCC Virtual Open House Week will provide similar information that would be presented in an in-person setting.
"Unfortunately, we can't be with each other in person, which is the most engaging and available way," says Rust. "Some people are a little intimidated by technology or don't know how to use it, so we're trying to make this as flexible and inclusive as possible, like we would do at an in-person open house."
Open house participants will be able to choose from a diverse list of sessions that span academic, financial and recreational aspects of the college. Each live session will be conducted via Zoom. These virtual conferences will allow new and prospective students to interact with college faculty and staff while also allowing time for questions. Certain sessions may be more interactive, allowing students to speak directly with session leaders. Other meetings may be more "presentation style" where students listen in and can ask questions via Zoom's chat function.
Throughout the SPSCC Virtual Open House Week, several sessions will cover topics relevant to new and prospective SPSCC students.
To learn more about registering as a student at SPSCC, there will be Steps to Enroll: Live Admissions Info Session.
In Placement Options & Assessment Made Simple, new and prospective students can learn more about placement testing and the options available to fit each student's academic goals.
There will also be several virtual campus tours conducted throughout the week, where SPSCC faculty and staff will guide participants through the features and resources available on campus.
Running Start students and parents will have an opportunity to learn more about the program and the registration process through the Virtual Running Start Info Session.
Through De-Mystifying the Transfer, students can gain firsthand insight from outreach and admissions staff on how to transfer college credits or request transcripts.
For more information on how to pay for college, especially during the COVID-19 pandemic, there will be several sessions that outline college funding, including the Overview of CARES Act, SPSCC's Emergency Relief Funding.
Incoming students can also learn more about the diverse identity and cultural groups on campus through Cultivating Community: How SPSCC Supports Its Diverse Student Body.
With international students in mind, several sessions are dedicated to new and prospective students joining the college from overseas. International students can gain insight about admission and campus life through Introduction to SPSCC and International Student Admissions Process, which will be conducted in both English and Japanese.
Adult returning students will also have the opportunity to receive an overview of transition studies at SPSCC, including Adult Basic Education, I-BEST, English as a Second Language Courses and the High School+ program.
In addition to academic information, interested participants will have the opportunity to interact with college coaches, including basketball, volleyball and soccer, to learn more about becoming a student athlete at SPSCC.
With such a diverse menu of session options, the SPSCC Virtual Open House Week is a unique opportunity not just for new and prospective students, but also for current students who want to learn more about certain college resources or programs.
In this unprecedented situation, Rust says it has been both exciting and humbling to organize virtual open house options. Through creating these alternative offerings, the outreach team has learned new methods of reaching students where they are at, cultivating a sense of SPSCC community via computer screen. "It's really exciting," says Rust. "Because technology has advanced so far that 10 or 15 years ago, we would just be out of luck and we wouldn't be able to reach students with the resources that we're able to right now."
The SPSCC Virtual Open House Week will take place Monday, June 1 through Sunday, June 7. Multiple sessions will take place throughout the day, from morning until early evening. To access virtual sessions, it is recommended to RSVP online. For more information about the SPSCC Virtual Open House Week or to RSVP, visit the South Puget Sound Community College website.
Sponsored