Submitted by WET Science Center
This week's WET Science Center Science Time is "Following the Water". From groundwater to the Salish Sea, how does water move through our watershed and urban water cycle? Monday through Saturday we'll post a new science activity on our Facebook and Instagram. Our activities will highlight our watershed, and are suitable for grade school through middle school students. Share with us a photo of how you learned about your watershed for a chance to win a Green Science Clean Water Science Kit!
Monday – Make a groundwater model and watch what happens when it rains.
Tuesday – Dig in with an edible aquifer
Wednesday – Explore a watershed with South Sound Green.
Thursday – Test what happens when oil goes down the drain.
Friday – Enjoy a virtual Puget Sound beach walk with Harbor WildWatch.
Saturday – Learn about your daily water footprint.
Wait, what is an urban water cycle?
Do you know where the water in your home comes from?  If your answer was the faucet—it's a little more complicated than that! In Thurston County, your drinking water mostly likely comes from aquifers underground. The water is pulled up by pipes and sent to your home. Once you use that water, it becomes wastewater and moves through pipes to a wastewater treatment plant or a septic tank. Our local treatment plant, LOTT Clean Water Alliance, treats the wastewater before sending it to the Salish Sea.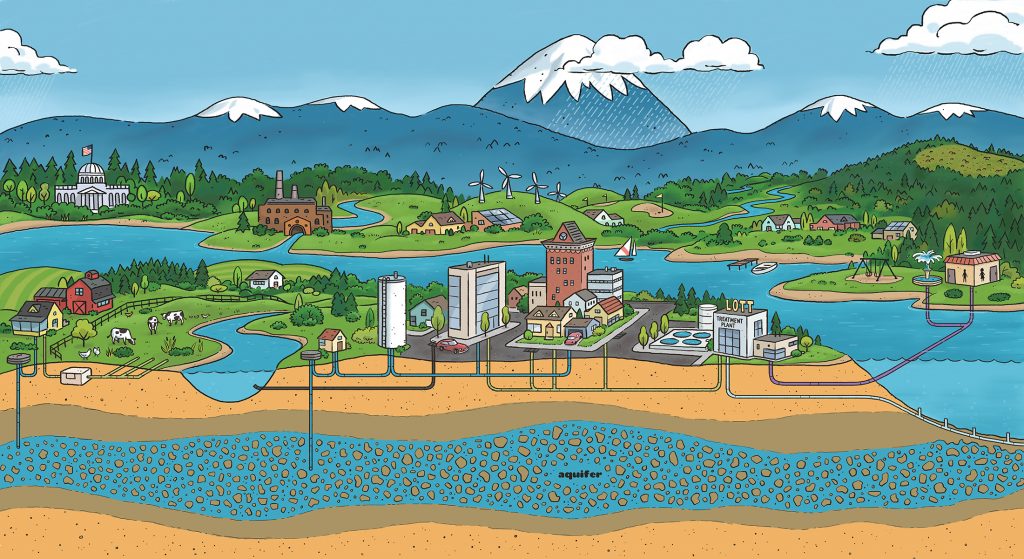 Puget Sound and the Salish Sea are important to us all. The water we use and the way we use it impacts everyone and everything that calls the Sound its home. Check out our page "About Our Water" for more about the Urban Water Cycle and how you can protect Puget Sound.
More fun with the WET Science Center at home
There's still time to play our At Home bingo! Have you completed yours yet? Visit our website for instructions and to get started. For a printed version, email us at info@wetsciencecenter.org.
Find out how much water you use in one day with our at-home water tracker. You may be surprised by how quickly it adds up! The average American family uses 300 gallons of water per day at home. Do the math to see how you compare. Then, find out ways to save from the EPA's "How we Use Water."