A few years after the pandemic of 1918, the Acme Fuel Company was formed. The business has seen a lot in its 95-year history. Throughout everything, its goods and services remain essential. Just like eating, heating is an essential basic need, and Acme Fuel has been looking after our community in this way for nearly a century. No wars, no embargos, no pandemics have kept them from fueling our tanks. At home, and in our automobiles and machines, this Thurston County and beyond supplier of propane, heating oil and gasoline provides comfort in times of uncertainty by keeping our hearths warm.
Stories of Trying Times
Tom Allen Jr., the second of the three generations that have made up this family business, recalls the 1973 oil embargo and says it was "extremely hard to find product." He recalls that Acme just barely made it. Through impressive perseverance, the company was able to continue acquiring products, but Allen remembers that "It was really, really tight."
That wasn't the only time Acme had to scrape by for their customers. In 1938-1939 heating oil had just come onto the market. It was swiftly removed, because by 1942 and until 1945, all of the Nation's oil went toward the war effort. Acme offered furnace installation at that time, and Tom Allen Jr. remembers his father, Tom Allen Sr., saying they "had 65 customers, just waiting for furnaces and heating oil." Acme and their customers remained patient, and at war's end, it was business as usual.
And speaking of business, another time that came to Tom Jr.'s mind was Y2K, and the business of the zeros and the ones. That fearful time of watching the calendar rollover to January 1, 2000, had many businesses uncertain about what computers would do. Would the power go out? Would everything just stop working? Tom Jr. says many businesses were installing portable generators in preparation and Acme was out there delivering massive amounts of fuel. "We were able to take care of them all," he says, "But it was a lot of work."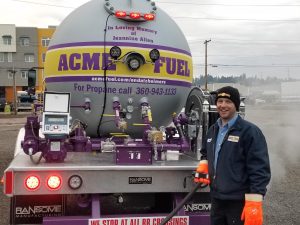 The Story Continues
No stranger to hard work, the story that Acme will tell the next generation from this pandemic time is one similar to stories of their past. They've adapted to the collective crisis, and continue to make sure no one is left cold.
While many of us are staying safe at home, Acme Fuel drivers are out making deliveries. Fuel deliveries have been up for this time of year as Washingtonians abide by the "Stay Home, Stay Safe" order. A Pacific Northwest spring is one of the loveliest that can be found, but there's still a chill in the air and propane, heating oil and gasoline are necessities. Fortunately for consumers, oil and gas prices have fallen, making them lower than what Todd Deck, Acme Fuel's general manager, ever thought he'd see again in his lifetime.
Fuel drivers are able to safely fill tanks in a contactless way, and though they aren't mentioned much in the media, have joined the ranks of the heroes that continue to step up during the COVID-19 crisis. Delivery drivers do a very important job and it is because of their bravery and dedication that we continue to get our basic needs met. Fuel drivers are no different.
Acme has adapted to the current crisis in other ways, too. Most of the office staff—save for Todd, his Operations Manager Mike, and maintenance man Jayson—have been working remotely from home. Acme's Facebook page adds to the fray of teleworkers sharing cute and quippy content about their "new coworkers" (otherwise known as pets and children) along with other important updates like the renovation status of the currently closed Lilly Road Fast Fuel Station where construction is scheduled to be completed by June 1 or before.
Staying Updated
At Acme's Fast Fuel stations, with the downtown location being the only one currently open, there are disposable gloves available for fueling up to keep you safe.
Propane dispenser sales are back in action Monday-Friday, 10:00 a.m. to 2:00 p.m. for those needing to re-fill their barbecue, RV and portable propane tanks. Ring Acme's bell at the back of the office and wait behind the white line for an Acme employee to come out and fill your tank. Cash is not accepted at this time and propane must be paid for with a credit card.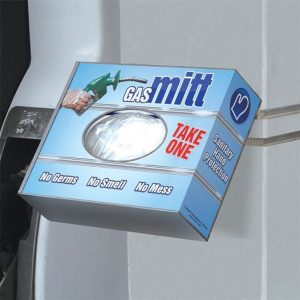 With Washington readying to embark on its slow phase re-opening of society, outdoor enthusiasts are looking forward to getting back into parks and on the water. Acme has non-ethanol fuel available for boats, vintage cars, recreation vehicles, lawn equipment and any small engine that needs this more efficient fuel.
Supporting Other Essential Businesses
Acme has been working hard to meet the needs of the community. Once a year, they deliver fuel in bulk to Providence St. Peter's Hospital to insure their generators remain full and operable.
They've supported the efforts of 8-10 food trucks several times a week supplying propane to keep the fires of takeout lit. The same goes for restaurants and their propane needs. Acme provides the fuel for the takeout food that both comforts and sustains us.
They also supply propane to the ultra-essential business of fire protection and keep the propane tanks full at all South Bay Fire Department stations.
In Gratitude
During a pandemic, there is a lot to complain about. But, there's also a lot to be thankful for. Todd has been processing the mail and payments that have been coming into Acme's office and remarks on the unprecedented number of little notes of gratitude customers have been sending in with their payments. "Thank you for being there for us," one customer writes. "Thank you for delivering our fuel," says another.
Over the years, Acme Fuel Company has steadied and readied our community through times of uncertainty. In lean times, frightening times, and prosperous times, Acme has soldiered on in the fight for survival. They will continue to do so, with a smile even, because that's what it means to be essential in trying times.
Sponsored