Submitted by Penrose & Associates Physical Therapy
COVID-19 did give us one blessing: time. What are you doing with your time to get rid of aches and pains? We are helping people via Telehealth and the results have been amazing!
Due to COVID-19 we are having to offer more Telehealth visits than in person visits at our clinic. The results have been amazing! One patient I will call Mary was having back pain and hip pain and was unable to walk more than 1 mile. She was so frustrated. She thought she would have to wait until COVID-19 passed before coming to physical therapy or getting any help. She was so surprised that I could assess her movements over video, take a detailed history, and tell her exactly what was causing the pain and what to do about it.  She was able to ask as many questions as she needed and felt heard, understood, and was grateful for the honest explanation of her pain. Truly, physical therapists are movement analysts so as long as we can watch you move over video and communicate clearly we can solve the problem. Now after 4 Telehealth visits Mary is walking 3 miles with no pain, no pain with sitting, no pain with sit to stand movements or cleaning the house etc. We are still meeting over Telehealth to upgrade her home exercise program safely.
I understand that most people prefer "in person" visits but Telehealth is a great option for our 65+ crowd and those at risk for COVID. We are delivering the same outcomes in person or via Telehealth. In fact, it is very convenient to stay home and not have to travel to an appointment. And right now what choices do you have?
The other thing we are discovering delivering Telehealth services is that many people are doing more sitting activities: zoom, TV, reading, crafting, sewing masks causing more back and neck pain. OR if they don't idle well and they are using new muscles and doing yardwork projects, new exercise routines, or house projects and back pain is on the rise!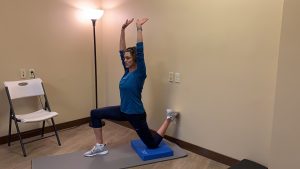 If you are one of those people then reach out and don't continue to suffer!
Many times people stop activities and exercise because it hurts. However, less exercise leads to more weakness and stiffness and thus more pain. It becomes a cycle. If you are stuck and want some help then reach out to us! If you are having trouble with knee pain, back pain, shoulder pain or something else we are happy to help you figure out how to get back into an exercise routine without causing more pain. We can help you figure out which exercises would be best and maybe some that you "googled" could be causing harm or too much strain on the joints.
There have been numerous studies to show Telehealth and patient satisfaction is very high. Click here to read a great study. 
Please visit the Penrose & Associates Physical Therapy website to download a free tips report on back pain, knee pain, shoulder pain, balance, osteoporosis and more!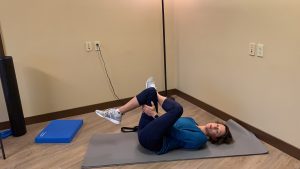 We have a free full body stretching class and a free low back pain beginner's Pilates type class during May and June.  Please reach out for details info@penrosept.com.
We will have a free low back workshop coming up so please reach out for details!
The author, Jennifer Penrose, is a Doctor of Physical Therapy and owner of Penrose Physical Therapy. The entire team at Penrose is committed to listening to you and achieving results. If you have any questions you can call 360-456-1444 or by email at info@penrosept.com.
We are located in Lacey in Hawks Prairie across from Big 5 Sporting Goods and Walmart at 1445 Galaxy Dr. NE Lacey WA 98516.