Of the 81 confirmed cases of COVID-19 in Thurston County as of this writing, just a handful are in Yelm, a fact Mayor JW Foster acknowledged during a virtual Town Hall on April 8. "I want to spread a message of good news because we are doing a great job," he said. "I've seen a great response from the community in physical distancing and practicing good hygiene, and it seems to be working. We have very low numbers of actual cases in the Yelm area."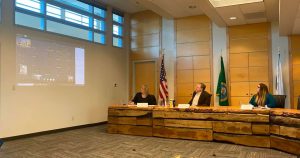 The event was one of a series of collaborative efforts between the city, Yelm Chamber of Commerce and Yelm Community Schools to keep residents and the business community informed about how the virus is affecting civic life and what options exist for those who need support. Previously the city and chamber hosted two Virtual Business Community Conversations.
While most city employees are working from home, public services are up and running, Foster noted. "It took us a little while to get our electronic feet under us, but our services are continuing. You'll see police officers on the streets, and we have Public Works people out taking care of things like basic infrastructure and lawn maintenance."
One participant asked whether the city would continue to charge for utilities during the crisis. The answer was yes, but without any late charges or interest accrued. "Please pay them as you can," said Foster. "Without that, community services cannot continue because we don't have a reliable revenue stream. But don't worry about your water being shut off. We're going to work with you to get through this."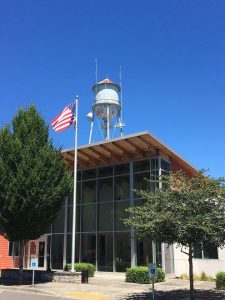 Both the city and the chamber websites host a multitude of resources for businesses, including the newly established Business Resource Hotline (888.821.6652) at the Thurston Economic Development Council.  Yelm Chamber Executive Director Line Critchfield noted that a recently elected board of directors would be taking a hard look at the ways the chamber could support the business community, including the creation of a Business Economic Recovery Task Force. "It's a group of individuals who are committed to seeing Yelm thrive at the end of this," said Critchfield. "We want our business community to know that we're committed to weathering this storm with them."
Many Yelm businesses have adapted their service models in the face of the virus. The Facebook page Yelm to Go provides a listing of the local restaurants now offering curbside service and delivery, including Yelm Cinemas, which has begun offering curbside movie theater popcorn.
"They sold 400 buckets in an hour, including one to a couple dressed to the nines and making the most of celebrating their anniversary," says Critchfield. "We've seen collaborations like Twister Donuts moving into the Shiplap Shop and Coffeehouse. If there's anything that we've learned during this, it is how quickly our businesses and our business community can adjust and adapt to these changing environments."
Foster, a retired firefighter/paramedic, praised local medical and emergency response personnel and passed on their request. "I asked the firefighters, you're out there on the frontlines, along with nurses and so many others, so what can we do to help you?" he said. "Do you know what their message was to me? Stay home. Don't become part of the problem, be part of the solution."
He also gave kudos to the volunteers who are doing everything from sewing masks to delivering food at one of Yelm Community Schools' local distribution points. "My friend Debbie Edwards made me this mask," he explained, "and it works great, except that it's important not to wear it when I come into the house because it scares the dog."
While staying home is vital, parks and trails throughout Yelm are open for those who want to go for a walk or bike ride while practicing physical distancing. It was a decision Foster made early to allow residents an opportunity to get outside. "We put out messages that you can play on the playground equipment at your own risk because we aren't able to wipe it down between uses, and I've seen most people being very smart about it," he said. "A group of people kicking a soccer ball around on a field is fairly safe, healthy exercise. We should continue to do things like that – walk on trails, ride your bikes, just be safe and stay physically distant."
Finally, Foster announced the establishment of the Yelm Community Relief Fund, a fund he and his wife Nicki have established in partnership with the, American's Credit Union (ACU) and TOGETHER!, a non-profit focused on health and wellbeing for young people. "My wife and I were talking the other day about how fortunate we are to have a reliable income through this," he explained. "We don't see a particular need for that relief check that's going to be coming in, so how could we best spend that locally to support folks?'"
Anyone can donate to the fund by cash or check through ACU by making a note that their deposit should go to YCRF. Funds will be held in trust within the ACU Foundation, and those who apply can receive up to $500 of immediate relief if they can demonstrate that they're experiencing financial hardship because of COVID-19. "There will be a form to fill out with a few questions, you'll need a couple of pieces of documentation, and we'll give you a check," says Foster.
Those who seek support can apply online or visit facebook.com/thurstontogether to learn more. For all other questions, visit the City of Yelm's website.
Sponsored