During this time of social distancing, South Sound residents may not have the opportunity to gather in person, but the Lacey Parks & Recreation Department still wants to provide enriching educational, fitness, and artistic outlets for children, adults, and families. They are accomplishing this through a new virtual setting. With offerings created both by Lacey Parks & Recreation staff and curated from outside organizations, the department has created a Play at Home web page to help residents engage, play and learn something new while at home. Launched in April 2020, the Play at Home page offers a variety of resources from at-home painting projects to virtual aquarium tours, with even more selections to come.
As students are learning from home and as Washington State residents are practicing physical distancing, Lacey staff wanted to maintain connections with local residents and a sense of normalcy by still providing educational and entertainment outlets.
Jordanne Beasley, recreation coordinator for Lacey Parks & Recreation, says the Play at Home page is a way to bring activities to the people, since people can't currently attend in-person classes that are typically hosted by Lacey Parks & Recreation. "Our department was and is passionate about continuing to be there for our community," she says. "And with everything that's going on, we wanted a way to show people we're still here, we're proactive and we wanted to continue to provide quality services during this time."
Under the Play at Home web page, there are six categories, each containing links to various projects and activities that can be completed at home. Categories include, Arts & Crafts, Entertainment, Fitness & Fun, Kids Activities, Virtual Tours and Iso-PLAY-tion.
Under the Arts & Crafts category, visitors can find content related to literature, baking recipes and craft tutorials. Projects abound from learning how to make a face mask and baking banana chocolate chip muffins to creating a pine cone bird feeder.
The Fitness & Fun tab is a chance to get active with links to exercise libraries for all ages and experience levels, from beginner tutorials to fully body workouts.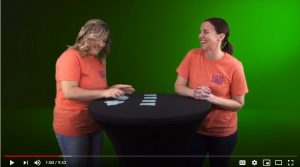 Entertainment options include previous performances from Lacey's Tune In Summer Concerts In the Park series and recordings of past special events, like the Reptile Man.
The Kids Activities category lists links to garden-themed crafts, dance tutorials and science experiments to help supplement at home learning.
Through the Virtual Tours section, site visitors can travel to zoos and aquariums across the country via computer screen.
Videos listed under Iso-PLAY-tion are created and produced by Lacey Parks & Recreation staff. Composed of short videos ranging from 5-30 minutes in length, each video covers a different craft, game or fitness activity also led by Lacey employees. With additional videos set to be released, Iso-PLAY-tion's current playlist includes a pour art tutorial, a simple Pilates routine, how to play the card game Speed and variations on a game of catch.
"Iso-PLAY-tion specifically features our staff and ideas that we were coming up with or wanted to share with people to continue to engage with our community and really highlight that we're still here, we miss you and we hope that this can help during this time," says Beasley.
Play at Home Challenge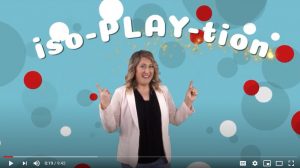 Also linked on the Play at Home web page is a printable Play at Home challenge worksheet. Children and families can fill out worksheets as an encouragement to try new activities while documenting completed projects. The worksheet also shares space for kids to write what they liked or learned from each activity. "We created a work sheet because we wanted to add a fun learning aspect that could be incorporated in some of the lessons or schoolwork that parents are completing with their kids while school is out," explains Beasley.
For Lacey Parks & Recreation staff, it has been both challenging and exciting to offer alternative recreation options. Although the Lacey Parks & Recreation is not able to host activities in person at this time, the department wants to continue to connect with residents in a virtual setting while continuing to provide entertainment and educational resources to children, adults and families.
"While it's not in the same capacity that we've done before, we still hope that this can be a resource and outlet for people to use and to have fun and to continue recreating while they're at home with their family," says Beasley.
To learn more about Lacey's Play at Home web page and for a full list of Iso-PLAY-tion videos, visit the Lacey Parks & Recreation website.
Sponsored