Many graduating high school students find themselves faced with increased uncertainty during this time as their plans for graduation and college have all been impacted by the COVID-19 pandemic. Dr. Pamela Holsinger-Fuchs, Saint Martin's University's dean of enrollment, shares that Saint Martin's University has made some changes to its admissions process to help make the path to college during COVID-19 a bit easier.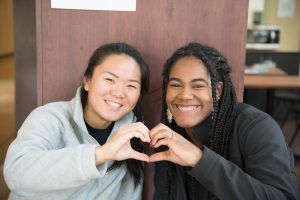 A Catholic, Benedictine university, Saint Martin's counts among its core values hospitality and listening. Holsinger-Fuchs, who oversees both undergraduate and graduate admissions, says she and her staff have been listening to the concerns of high school students and their families, especially questions about application requirements that still need to be met, ways to learn more about the University while social distancing, and deadlines to decide.
Modifying Application Requirements
Many testing sites have had to cancel ACT and SAT testing with the current COVID-19 pandemic, so students that have signed up for those tests late in the year will not have SAT or ACT scores. For those reasons, Saint Martin's is making ACT/SAT scores optional. About 40 percent of students at Saint Martin's are first-generation college students. Says Holsinger-Fuchs, "Many first-generation college students tend to take college entrance exams later in their senior year, so the University doesn't want canceled exams to be a barrier to higher education."
For the time being, Saint Martin's will also accept unofficial transcripts and grade reports. With schools closed and learning moved to online, students might not be able to access certain offices. "We don't want [the lack of an official transcript] to be an obstacle to incoming students," she adds.
Virtual Admissions Events, Open Houses and Campus Tours
Like many colleges and universities across the U.S., Saint Martin's University also temporarily shifted all classes and programming to online for the rest of the semester. "Even though classes are online, our class sizes are still small and interactive," says Holsinger-Fuchs. "Our faculty is still accessible to engage with students, support their learning, and answer any questions they might have."
Classes were not the only things that went virtual this spring. Last month, Saint Martin's moved its Benedictine Scholars Day to an online format. Benedictine Scholars Day is an annual scholarship event where prospective students come to campus to interview for a chance to be named one of 10 Benedictine scholars. This year the admissions team put together a playlist of informational videos on YouTube and prospective students uploaded short videos of themselves as part of their interview. Over 180 students participated in the virtual event.
Admitted Saints Day is another annual admissions event, one where students who've been accepted by Saint Martin's can learn more about clubs, organizations, support services and student life at the University. "They get a feel for what it would be like to be a Saint," says Holsinger-Fuchs. Usually held as an open house in-person event, Admitted Saints Day will now be an online event scheduled for Friday, April 24.
While In-person campus visits and tours are currently on hold, Holsinger-Fuchs reminds prospective students that they can still do a virtual tour through the Saint Martin's website. There they can find information about academics, residence life and financial aid.
Giving Admitted Students More Time to Decide
Traditionally, May 1 has been the decision day for students across the U.S. to decide which college they plan to attend in the fall, including Saint Martin's University. Many colleges have extended that deadline given that many households might be facing new economic challenges in light of the outbreak. "At Saint Martin's, we decided to push that day back to June 1 to give students and families a little more time to decide," says Holsinger-Fuchs.
Staying in Touch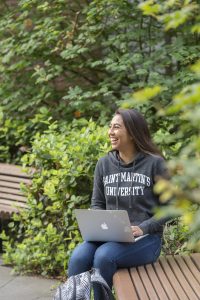 While all of the Saint Martin's admissions team is working remotely from home these days, holding meetings via Zoom and communicating with each through email, all the counselors are committed to staying in touch with applying students and their families.
"All my staff is available to have conversations about financial aid, discuss academic major options, and address any questions prospective students might have," says Holsinger-Fuchs. "They can meet with our staff virtually or speak over the phone."
125 Years
The COVID-19 pandemic is not the only significant event occurring for the University. This year, Saint Martin's celebrates its 125th anniversary. For an institution with such a long history, COVID-19 isn't the only pandemic they've experienced. In 1918 influenza pandemic made its way to every corner of the world, including Saint Martin's. Though times have changed significantly since 1918, what remains the same is the care and concern that the faculty, staff and monastic community have for their students.
Most of the changes made in the Saint Martin's admissions department and throughout the University are only temporary. The administration continues to evaluate the changes as the COVID-19 situation evolves, and staff and faculty are working collaboratively with creative ideas to ensure quality student learning continues with the highest priority to student safety. Holsinger-Fuchs, along with the rest of the staff and faculty look forward to returning to campus. "We really value that small personal face-to-face interaction between the faculty and students," she says, "and we look forward to returning to that soon."
Want to learn more about Saint Martin's? As mentioned, in-person campus visits and tours are currently on hold, but students and families can still take a virtual tour of campus on the Saint Martin's website. Students who've been accepted to Saint Martin's can sign up for Admitted Saints Day, scheduled for Friday, April 24 from 2:30 p.m.- 5 p.m., to learn more about the University, including information about classes, financial aid, housing, or student clubs or activities. For any questions related to admissions, please contact the Office of Admissions at 360-438-4596 or 800-368-8803, or email admissions@stmartin.edu.
Sponsored