When Olympia physical therapist Jennifer Penrose envisioned her book launch, she couldn't possibly have imagined the circumstances in which it would occur. Launched at the end of March 2020, the book will be a fundamental resource for those in self-quarantine who want to develop strength and endurance that will allow them to get back into running. It's also just one of the ways Penrose & Associates Physical Therapy is offering adapted services to clients as part of life during the COVID-19 pandemic.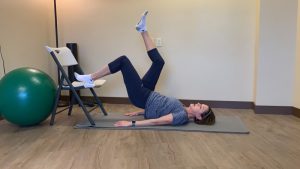 In "Run Forever! Secrets to common running and walking injuries" available now on Kindle, Penrose provides strategies and techniques for those dealing with injuries to get back to the activity they love. "I go over what to do when you have pain with walking and running," she says, "as well as common causes like knee pain, hip pain, Achilles strains, and tendonitis." All are injuries she's seen in clients from both the walking and running communities.
The key is learning how to decrease impacts on joints, she says, whether through adjusting a gait or stretching ahead of time in ways that support better form. "The book is designed to keep people moving, whether they choose the mode of running, walking or some combination thereof," adds Penrose.
Along with the text, readers can visit the company's membership site and view six free videos to support what they're learning. From there they'll have the option of taking a paid online course to practice more structured workouts that build on themselves month by month. Originally, those videos were aimed at potential buyers who don't live locally and therefore wouldn't become clients, but now they'll serve another purpose as well. "I already knew I was going to have an online component and a membership site," says Penrose, "and then it turned into an avenue to help people during the current situation."
In addition to those videos, Penrose and her team are providing virtual versions of their popular yoga and tai chi classes. The customized classes function as a bridge for those who have completed physical therapy, but may not be ready for a full gym experience. Each class is modified to accommodate the needs and specific challenges of those who take it. Clients typically report having more energy, better balance and greater strength as a result.
Penrose is also putting together a virtual workshops like knee pain, ankle pain and back pain. "We're trying to meet the needs people have, understanding that this quarantine is going to be our new reality for a couple of months," she says.
The practice is one of many Washington businesses considered an essential service, so it will remain open during the crisis, but the staff is taking precautions to ensure clients' safety as well as their own. "We're maintaining social distancing and cleaning everything off," says Penrose. "Everyone washes their hands when they arrive, and we take their temperature through a non-contact forehead thermometer."  The gym clients use to practice strengthening exercises as part of their therapy is all virtual now and people are so GRATEFUL!
One important message Penrose wants clients to hear: Washington will likely go the way of California, which recently mandated that all health plans operated by the state will reimburse health care providers, including physical therapists, at the same rate regardless of whether the service is provided in person or virtually. "Telehealth" was an existing trend before COVID-19 struck, but now it's exploding into popular awareness.
"The changes are happening so rapidly I can't even keep up," says Penrose. "I have a Facebook thread for telehealth physical therapy providers that's constantly updating with new posts." She recommends that patients regularly check the Penrose & Associates Facebook page to get the latest news about what services they're providing, both live and online.
Learn more at the Penrose & Associates Physical Therapy website or by calling 360.456.1444.
Sponsored