Love shopping and dining in the heart of Olympia? Miss it and cannot wait to go back? All of us are feeling a longing for this connection. Thankfully, you can still order up those savory dishes to bring home and support your favorite locales at the same time.
The Olympia Downtown Alliance and the City of Olympia have partnered in a "Why I Go Downtown" campaign to draw awareness to our Olympia businesses at WhyIGoDowntown.com. The guide highlights whether restaurants offer takeout, delivery or curbside dining and which boutiques offer online shopping and home delivery. The listings are links to the company websites with up to date information from operating hours to current services provided during Governor Jay Inslee's "Stay Home, Stay Healthy" order.
Here are some samplings of what can be found.
Savor
Food delivery and picking up takeout food are permissible, under Stay Home, Stay Healthy, and the Federal Food and Drug Administration says, "Foodborne exposure to this virus is not known to be a route of transmission." Frank Kritz, in his article "How Safe Is It to Eat Take-Out," explains, "Infectious disease and food safety experts we spoke to say they base their determination that takeout food is safe on decades of research on other coronaviruses, which were first identified in humans in the 1960s."
Shop owners are ready and waiting to serve the public whether you are a devoted, faithful Friday night diner or rookie to the take-home ordering process. Most restaurants have systems in place to make food pick up or delivery simple and safe. We can help keep food on their tables while putting some on our own in return.
At Three Magnets Brewery, ordering meals is made simple through an online portal feature on their website. A quick drop-down menu allows hungry users to quickly choose from beverages to entrées. The brewery has daily specials that are uniquely paired to a beer. They are known for their Moon Rocks, a fried cheese curd appetizer, and the menu will shower you with options for kids' items, desserts and even a half dozen eggs if you are out. Chef Frank Magaña recommends his signature dish created for the pub house, the Mojo Salmon Bowl made with local salmon from She Nah Nam Seafood. The menu reads "Local wild salmon, cilantro lime rice, spiced black beans, avocado, pickled red onion, chipotle Caesar salad, pico de gallo, cotija." Wow!
After placing an order with the brewery, simply pay before you drive over and call when you have arrived. Conscientious staff will place your order on a table for you to collect, just wait for them to walk six feet away to pick it up from the table. Conscious efforts abound as employees inside the restaurant are wearing masks with the safety of all mind.
Customers can also order meals to give as charitable gifts as well. Three Magnets Brewery has a partnership with Interfaith Works: You can purchase a $10 meal for those experiencing homeless in our area. "We were inspired to start the meal drop off program with our neighbors at Interfaith Works after we were hired by St John's Episcopal to cater 80 meals for their usual monthly donation to the organization," explains Sara Reilly, co-owner of Three Magnets Brewery. "It is incredible the amount of support we have received, in less than three weeks we have already sold 302 meals!"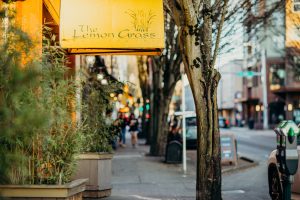 Curbside pick-up is also the main stream at Cascadia Grill where customers can still order from nearly the entire menu including the many vegan and vegetarian dishes. The grill is also filling growlers and selling bottles of wine, plus their pints of frozen custard from the JuJu's Iced Cream and Frozen Custard location. At Cascadia Grill, orders can be paid for inside or over the phone and picked up at the curbside right out front. Like other places, their routine is focused on cleanliness and disinfecting.
Shop
Shopping is still on our minds and in our hearts during these times as holidays and birthdays still arrive on schedule. Whether it is a milestone or an effort to reach across the miles to a special someone, you can shop at a distance and send abroad. Browsers' Book Shop is working hard behind their closed door to get reading to the masses. Even though curb side pick-ups are no longer allowed, Browsers' offers free local delivery for orders over $50 within a 5-mile range of the store. "We are so grateful for Olympia's support, and we feel so loved and we are operating under the belief that books are essential," shares Andrea Griffith, owner of Browers' Book Shop.
Childhood's End Gallery, who continues to pay its employees while closed, has online shopping and pick-up at the door. They will even gift wrap, scribe your short note in a card and ship your gift just about anywhere.
We are hearing it all around us that we are in this experience together, and it rings true right here in our downtown. Our local business owners are grateful for our business that keeps them going through the good and the bad times. We can keep ourselves sane with a meal we don't have to cook or a new book to read. Together, we will get through this.
Sponsored