The 30th anniversary of the Saint Martin's University Hall of Fame/Hall of Honor ceremony didn't feature a single individual or team being inducted. Yes, there were plenty of stories of past athletic greatness, tales of game winning shots and stories about underdog upsets.

This event, however, wasn't about paying tribute to championship teams or All-Americans and all-conference performers. It was more about highlighting the long-standing positive culture of the Saints' athletic programs.
"We are a community," said James Hammond, who was one the evening's alumni speakers and a 2019 Hall of Fame inductee. "We are a small, but mighty fraternity and sisterhood of alums and student athletes."
"Saint Martin's to me is more than just an entity," said Hammond, a former Saint Martin's basketball player in the early 1990s who is now the superintendent for the Ontario-Montclair School District in Whittier, California. "It's more than just a name on the wall or a monastery. It's more than just a college degree. It's the people that embody Saint Martin's."
When Julia Eisentrout Olson, who joined Hammond as an alumni speaker, addressed those in attendance during the dinner, she spoke with obvious joy and in great detail about her time playing on the Saint Martin's women's basketball team.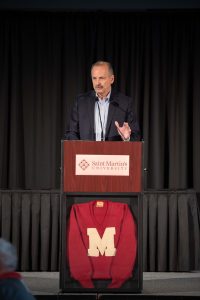 She had numerous on-the-court stories. All told with a beaming smile. The grin remained throughout her speech. The tears, however, started to well up into the eyes of the 2016 Hall of Fame inductee the moment she started talking about the relationships she had made off the court.
They were that impactful, and far more important than any win.
Saint Martin's athletic director Bob Grisham, who provided the opening and closing remarks, followed Eisentrout Olson's lead, catching himself on one occasion, briefly choking up when talking about the uniqueness of the SMU athletic programs.
He was quick to blame Eisentrout Olson for being the teary-eyed trendsetter, but it was clear the experiences within the Saints athletic community had been positive for countless individuals.
Grisham, who served as men's basketball coach at Saint Martin's prior to becoming AD, also pointed out how nearly one out of every four students at the university (24 percent) participant in an athletic program, one of the major factors that has helped create the department's positive and supportive culture.
It's a culture that Hammond says helped shape who is today.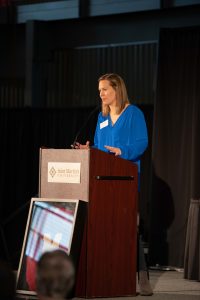 "I had all these great experiences at Saint Martin's, but I learned one thing here in those three and a half years, and I hope it's something that's developing in you, and maybe you already have it or maybe it's something that's speaking to your heart and your mind, and that's to find purpose and fulfillment by chasing a passion that is bigger than yourself," said Hammond while addressing the current student athletes at the Hall of Fame/Hall of Honor dinner. "To me, Saint Martin's taught me that it's others before self. What fulfills me and makes me feel like I have a purposeful life is if I can do something without any expectations in return."
In recent years, Saints athletics have experienced some of its biggest triumphs. A year after the softball team won the Great Northwest Athletic Conference, Mikel Smith won the first of his two NCAA high jump national championships in 2016.
The SMU men's basketball team won its first ever GNAC regular season title in 2018 before making its first regional appearance. Just this last year, Tyler Cronk earned All-American honors in track and field.
"We've had teams win conference championships and last year, if you probably remember, we had a team come within six points in men's basketball of winning a regional championship. Individually, we have an NCAA champion, along with numerous All-Americans, highlighted this year by our first All-American in men's soccer," Grisham said pointing out Brandon Madsen, who became the first Saint in the history of the men's soccer team to earn NCAA Division II All-American honors this past season.
"So, when I or we look to the future I see continued growth and see the ability in us to continue to improve in how we compete."
Prior to the Hall of Fame/Hall of Honor dinner, eight individuals received Distinguished Alumni Awards for 2020 during a luncheon in early February.
The award recognizes outstanding graduates for their individual achievements, contributions to their industry or profession, service to their community and loyalty to Saint Martin's University. This year's honorees included John Carr (Class of 1959), Lt. Gen. Michael Canavan, USA, (Ret.) (Class of 1978), John Farrell (Class of 1966), Martie Moore (Class of 1992), Dennis Reynolds (Class of 1969, posthumously), Don Robbins (Class of 1954), Vince Strojan (Class of 1968), and the nuns of the Monastery of St. Gertrude.