Disc Golf is a fun sport that any member of your family who can throw a disc will enjoy. It's also an inexpensive way to spend some quality time with the family, since the courses are free (though a parking pass may be needed) and all you need is a cheap plastic disc to get the party started. With a few disc golf courses in Olympia and surrounding areas, your family will have plenty of places to explore while playing this fun game!
How to Play Disc Golf
As the name implies, disc golf is played like traditional golf except you are using a disc instead of a club and ball. And, instead of holes in the ground, your targets are baskets, usually made of chain link. Each toss of the disc is the same as a "stroke" of the club. Like with traditional golf, the goal is to get the disc into the basket in the fewest "strokes." The person with the lowest score wins.
The first throw at each hole begins behind the "tee throw area." The "lie" is where the disc ends up after being tossed. You can leave it where it sits until your next turn, or swap it for a marker. When it's your turn again, you toss by standing directly behind the lie.
The player with the least number of strokes goes first at the next hole. After all players have teed off, the player whose disc is furthest from the basket goes first.
A mandatory is a designated tree or pole that must be passed on the correct side (indicated by an arrow). If your disc passes on the wrong side, you add one throw (stroke) penalty.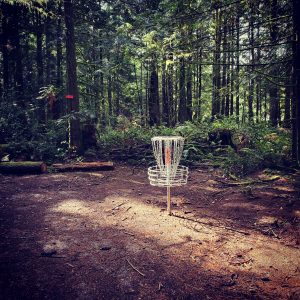 Of course, these are just the general rules! If you are playing for fun with your family, feel free to make up your own games and rules, so long as they don't interfere with others playing on the course.
It's a good idea to label all your discs with your phone number in case you lose one, especially on wooded courses. That way, if found, they can be returned.
Disc Golf Courses in the Olympia Area
Woodland Creek Community Park
6729 Pacific Avenue SE, Lacey
The Woodland Creek Community Park in Lacey has a nine-hole disc golf course and the only "driving range" in Washington State. Most of the hole lengths on this course are under 300-feet. The woods make this a good course to practice precision. Parking is free.
Saint Martin's University
5000 Abbey Way SE, Lacey
Saint Martin's University has a nine-hold basket that is mostly flat and lightly wooded, making it a great beginner course. Hole lengths vary, with 3 under 300 feet, 5 between 3-400 feet and 1 over 400 feet. Parking is free.
The Evergreen State College
Fireweed Drive, Olympia
The Evergreen State College has a mostly wooded, 18-hole course with slight elevation changes. This course mostly has hole lengths under 400-feet, with a few over 400-feet in length. A parking pass is required during the week, but it's free to park on weekends.
Shelton Springs
3674 N Shelton Springs Road, Shelton
Shelton Springs has an 18-hole disc golf course that has some woods as well as long fairways (black course has 8,000 feet of fairway). It has a range of hole lengths, from under 300-feet to over 400-feet. Little elevation gain makes it an easy walk.
South Puget Sound Disc Golf Association
Have you caught the disc golf bug? Join the South Puget Sound Disc Golf Association. The association works hard to promote the sport of disc golf in our area as well as maintain the courses for everyone's enjoyment. Chances are, if your disc is missing, they will find it! They even run a lost and found for discs at the Woodland Creek Community Park course.
The club also hosts fun events like Skills Despite the Chills Ice Bowl, Woodland Creek Classic, Odus Spring Open, rating events and more. They even have an indoor putting league during the winter so you can keep your skills up when the weather makes it impossible to play on the courses. They host "Break Even with Disc Golf" events for people to "give back" to the sport through beautifying the courses. In the past, this has included planting trees, installing tree signs, brush removal, mowing and more. They are even responsible for the concrete tees at Evergreen and Woodland Creek Community Park.