If you're going to clinch a conference championship outright, this is the way to do it.
The Black Hills High School boys basketball team captured its second straight 2A Evergreen Conference title on February 4 with a convincing 71-30 road victory over Rochester.
There was little drama in the contest as the Wolves opened the game with a dominating 29-0 run, which spanned the first quarter and the first 90 seconds of the second quarter and ultimately led to a season-high 10th straight for Black Hills.
"The really nice thing about this is some of these kids played JV for us last year," Black Hills coach Jeff Gallagher said. "It's not like we just returned everybody from last year's team. It's been a process, which says a lot about our coaching staff and the depth of the program we have. We lost a lot from last year. We lost two all-league players. There was a lot to replace, but our kids have been focused all year long."
The senior-heavy Wolves are led by leading-scorer Zach Crumley (12.5 points per game). He is joined on the roster by fellow seniors Weston Ainsworth, Avery Amin, Nick Bovenkamp, Evan Ellison, Degan Hurley, Zach Jones, Zach Loveless and Jonathan Schade, and juniors Will Akers, Justin Hicks and Elyas Inman.
"We play 11 different kids a night," Gallagher said. "They know their role is going to be different every game and they have bought into that. We talk all the time about enjoying your teammates' success more than your own and they really took it to heart. We knew we weren't going to get where we wanted to be if that didn't happen. I don't even think our kids know who our leading scorer is. It's all about team first."
It marks the first time in the history of the Black Hills program that it has won back-to-back conference championships.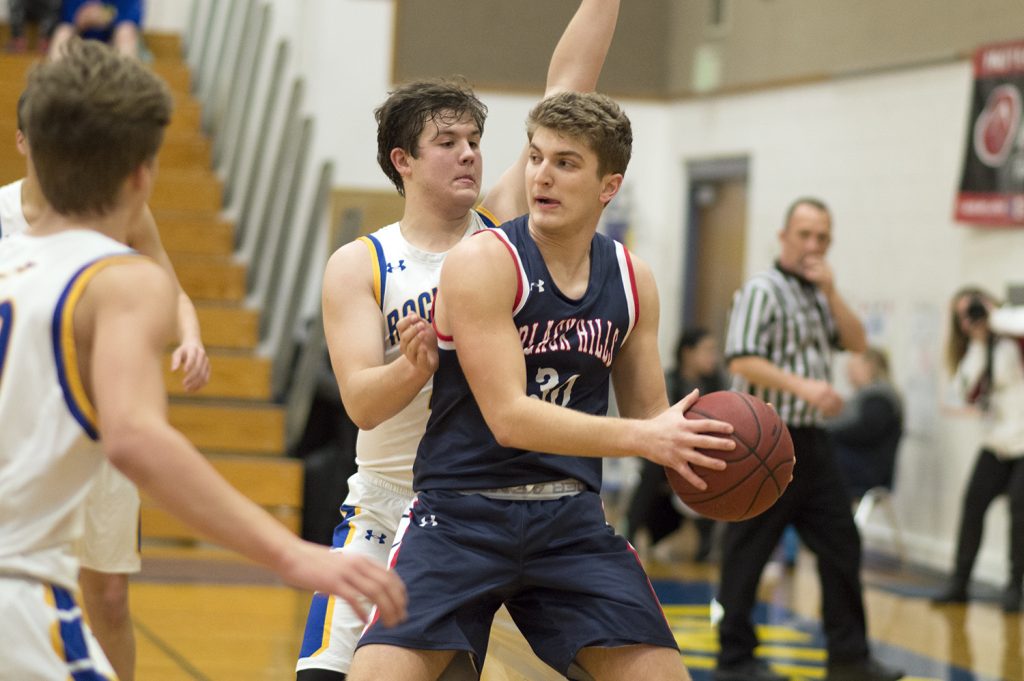 "It's something that has never been done at our school before and I'm not sure it's been done in a traditional boys' team sport like football or baseball here," Gallagher said. "We started talking about it from our first day of weights in the spring. We wanted to be conference champions for a second straight year. It's nice having that target on our backs because the first couple of years here we were the ones chasing everybody. I am just really happy for this group of kids and our coaches."
The Wolves have ruled the EvCo the past two seasons, posting an 18-2 mark, including a 9-1 record this year. Black Hills suffered its only conference setback in a 54-51 loss at Tumwater during its regular season finale in a game which had no implications on the final standings.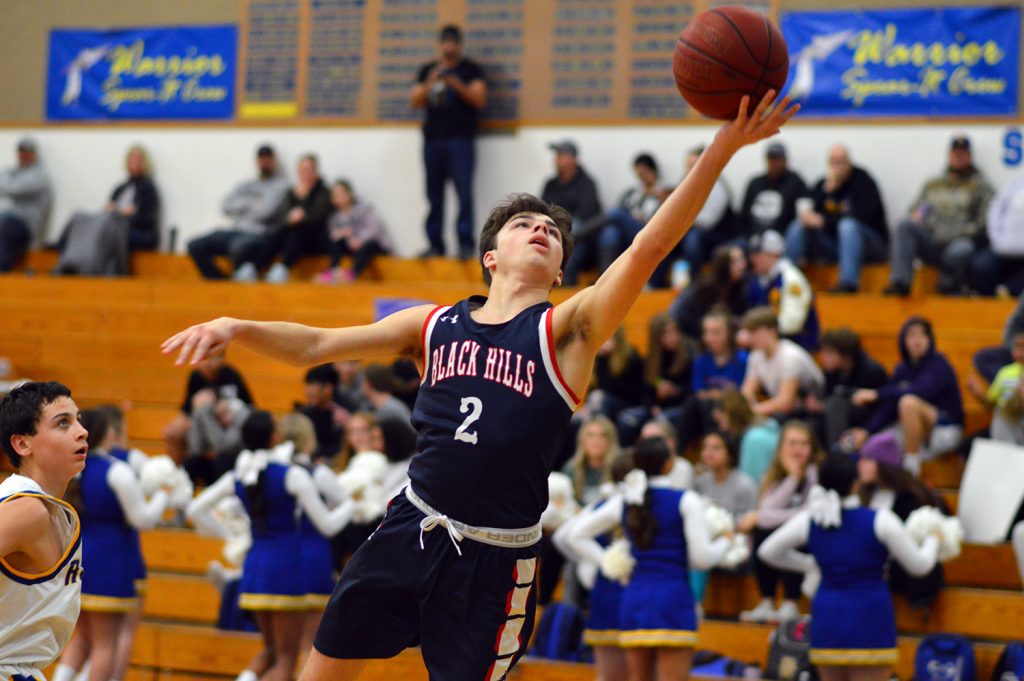 The Wolves will open the 2A District 4 tournament at home on February 15 against the No. 4 seed out of the 2A Greater Saint Helens League. Tipoff is scheduled for 7 p.m. District semifinals will be held on February 18 with the championship game taking place on February 21 at Battle Ground High School.
Black Hills finished second at the district tournament in 2019, losing to Columbia River, 75-40, in the championship game. The Wolves saw last year's season end in the regional round of the state tournament after losing, 44-38, to Anacortes.
The 2A state basketball tournament will be held March 4-7 in Yakima. The Wolves, who are ranked No. 9 in the WIAA's 2A RPI rankings, have never advanced past the regional round of the state tournament.
"Last year was only our second time into the round of 16. Now they want to take that next step," Gallagher said. "We've might have mentioned Yakima once or twice over the course of the last three or four months." Black Hills will take a 15-5 record and plenty of momentum into the district tournament.