Bowling alleys are beginning to enter the technological age with a striking new feature. Well, at least one local bowling alley is, Aztec Lanes, a bowling center in Olympia, is now one of only three bowling centers in the nation to employ the industry's first immersive, interactive scoring experience created by Brunswick.
What does this mean exactly?
Aztec Lanes owner, Dan Brathovd, has invested in a new technology from bowling industry giant, Brunswick, and has installed overhead projectors atop every lane that provide what is being dubbed as the "Spark Experience."
Dan's grandfather passed Aztec Lanes down to him, and since then he's worked tirelessly to update the bowling alley, and to keep it on trend with the latest innovations. This includes fully remodeling the inside, and the facade is scheduled for later in the year. These new projectors, however, top it all.
The new Spark Experience is nothing short of absolutely amazing. "It's a kick in the pants," says long-time Aztec Lanes bowler and league member, Steve Fuller. "You wouldn't think a 65-year-old would enjoy it – but it's great!"
The Spark Experience ties in with the bowling center's scoring system. The overhead equipment projects different images onto the lanes, drenching them in color and adding in cool effects like flames or sparks that trail after a ball rolls. In every frame bowled, a different scene is projected onto the lane.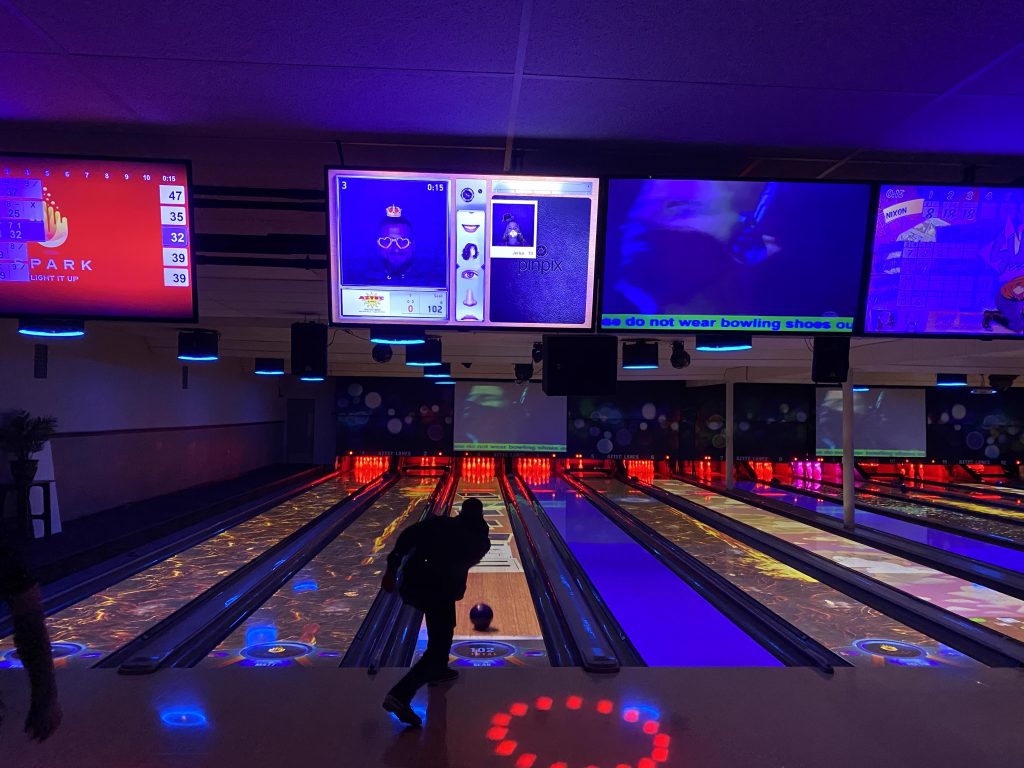 In one game, Pin Pix, you can blast your selfie onto the lane and other options include variants from the way a traditional game of bowling is scored. In games such as Boom Bots or Angry Birds, targets appear on the lane and those with great aim score big.
In the Spark Experience, regardless of the scene being projected, when a ball rolls, its trajectory is tracked with graphics on the lane. Imagine rolling a marble through viscous oil paint, after it rolls, you can see where it's been.
Fuller, already an impressive bowler, says, "One thing I really like is how it tracks the ball and you can see where it's going. It actually really helps me bowl."
Another impressive bowler, Hanna Michelbrink-McMurray was bowling with her dad, Dan McMurray in a father-daughter night out filled with friendly competition, a little jeering, and a lot of smiles.
Hanna bowls on the North Thurston Bowling Team that is coached by Aztec owner, Dan Brathovd. "I live at the bowling alley," Hanna says. I love it here, and I just love bowling."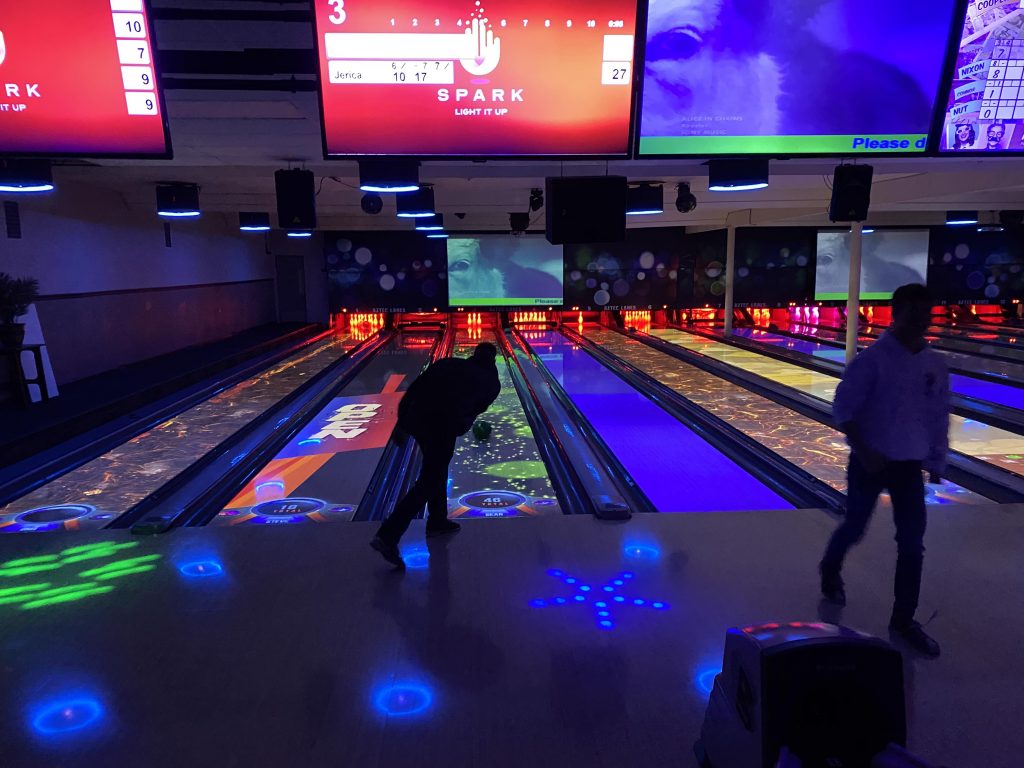 The Spark Experience is light-hearted, and light-filled fun that speaks to all ages. Right now, the experience is offered during Aztec Lanes' Lightning Bowling sessions on Friday's from 9:30 p.m. to Midnight.
Steve was there with nearly a dozen members of his bowling league, and the oldest teammate he said was in her mid-seventies. Next to them, a cluster of six teenage boys laughed and took full advantage of the music videos being projected onto the various screens by displaying some pretty prolific dance moves. Every lane was packed with groups of all ages, and Dan says that reservations for these Friday-night bowling (and sometimes dance parties) are encouraged.
In addition to Friday nights, bowlers can also experience the new technology on Monday, Tuesday and Thursday evenings after league bowlers are finished. To fully enjoy the Spark Experience, the alley lights need to be turned down so the images from the projectors aren't washed out by the ambient light. On the evenings after league, the lanes can be rented out by the hour, and with four to six people comfortably bowling on one, it's an affordable way to spend an evening out.
Dan recognizes that these late-in-the-day offerings may not jive with all schedules, which is why he is currently in the process of sourcing the right type of curtain to cordon off part of the alley. That way, the Spark Experience and a traditional bowling experience can occur simultaneously, any time the bowling center has open play available.
Once that happens, and the Spark Experience is poised to become Thurston County's favorite new family-friendly activity, as the new technology can delight all the members of our community, from the youngest to the oldest.
"I've been bowling at Aztec since 1995," Steve says. "Dan and April take such good care – you don't really want to go anywhere else. As you can see, they don't skimp on the accessories. It's such a fun place, and families come here. It's so nice to see."
This sophisticated new technology is likely the future of bowling alleys. A clean and up-to-date facility that stays on trend is important to Dan, and Aztec Lanes is exactly that. When asked what his grandfather would think, Dan replies, "He'd probably say, 'Holy Cow!'"
Dan shares a story about when, many years ago, he had to convince his grandfather that a Rock 'n' Bowl Friday night would be a hit with customers. The beginnings of the Lightning Bowling currently offered were "a shocker" for Dan's grandfather who said, "Oh, that's never gonna work."
After implementation, Dan recalls that his grandfather would often stay after work, well after he should have gone home, and sit and watch the bowlers enjoy themselves to the lights and the music Dan deejayed from his own cds.
Aztec Lanes has been an important bowling center for our community since its beginning in the early 1950s, and with Dan at the helm, it's guaranteed to continue to earn its place as one of the best bowling centers in our region for many decades to come.
Want a Spark Experience of your own? Reserve a lane during Lightning Bowling on Friday nights from 9:30 p.m. – 12:00 a.m., or after league on Mondays, Tuesdays and Thursdays. The Spark Experience is brand new to Aztec Lanes, (and the entire nation), and the bowling center is still working out the best ways to offer it. Stay up-to-date by following Aztec Lanes' Facebook page, or by visiting their website.

Aztec Lanes
2828 Martin Way East, Olympia
360-357-8808
Sponsored