While most players go home and rest following a grueling two-hour practice, Ravi Ath heads to nearby LA Fitness and laces up the sneakers for more basketball.

The North Thurston senior does this at least four times during the week.
"Basketball just helps me deal with a lot of stuff in life like school," Ath said. "It takes my mind off everything."
He will also sneak over on Saturdays and Sundays and join in on some pick-up games if his weekend work schedule allows it. Basically, if Ath has some downtime, he's on the court.
"I think the most impressive thing about Ravi is just his enthusiasm for the game of basketball," North Thurston coach Mike Conner said. "Coaches love having gym rats on their team, and it's a bonus when they are as skilled as Ravi."
Ath is certainly such a player as he leads the Rams this season scoring (13.1 PPG), rebounding (5.3 RPG), assists, steals (2.0 SPG), and despite his 5-foot-11 size, blocks.
All those stats were sorely needed for the Rams this season as Ath, who transferred to North Thurston from Tacoma's Lincoln High School prior to the start of his junior year, was the Rams' lone returning player with varsity experience.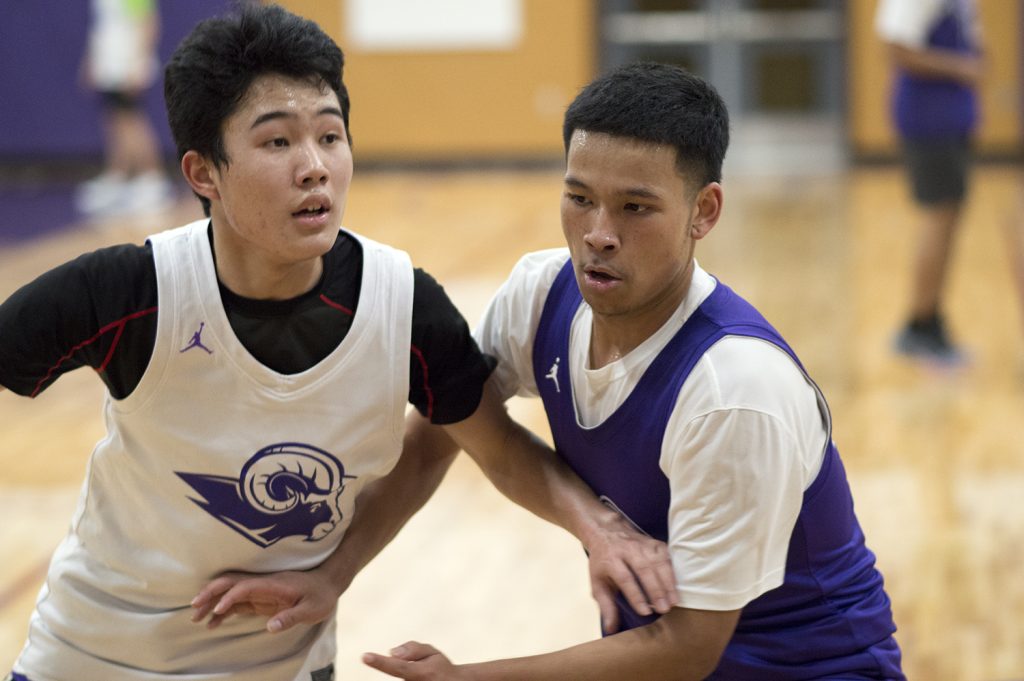 "He stepped in last year when we only had one returning varsity player and really gave us a boost, both in terms of his basketball skillset and his leadership," Conner said. "He was a steady presence on our team last year and now finds himself as the only returning varsity player on this year's team."
"I can't think of a much tougher challenge for a high school basketball player – first transferring to a new school as a junior and having to provide leadership while you learn a brand new system," Conner added, "then turning around the next year and doing it all over again with a new coach and a whole new set of teammates. And yet, Ravi has taken it in stride and seems to really embrace the challenge."
One challenge facing Ath as he headed into his senior season was knowing with such a young and inexperienced team, he would be asked to carry the load at times. That meant logging a high number of minutes on the court.
"My stamina needed to improve, and I think it has a lot since last year," Ath said. "I knew I was going to be playing a lot, so I dropped 25 pounds since last season. I knew I had to become a leader."
It didn't take Ath long to showcase his leadership and skill set. Both surfaced during the Rams' 3A South Sound Conference opener this year against Yelm.
Trailing by 9 points at the intermission, the Rams rallied in the second half with Ath hitting a buzzer beater from 70 feet away to tie the contest at the end of the third quarter. North Thurston would go on to win the game by 2 – giving Conner his second career coaching victory.
"He approaches the game with a hunger to improve and he always gives 100 percent. He also understands when to be loose and have a sense of humor about things though and he does a great job of keeping things light and bringing the team together," Conner said. "I don't think he really cares all that much about his stats though. I think he does it all out of love for the game and a sheer desire to help his team win however he can, and that's maybe his greatest attribute – his selflessness."
Ath says his passion for the game originated from learning to play the sport with his family at a young age. Growing up in Tacoma, he would constantly be playing on outside courts with uncles and cousins. He didn't begin playing organized basketball until seventh grade.
"It was different," Ath said about transitioning from pick-up games to team ball. "Before it was just playing and now there's an understanding of what you're supposed to do as a team out there."
Originally a center, Ath stated he was "pretty big for a seventh grader, but never grew after that," which forced him into becoming a point guard – a position he first took on as a freshman.
"I think that was the year I really started to take playing team basketball seriously," Ath said. "I want to be great at it. I want to reach my full potential and get better every day."
Hence all the time at the gym, which has certainly paid off.
"Ravi has been an outstanding leader this year and he has helped me tremendously in my first year as head coach," Conner said. "I have really leaned on him heavily to be our team leader and he has a great natural ability to lead by example. He's not an overly vocal leader and he's fairly soft spoken, but the example he sets for the younger guys in our program is invaluable. He will be sorely missed next year, but I also have a lot of confidence that his example has helped prepare a new group of guys to take over his leadership role. His energy on the court is infectious and he just never gives up."