Raven Redbone, AKA Brian Frisina, has interviewed thousands of Native Americans over the course of his 13 years of radio. His weekly KAOS program, "Make No Bones About It," features native music, national and local topics, and at least one interview. Those interviews can cover anything from an elder speaking on food security to a conversation with a musician on tour.

"Most deejays mainly play music and so they pick the top 10 songs," Raven explains, "but I talk to people so for me, it's my best interviews."
Raven's program is a freewheeling, anything goes show. Like those in his top 10 list, he strives to speak the truth and bring out the best in everybody. Humble, it isn't until you start digging into his audio history that you understand how respected he is in the local community and beyond.
"I am starting the top 10 with John Trudell because he was all about the human being and I've been told by my elders that the time of victimhood is over," says Raven. "We need to harness the light and unity. So, I will start with John and then I will end with Keith Secola, he'll bring it all together."
Reaching over to his phone, he scans for a second then reads a quote from Keith, "The human race is the face of all people, different tongues, one heart." Pausing for a moment he adds, "I think we need to hear more of those type of things as we move through 2020, our time here, as healing and coming together."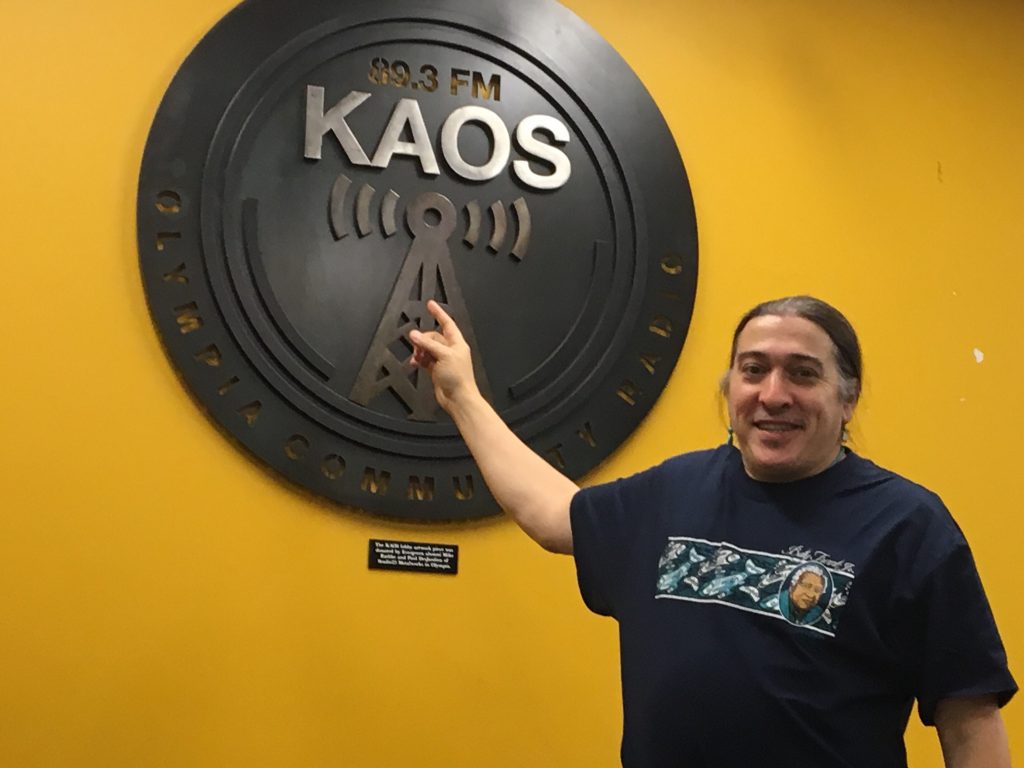 1. John Trudell, aired June 30, 2019
This interview was with Tara Trudell, John's daughter and a fellow poet and film maker. Raised on the Santee Sioux reservation, John passed September 2014 leaving a legacy of thought-provoking poetry, music and actions. It was his voice and broadcasting background that launched Radio free Alcatraz during the protest's two-and-a-half-year span.
"John is the reason why I'm on the radio," says Raven, "and I continue that voice. He encouraged me and was my first interview."
2. Eddie Little Crow, aired December 1, 2019
Lakota, Dakota elder Eddie Little Crow is a poet from southern Oregon. Raven also describes him as a ceremonialist.
"He tells us to remember," says Raven, "that we don't have to change. We always change how we see things, how we think of our reality or purpose. Every time I talk to him, I quote him, because he's spot on. He's been ceremonious his whole life and has been for the people. He's been through hell and he still loves people."
"We're not protesters and not insurgents were not militants were not radicals, we are people. Free to live free of anarchy and chaos," says Eddie Little Crow during his interview with Raven Redbone.
3. Gabriel Ayala, aired December 22, 2019
A Yaqui tribal member and classical guitarist, Gabriel Ayala's talents defy genre.
"He's a phenomenal artist, not just a musician," says Raven. "He does ledger art, he's into making clothes, he's so well-rounded. Don't know if you've heard his "Sewa Ania," it's just amazing. He's my annual Christmas spot because his music is like magic. He's always positive and upbeat and a loving and caring human."
4. Thana Redhawk, aired February 3, 2019
Spoken word artist and poet, Thana Redhawk, releases music on the Medicine Frequency label, an idiom that resonates for Raven. "She's just brilliant," he says. "And she is her frequency, as is all of her medicine, her message of love." Her Native American Music award winning release "Electric Butterflies" is a memorable piece that may get stuck in your head.
5. Raye Zaragoza, aired May 19, 2019
"She is young, inspirational and her music is awesome. And so is what she's doing in the world, bringing people together. She's another one who's music is very poetic and alive."
In 2016, Raye Zaragoza gained national attention for her release "In the River." This song went on to win the Global Music Awards' Heretic Protest Activist award in 2017.
6. Stevie Salas, aired March 3, 2019
Cited as one of the top 50 guitarists of all time, Steve Salas has lent his talents to many major rock stars and released his own hits. After playing with Rod Steward at Madison Square Garden, he decided to research how many other native artists had played the famed venue. That research led to the PBS documentary Rumble: The Indians that Rocked the World.
"He has been all over the place," says Raven of Salas, "and an inspiration to me my whole life. He helped create Rumble. Yeah, so that brother is just alive and full of life. I love him." Rock, R&B, funk – Steve is a fearless guitarist.
7. Brother Mikey, aired January 27, 2019
"Brother Mikey is about healing through music," Raven explains, "and to be awakened to the love around us. He's from Puerto Rico so that comes through. He's all about sacred and he's uplifting and his music, like Nahko, is bringing people together – it's about the tribe and the bigger picture." You can check out his hit "Breathe" here.
8. Adrian Sutherland, aired May 19, 2019
"He's a musician from Midnight Shine," says Raven shaking his head, "and, well, you just gotta listen to his music to understand. He's about the Indian experience. He's got a big heart and is a great singer and composer. It was a joy talking to him." You can listen to his new debut single, "Politician Man" here. It is getting a lot of attention in the independent music press.
9. Christopher James Rowland, aired October 20, 2019
Christopher was raised in the Northern Cheyenne reservation, Lame Deer. In addition to his Native flute recordings, Christopher is also a nationally recognized oil painter.
"He had Lyme disease," says Raven, "and he got healed by the old ways. He sees what is going on beyond and all that is here. And, he brings people together – he's amazing."
10. Keith Secola, aired December 29, 2019
Raven's last interview of 2019, Keith Secola, is a perennial favorite. Connected to the Anishinabe tribe, Keith has been recording for decades. "He is Native Americana," says Raven. "He's a legend and he always surprises us."
True to his reputation, during the interview Keith grabbed his guitar and performed some songs he has been working on live during the interview.
You can listen here to "NDN Kars," an enduring favorite from the early 90s. For the holidays, Raven cites Keith's newly released, "Everyday's Christmas" as his go-to pick. Like many of the songs on Raven's show, the lyrics offer a meaningful message to the thoughtful listener.
Music and Mentors
"Keith played with Buffy Saint-Marie," says Raven, "and I got an interview with Buffy too. I was remembering when I was a kid, I went to this six -year-old boy watching her from Sesame Street. These people – all these people – have made it easier for me to be a human being.
John was my first interview. And I asked him a question about unity. And he said, 'Oh, it could be a whole thing.' But he said that people got to get away from being Caucasian, Native, Black – come back to being human beings first and then apply those things afterwards. And I think it is very true."
Raven's show, "Make No Bones About It," can be heard Sundays from 4:00 p.m. to 6:00 p.m. on KAOS radio.