Cameron is a Big Brother to RJ. The duo may not have been born into the same family, but they often act like one now. Cameron is a volunteer with Big Brothers Big Sisters of Southwest Washington, and has been matched with RJ for a few years now. "I became a Big with a goal of giving back to the community," Cameron says. "What I didn't account for is that I would be getting much more out of the experience than I am giving."
Little Jadan and Big Alana were matched because of their friendly personalities. Little Maddy was a junior bridesmaid in her Big Megan's wedding. Big Dave had mentors in his life that helped shape him into the man he is today and felt called to pay forward those kindnesses.
It's matches like these that make up the Big Brothers Big Sisters program where community members make a BIG impact through a little effort. On January 30 from 11:00 a.m. to 12:30 p.m., Big Brothers Big Sisters is hosting their annual BIG Brunch at Saint Martin's Pavilion.
It's a change in venue this year, in an event that last year welcomed over 350 businesses and community members. It's one of the organization's major fundraisers of the year and the organization invites the community to share a meal and learn more about how the organization helps children, or Littles, reach their fullest potential.
Seventy-nine percent of the Littles served by the program receive free or reduced lunches. Seventy-two percent of them live in a single parent/guardian home, and 35 percent of them are children of color. After just being in the program for one year, 94 percent of the Littles reported that they felt confident that they would finish high school and an amazing 99 percent of them said they avoided risky behaviors as a direct result of their mentorship.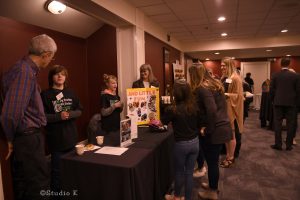 The BIG Brunch event is unique because attendees get to meet some of the matches made by the program and hear firsthand what it's like to gain a new friendship. The program is brilliant in that it partners adults that want to do good with children who want to feel good. And my goodness if it isn't amazing to see the greater good that the impact has on families – the virtues of mentorship sometimes impacting the successive generation.
"Our hope is that guests will come and learn about the impact Big Brothers Big Sisters of Southwest Washington is having in the lives of youth, their families and mentors right here in our community," says Leslie Shahan, VP of operations. "There is no cost to attend the event, but there is an ask to participate and be a part of something BIG. Every donation counts."
It's a cause that is easy to get behind, when the direct results of it are children saying:
"She will always be there for me."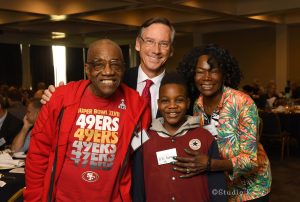 "I feel safe with my Big because he is trustworthy and I know he cares about me."
"He is the father I never had."
These words ignite potential, and prove that the organization's mission to create and support one-on-one mentoring relationships that help youth achieve their full potential is working. Children ages 5- to 18-years-old are invited to join the program and are paired with a carefully-selected adult volunteer in a monitored match. "It's obvious they put a lot of time and effort into finding the right match," Cameron reports, "and in my case, they hit a home run!"
Dave volunteers because his own children are grown and out of the house, and he missed having that interaction with young people. Whatever the reason that volunteers and donors turn up for this program, they do it in droves, and in 2018 through five major fundraising events, the organization hosted 2,000 community members who collectively rallied to support the organization in the way of $560,000!
Those donations did so much. Shahan says they support the recruitment and training of mentors, cover the cost of background checks and training, and enable ongoing professional supervision of the match relationships. Those are important attributes for a program that places the safety and security of the pairs at the forefront.
If you are ready to make a BIG impact with a little action, attending the BIG Brunch is a great place to start. Learn more about the program, enjoy a meal catered by Bon Appétit Catering, and perhaps have a mimosa in celebration of this priceless program.
"If you have the opportunity to become a Big, go for it!" Cameron says. "If you're anything like me, you'll be getting the better end of the deal."
To make a fully tax-deductible donation to Big Brothers Big Sisters of Southwest Washington, visit them on the web to see which of their many options is best for you. Or better yet, attend their BIG Brunch and see what can be achieved when we, as a community, follow our BIG hearts.
Big Brothers and Big Sisters of Southwest Washington – BIG Brunch
Jan 20, 2020, 11:00 a.m. to 12:30 p.m.
Saint Martin's Marcus Pavilion
5300 Pacific Ave SE, Lacey (map)
Sponsored