The holidays are all about giving. But don't forget to treat yourself this year as well. Recharging your batteries means you'll have extra energy to care for—and utterly spoil—friends, family, and loved ones. Escape the madness of the malls, snowy mountain passes, and endless office parties and you could earn green all December long and into January thanks to Little Creek Casino Resort in Shelton.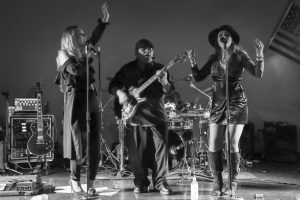 Every Thursday from 4:00 p.m. to 10:00 p.m. it's time to Deck the Halls on the gaming floor. Players Club members can earn entries into a progressive grand prize jackpot that'll top out at $100,000 cash. You must be present to win but wow, what a present that would be.
While you're there, don't forget to snag tickets to the hottest New Year's Eve Party in town. Tickets are $40 and the night is a glamorous Roaring 20s theme. The Emerald City 5 and special guest DJ Equis will keep your toes tapping, bob bobbing, and flapper finery moving to the music all night long.
The Emerald City 5 are all-around all-stars. Jenna Reed, Santi, Billy D., Sal, and Zeke have deep roots in the music scene and have an extensive, well rounded song list. DJ Equis is a Seattle native has been making music professionally for nearly 15 years but started DJ'ing for friends and family when he was only 12-years-old. "I wanna change bad moods to good with music," he explains. "Take you somewhere else. Close your eyes and listen to my music. Dance, bop your head, feel good."
The New Year's fun starts at 9:00 p.m. on December 31 and a coordinating resort package is available. Book the special by calling 800-667-7711. Included in the special deal are two tickets to the party, $60 in food and beverage credit, full breakfast buffet on Wednesday morning at the Creekside Buffet, sparkling wine in your room, and a late departure time of 1:00 p.m.
Don't want to spend the night? Fortify yourself for the fun with a decadent dinner at the Creekside. Their New Year's Eve Buffet runs from 4:30 p.m. to 9:00 p.m. and includes prime rib, crab, and shrimp for only $28.95 a person. After the party swing back for their $9.95 midnight breakfast from 12:00 to 2:00 a.m.
Rockin' January
Exactly one month later, dig out the leather jackets, ripped jeans, and hairspray for an epic '80's throwback. Skid Row performs at the Skookum Creek Event Center on Friday, January 31 at 8:00 p.m. Tickets range from $30 to $45 and can be purchased online or the Little Creek box office.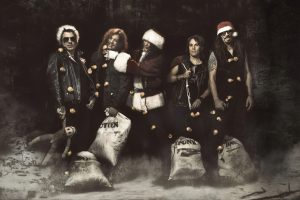 Founded in 1986, Skid Row hasn't slowed down one bit and is blazing through our area as part of their grand European tour. "It's still about writing a great song with your friend, praying it connects with someone. That has never left me. That willfulness will always exist, and there's so much left to say!," says guitarist and original band member Dave 'The Snake' Sabo. Get in the mood beforehand by streaming some of their 30+ year catalog of head-banging, big hair, rock and roll hits.
Call the hotel's front desk and ask about the Rockstar resort package, which includes event tickets, breakfast for two, and the opportunity to swipe and win free play in a special guest promotion. Or rest up the next day with a hotel package with spa and golf access as well.
Whenever you visit, bring your Players Club card for a chance at cash and prizes galore. Upcoming promotions include Social Media Mondays, where you can win a share of $250 by tagging Little Creek on Instagram, Facebook, or Twitter, and Double Points every Tuesday. Don't have a card yet? Sign up online or at the Players Club desk and swipe your new card for a guaranteed prize at the self-service kiosk.
November and December are for giving thanks and celebrating friends, family, and those we love. In January, we look ahead to the fresh, unspoiled new year ahead of us. Make time to step away, refresh, recharge, and start things out with excitement and enthusiasm. Remember that—in the words of Skid Row—"Life comes and goes, quick as does the day/Greed, for those who know is just a step away/Time's a breathing bomb, going with the flow/Stand atop it all outside the status quo."
Less than 30 minutes from Olympia, Little Creek has it all. Follow them on Facebook, Twitter, or YouTube for updates, specials, virtual tours, and more. For tickets, room and dining reservations, or questions, call them at 800-667-7711.
Sponsored