At TOGETHER!, building connections is the core of the organization. Whether these connections are between students, families, school districts, governmental programs or other nonprofit organizations, TOGETHER! believes building a bridge with members of the community can help children and families to thrive.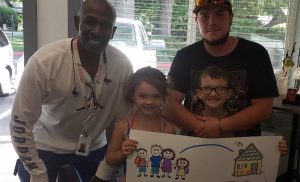 These connections are especially evident through the organization's Community Schools Initiative, which helps remove barriers to education by connecting students and families with school-age children to financial, mental health, educational, and housing resources.
The Community Schools Initiative is based off of a national Community Schools model that partners school districts with external community resources. Since the inception of the Community Schools Initiative in 2014, TOGETHER! has introduced the program in multiple Thurston County school districts, including the Tumwater School District and Yelm School District.
The Community Schools Initiative was originally focused on providing mental health resources to students and families, but in recent years, a new need has emerged among program participants: housing.
Eva Donjacour, the community schools director for TOGETHER!, says that through their work with high school students in the program they have worked with students facing homelessness stemming from a variety of factors, including financial hardship and substance abuse. At the elementary and middle school level, an increasing number of students and families in the program have also reported that they are experiencing homelessness or do not have reliable housing.
In response, Donjacour and other members of the TOGETHER! team are able to refer students and families to appropriate local housing resources as part of the Community Schools Initiative.
"We're really a connector," says Donjacour. "And that's where we're different. We walk the family through all of the processes. All of these logistically hard things and when someone's going through something like losing their housing or being in debt or having traumatic things happen, sometimes all they need is someone to listen. And that's a huge part of what we do, is we just hear them. We make a plan with them. They know they have someone in their corner. Building trust with the families is a huge part."
Edward Jett, the community schools manager for Peter G. Schmidt Elementary, Littlerock Elementary, and East Olympia Elementary, says that by listening to each family's need, paying particular attention to housing, he is able to research relevant resources and provide not just educational support, but wholistic family support.
"Schools are set up to teach, but they don't teach you how to actually survive after you're out of school," explains Jett. "Those little things that aren't taught in school of how to balance your checkbook or how to balance your budget. What are your priorities as far as, do you go get your car fixed or do you pay your rent? And these are just little things. Being able to sit down with families and help them work out these little issues."
The Community Schools Initiative also helps relieve the stress put on teachers who don't always have the time or resources to handle student hardships that originate outside the classroom. As a part of the initiative, teachers are able to refer students and families to TOGETHER! if additional support is needed.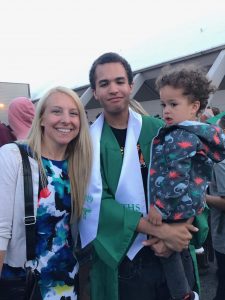 "We're able to go out a little bit farther when school's closed to find out why hasn't that child been in school? Or why is this child acting that way," explains Jett. "Usually, it comes from that home setting. And I come back and make that report with the principal and the counselors, so now we can identify what the problem is."
Donjacour says the initiative can also help families access childcare and provide resources for children who are experiencing bullying at school.
"Housing is one of the things that keeps coming up, but really, it's just the most prominent thing," says Donjacour. "We don't turn anyone away. We want to screen people into our services. We want to figure out, okay what is going on with you? And it might be as simple as your family has enough resources, but you're just having a really hard day."
As a part of the Community Schools Initiative, TOGETHER! is also forging connections with the greater community. TOGETHER! looks not just for financial donations, but also partnerships with other local nonprofit organizations and programs to provide the resources that families need. These programs include state offices like DSHS and faith-based organizations like Mountainview Church, Catholic Community Services, the Olympia Union Gospel Mission.
"We couldn't do this without the community support," Donjacour. "I could just go on for a long time and name everybody that we work with, like the Principal's Emergency Fund. We partner with the Tumwater Police Department, Community Youth Services, Family Support Center, Family Education Support Services, Safe Place, Pizza Klatch and Cielo and we try to build relationships with them so we can make that transition smoother. We're just kind of a hub to send people out to wherever they need."
To learn more about the Community Schools Initiative and additional TOGETHER! programs, visit the TOGETHER! website.
Sponsored