Each year, the Holiday Tour of Homes takes visitors into historic homes across Olympia and Tumwater. "This is our 30th anniversary of hosting holiday home tours," says Greg Griffith, Olympia Historical Society and Bigelow House board member. Nine homes will be featured, with six of the homes located in or around the Wildwood neighborhood off of Capitol Boulevard. This year the tour takes place on Sunday, December 8 from 12:00 p.m. to 4:00 p.m. and features a variety of newly featured homes, including for the first year, the Drees home, as well as some perennial favorites.
Not only is 2019 a special milestone for the Holiday Tour of Homes, but also Drees, beloved downtown retailer, is celebrating 90 years in business. Such an occasion makes adding the Drees Home to the Holiday Homes Tour particularly appropriate. "The home was first owned by A.P. 'Jimmy' Drees and his wife Doris," says Griffith. It is a unique home, with an unusual location on Capitol Boulevard overlooking the Deschutes estuary, Tumwater Hill and West Olympia. The original blueprints will also be on display.
One of the longtime sponsors of the event is Olympia Federal Savings. "OlyFed is one of only a handful of businesses in Olympia that have been around more than 100 years and we're honored to have such a long history with the local community," Ryan Betz, VP, Marketing & Public Relations said. "In the fall of 1906, we were the first bank to provide home loans in Olympia and many of the historic homes in the area today were originally financed by OlyFed."
One of the homes featured on the tour is the Bigelow House, which is a home OlyFed has helped renovate and preserve over the years. Tourgoers that visit the Bigelow House will receive a special gift, a panoramic reprint of the Cloverfield farm, one of the houses featured on the tour. The original photograph is dated circa 1930 and demonstrates the dramatic change that has occurred to the region in the past 90 years.
Cloverfield farm was originally built by Hazard Stevens, son of territorial governor Isaac Stevens, as a model dairy and agricultural operation before World War I. "Much of South Olympia was a part of that farm, including the land which now makes up Olympia High School," says Griffith. "It is interesting to see Cloverfield, not just as a historic home, but as a part of a larger agricultural community that existed in that region of the city at the time, and has now become a very dense residential area."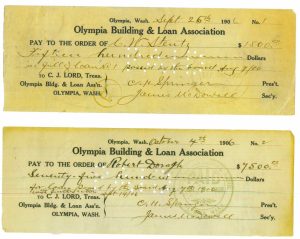 The Holiday Tour of Homes is a special opportunity to take a step back in time and experience history while appreciating modern upgrades that homeowners have added over the years. "We want to showcase and highlight that we have a rich architectural and historical history, and this is a great way to become acquainted with that heritage and legacy in a very intimate and direct way," says Griffith. "It is important to pass on that legacy to future generations who can appreciate and learn from these special resources from our past."
Docents will be available at each home, providing a little bit of history and sharing interesting tidbits about past residents or pointing out architecture or features that may be of interest to the public. "These homes are not only conveying their historic character and architecture of previous time, but have been updated by homeowners," says Griffith, "which is a reminder that we are caretakers of our heritage and it is important to acknowledge and celebrate that. We must be aware that it is our responsibility to care for these properties and the history that they carry for future generations."
The Holiday Tour of Homes is the primary fundraiser for the Olympia Historical Society and Bigelow House. The organization is volunteer run and helps preserve and uncover local history as well as educate and interpret history for the public.
The Tour of Homes would not be possible without the sponsorship support of Drees, Olympia Federal Savings, Mary P. Dolciani Halloran Foundation, Lifespan Construction, Paul Battan Attorney at Law, and Swalling Walk Architects. The Olympia Historical Society would also like to thank Olympia Coffee Roasting who will provide a free beverage to ticketholders on the day of the tour at their Wildwood store, located at 2824 Capitol Boulevard.
Tickets are $25 and may be purchased in advance beginning November 29 at Drees in downtown Olympia,  Thompson's Furniture, or Artistry in Flowers, both located in Tumwater. Tickets can be purchased on the day of the Holiday Home Tour at the Bigelow House, 918 Glass Avenue NE in Olympia or the Egbert-Ingham House, 2708 Adams St SE in Olympia. Tickets may also be purchased online through the Olympia Historical Society webpage, bring or show your receipt to the Bigelow House or Egbert-Ingham House on December 8 to pick up your ticket. Visitors to the Bigelow House will also be treated to festive live music on vintage instruments and light refreshments.
Every year gracious homeowners open their doors and welcome the public into their homes, homes that they have taken special care to steward and preserve. As many of these homes are nearing 100 years old or older, most of them are not completely ADA accessible. Some contain stairs to the home or second floors. Restrooms are available at the Bigelow house, the White House (known now as the Swantown Inn) and the Women's Club of Olympia. The restroom at the Swantown Inn is also ADA accessible. Please remember to be respectful of homeowners and their property, as well as their neighbors when parking.
Sponsored