There are just some nights of the week you don't want to cook. The work day is long, the kids have a handful of after school activities, and the sheer thought of meal planning once you get home is absolutely daunting. The good news is that there are some amazing take out options in Thurston County that are reasonably priced and are sure to satisfy every family member.

The first stop is in West Olympia at Pad Thai Express. There are many options that are under $10 and are served in large, family-style portions. While the Pad Thai is part of their namesake, there are many delicious dishes here to try. The Pad See Ew and Kee Mao Noodles are a favorite with hungry visitors. Their fresh rolls are a must order as they come with their delicious, signature peanut sauce.
If you happen to be downtown, Rush in Alaskan Dumplings is sure to satisfy every palate. Not your typical take out fare, these dumplings are incredibly hearty and scrumptious. They come in beef, chicken, pork, potato and cheese, and potato and mushroom fillings. The topping styles range from buffalo to loaded baked potato. The 12 dumpling order is only $10 and the 18 dumpling order that could easily feed two people is $14.
With five convenient locations throughout Thurston County, Happy Teriyaki is a family favorite. Big portions, great flavors and reasonable prices. The classic dinner portion of teriyaki chicken can easily feed two people. The bento combinations are a great choice also as diners can mix and match their favorites for less than $12. For an even better deal, visit before 2:00 p.m. for lunch specials that are just as filling for only $8!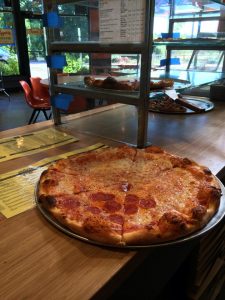 Take out pizza is always a solid choice. This time, go for unique options by visiting Vic's Pizzeria. With a location on the Westside and one in the Wildwood neighborhood, it's a must visit for all things pizza. Their distinctively Vic's pizza options include the Elvis Special, which has a sun-dried tomato pesto base, sweet fried peppers and goat cheese. They also offer classics like the Westside Locker which features pepperoni, sausage and salami. This is also one of the only stops on the list that offers fresh vegan and vegetarian options.
Head over to Lacey to taste Korean/Asian fusion dishes at K-Town Rice Bowl & Korean Fusion Deli. With Korean spicy ramen and rice bowls with a plethora of toppings, it is a great choice for family members that want variety. Almost every item on their menu is $10 or less. Be sure to order at least one of their jop-jae bowls made with sweet potato noodles, red pepper, carrots, onions and spinach topped with radish kimchi and bean sprouts. It's a flavorful combination you can't have anywhere else.
If you happen to live close to Tumwater or West Olympia and you have a hankering for Mexican cuisine, look no further than Ramirez Mexican Store. With handmade tortillas and some of the best tamales in town, this restaurant always makes it on the short list of great take out. Their combo plates start at $9 and include fully loaded take out boxes of food. If you're looking to cover dinner for a few days, the tamales at their Tumwater store's refrigeration section are highly recommended for an easy reheat to feed the entire family.
Maybe dinner isn't the problem and instead, you're looking to pick up breakfast. Look no further than Biscuit House. You may have missed this one in the past because it is located inside the Toyota of Olympia. Their full biscuit breakfast has your appetite covered with their famous biscuits and gravy, two pieces of bacon, two pieces of sausage, and hashbrowns. It's enough to keep your belly filled most of the day. Their breakfast burrito and biscuit sandwich are also mouthwatering options. Their online ordering makes it convenient and easy to satisfy that breakfast craving. Just be sure to order before they close at 4:00 p.m.!
Put down the cookbook, put up your feet, and treat yourself to a stress-free meal by letting one of these great take out options feed your family tonight!