Americans love sports with a passion. We root for the home team, paint each other 12th Man blue, and sign our kids up for teams, clinics and lessons galore. But with all that activity can come injury. If you or a loved one has suffered a sports injury, don't let it keep you sidelined. Give the skilled staff at Inspire Physical & Hand Therapy a call. They'll have you off the bench and back in the game in no time.
The American Physical Therapy Association (APTA) reports that "A growing number of Americans may be engaging in physical activity, but that also means a growing number of Americans are getting injured while doing so." Of the injuries documented "Sprains and strains accounted for the largest portion of injury types…The most frequently injured area of the body was the lower extremities, at 42 per 1,000 individuals, followed by upper extremities (30), head/neck (16), and trunk (10)."
Whether your injury is from the gym or playground, ball field or bicycle, Inspire staff offer physical and hand therapy services to aid in your recovery. "If you are unsure if you require rehab from your injury, we offer free injury screens to better direct your care and recommend further treatment if needed," says Clinic Director Kristina Pittman, DPT, OCS. "Often times early intervention is key after injury."
At Inspire's Lacey and Tumwater clinics they typically begin treatment by taking a full medical history and developing a comprehensive treatment plan. Throughout your care, staff will continually re-evaluate progress as you recover. For athletes, "the overall goal is return to play," says Pittman.  "This includes a regimented program with a sports specific focus to improve strength, mobility, endurance and overall performance for a safe return to their sport."
"The athletes we work with most often range from elementary to collegiate ages across all levels of competitiveness," she says, with the most common injuries being "ankle sprains, muscle strains, overuse injuries and post-operative care such as meniscus repairs, ACL reconstruction and labral repairs."
This is echoed in the APTA's nationwide findings. Among individuals 15-to 24-years-old, basketball claims the top spot for sports related injury, at 7.9 per 1,000 (general exercise was close behind at 7.5). After that, activities began to vary by age group, with football, playground, gymnastics/cheerleading, and pedal cycling rounding out the top 5 for the 5- to 14-year-olds; soccer, football, and gymnastics/cheerleading taking the third, fourth, and fifth positions, respectively, for the 15- to 24-year-old group; and recreational sport (racquet sports, golf, bowling, hunting, fishing, hiking, and other leisure sports), basketball, pedal cycling, and water sports completing the top 5 list for the group 25-years-old and older."
If you're lucky enough to have avoided injury—so far, at least—physical therapy may help prevent future issues. Though specifics vary by the individual athlete, sport, level of play or competition, and past health issues, there are many treatment tools and services Pittman and her staff can provide.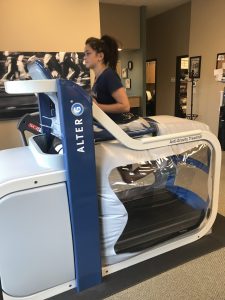 One of their most unique treatment tools, masquerading as everyday exercise, is the AlterG anti-gravity treadmill. It may look like a standard treadmill that's been wrapped in a sandwich bag, but through the use of pressurized air it can reduce body weight impact strain on healing muscles and ligaments. Think of it as your daily jog.
For people of all ages there are numerous benefits from exercise, fresh air and the social interaction of sports. And though injuries happen, they don't have to drive you back indoors for long. Whether your aches and pains are from yesterday or twenty years ago, the Inspire team will do their best to return you to yours feeling 100 percent.
To schedule a free injury screening or initial consultation, call the Lacey office at 360-491-1815 or Tumwater at 360-819-4335. Then dust off your jersey, kneepads, helmet, and cleats (or umbrella, bleacher blankets, and mug of coffee) to get ready for the next game, set, match.
Sponsored