Computer, technology and engineering teachers are creating opportunities through community connections and technology-linked classes. These courses provide exciting and real-world experiences for students at A.G. West Black Hills High School (BHHS).
Video Production
Susan Larson came to teaching with a communications background. She originally taught photography and graphic design, and has since branched into video production. Her video course is an action-packed class where kids learn there is a lot more to making videos than simply pushing the start button on a camera. "They learn how movies are made, how to tell a strong story using visuals, script, and lighting, and all the tech to make it happen," Larson explains.
"No matter what field they go into, any business now needs someone to do commercials for them and web stuff," Larson adds.
Thurston Community Media (TCMedia) is one local organization Larson has turned to for mentorship. The TCMedia team helped some of her students produce a video for Tumwater Middle School. TCMedia submitted that video and it won a national Hometown Media Award in 2018.
A new TV class was created in 2018 called Broadcast Journalism: PACK TV. It took about half a year to train the kids on using the cameras and software. Then PAC TV was up and rolling, producing twice weekly news programs for the high school. Whether kids love being in front of the camera, behind the scenes or editing, there is a role for everyone.
"It's fun because every kid has a different job. It feels like we're a team. We're successful," says Larson. "Everyone is making videos for their businesses now. We have local opportunities here for kids to take cool jobs."
In fall of 2018, they transformed a new space for video production and editing. The students helped clear out and paint the room. Larson asked New Market Skills Center for help building a set. "They had a young man build the frames," Larson explains. "The Booster Club helped spruce up the space and bought us a new teleprompter." The kids are quick to learn the new equipment and software.
Next to the production room is a smaller space with computers and a drum set. Band students use it as a practice space. After school it is a quiet area where the PAC TV crew can edit and format their show.
"Wouldn't it be fun to make this our podcast room someday," Larson muses. "We could sound proof it so we could do podcasting, and also a recording room for our musicians and our soloists and choir kids, and our drama people. Let's turn this into a workable space." She smiles and adds, "I'm a dreamer."
Aviation and Robotics
Scott Cutler teaches an introduction aeronautical engineering, aircraft construction and maintenance course. "Kids learn how airplanes are put together, designed, how to build them," Cutler shares. "In the shop, we have three aircraft that we are building to fly and sell." Students are introduced to every profession in the aviation field through classroom visits, field trips and mostly hands-on work in the classroom.
"We have flight simulators, so kids know how to navigate using charts and plan flights," Cutler shares. "They have the opportunity to go flying. We have pilots and myself who will take them on flights. Second year is aerospace. They continue to work in the shop but we focus on rocketry and space programs."
They are currently building a fantastic training aircraft. "The goal would be once we get it finished, to not sell that one and actually have kids be able to earn their pilots license in that plane," Cutler dreams. "That would be totally cool."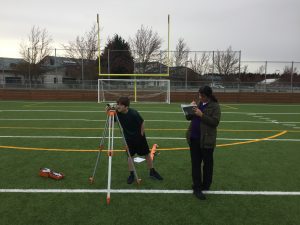 Engineering, 3D Imaging and 3D Printing
Matt Bell is the "in-house engineer" at BHHS. In his engineering classes, students start with the basics by learning how to draw. "That is part of the design process. You need to be able to put your ideas on paper," Bell explains. "Then we go on to a 3D model on the computers and try to utilize 3D printing and laser engraving." Every student learns to keep an engineering log. "If you come up with a great idea it could be a legal document," he says.
It is not uncommon for one of Bell's former students to come back and ask to use the equipment to design and print a part they need for another class or project from home. "I've had kids come back and say, hey, I have this plastic part from a refrigerator or a kayak rudder," Bell shares. "I say there's the computer. Measure it, design it and we'll print it out. It's neat."
Seeking More Community Connections
Larson and her fellow computer, technology and engineering teachers would love to connect with more local businesses and experts that could offer internships or job shadow opportunities. "What we love is letting the community know about us because we want to build friendships, relationships with businesses or people in industry currently in our little hub of Thurston County," Larson concludes.