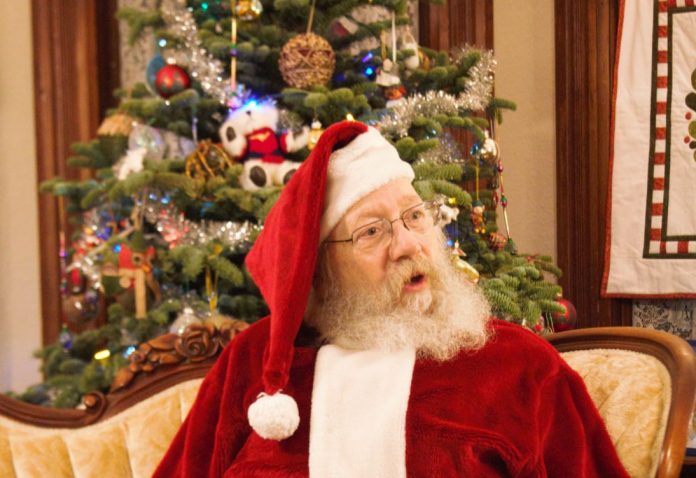 Gingerbread. Hot Chocolate. Lights. 'Tis the season for everything merry and bright and Thurston County packs the next two months full of fun-filled family friendly activities to celebrate the season. Whether you need to find the perfect gift or want to create memories with your loved ones, there is plenty to see, do and taste this coming holiday season. Check out the following calendar highlights of holiday activities in Olympia, Tumwater, Lacey and throughout Thurston County.
27th Annual Homemade for the Holidays Bazaar
Thurston County Fairgrounds
November 1, 4:00 p.m. – 8:00 p.m.
November 2, 9:00 a.m. – 4:00 p.m.
Skip the mall and get your gift list checked off at the annual Homemade for the Holidays Bazaar. Choose from expertly created gifts from over 75 crafters. There will also be baked good for sale. Shop through the four halls and you are sure to find everything you need to deck your own hall at home. Free admission and parking, but bring a donation for the food bank.
Girlfriends Holiday Market
November 15: 3:00 p.m. – 5:00 p.m., $10
November 15, 5:00 p.m. – 8:00 p.m., $5
November 16, 10:00 a.m. – 4:00 p.m., $5
Thurston County Fairgrounds
Find that perfect gift for a loved or yourself at the Girlfriends Holiday Market, held each year at the Thurston County Fairgrounds. This is a fun holiday activity for the whole family to enjoy together! There will be hot food and drinks for you to enjoy while you shop, and twinkling lights to create a festive ambiance. Shop for vintage, upcycled, antique and mid-century items, as well as gifts and fresh wreathes.
Saint Martin's Abbey Oblates' Annual Christmas Bazaar
December 16: 9:00 a.m. – 6:00 p.m.
November 17: 12:00 p.m. – 6:00 p.m.
Cheney Room of Marcus Pavilion
5300 Pacific Ave SE, Lacey
The Saint Martin's Abbey Oblates' annual Christmas Bazaar will include religious items, art, gifts, crafts, books, a raffle, and beverages and baked goods. Purchases and donations benefit Oblate charity activities. Saint Martin's Oblates are Christians who seek to deepen their spirituality through the study of scripture and the Holy Rule of Benedict, which was written over 1500 years ago. Oblates are encouraged to apply the word of God by acts of charity. For questions, please contact Teresa LaBouff at 360-402-3082.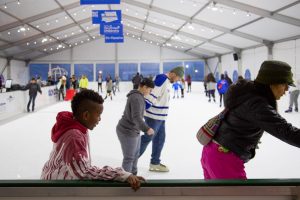 Oly on Ice
November 22 – January 20
Isthmus Park
529 4th Ave W, Olympia
Back by popular demand, Oly on Ice is bringing the tradition of holiday ice skating to Thurston County! Your entire family will love this holiday activity in Olympia that's open everyday from November 22 through January 20, except for Thanksgiving. This year's rink is going to be even bigger than last year's, allowing for more fun!
Check the Oly on Ice website for information about times and ticket prices. Cheap Skate Nights are the following Tuesdays from 3:30 p.m. – 9:00 p.m.: November 26, December 3, December 10, December 17, January 7, and January 14.
Shipwreck Beads Winter Artisan Market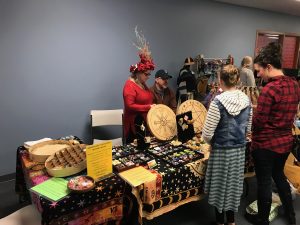 November 30, 10:00 a.m. – 5:00 p.m.
8560 Commerce Place Drive NE, Lacey
On Small Business Saturday, head to Shipwreck Beads Winter Artisan Market for some unique gifts you won't find anywhere else! Shop over 80 artisan booths and find all kinds of things – from handmade soaps to scarves! Bring non-perishable food donations to the Thurston County Food Bank and get raffle tickets for amazing prizes donated by the vendors themselves – two food items or $2 gets you one ticket.
Downtown for the Holidays
December 1: 12:00 p.m. – 4:30 p.m.
Downtown Olympia
Bundle up and head out to downtown Olympia for an amazing kick-off to the holiday season! Watch the Jingle Bells Parade at 1:00 p.m. Route begins at Capitol Lake and ends at Sylvester Park. Listen to the Alleluia! Handbells Ensemble at Batdorf & Bronson at 1:15 p.m. Visit Santa and Mrs. Clause at Sylvester Park from 1:30 – 3:30 p.m. At 3:45 p.m. watch an Apple Tree Productions performance. And of course the famous Tree Lighting at Sylvester park at 4:00 p.m.
Want to be a part of it? Parade entries are welcome until November 20, 2019.
Sherlock Homes and the Case of the Christmas Carol
November 27 – December 31
Harlequin Productions, 202 4th Ave. E, Olympia
If you are looking for a fun date night this holiday season, check out Harlequin Productions' "Sherlock Homes and the Case of the Christmas Carol." In this fun play, written by a Seattle playwright, Sherlock Holmes reappears after three years and must unravel a mystery when three unexpected callers appear on Christmas Eve. A new take on Dicken's "A Christmas Carol," It's sure to keep you guessing until the end.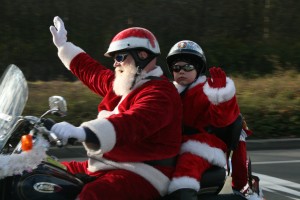 Olympia's 42nd Annual Toy Run
December 7, 10:00 a.m.
South Sound Center, Sears Parking Lot
711 Sleater-Kinney Road SE, Lacey
Give the gift of cheer to kids this year by participating and/or donating to the Olympia Toy Run. For over 40 years the community has come together to donate toys for children in need. You can donate toys at the following toy drop locations. At the event, there will be vendors, performers and of course, the giant motorcycle parade through town! Admission is a new unwrapped toy (no stuffed animals) or $10 a person, $15/couple.
Christmas in the Park Event
December 7
Yelm Community Center and Yelm City Park
Enjoy a free day of holiday activities and entertainment! Christmas in the Park is put on by the Yelm Area Chamber for Commerce. There will be a parade, live entertainment, and tree lighting. For more information as it comes available, check the Yelm Area Chamber of Commerce website.
Lacey Parade of Lights
December 2, 6:30 p.m.
Lacey
Enjoy an evening of holiday cheer as the streets of Lacey are lit up with the Lacey Parade of Lights! This parade lasts about half an hour. For viewing, the parade travels north on Sleater-Kinney to 7th Avenue and down 7th Avenue SE. Be sure to look for Santa on the Lacey Fire Department's Santa mobile! After the parade, head to Huntamer Park for the Christmas tree lighting ceremony.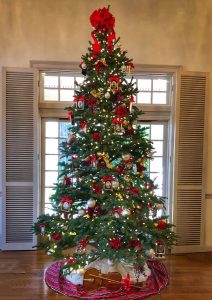 Governor's Mansion Holiday Tours
December 4, 11, 18: morning and afternoon tours
Capitol Grounds, Olympia
See the Governor's Manion decked out in holiday-splendor, thanks to private donations, during these limited tours. The Georgian-style mansion never looks better than at Christmas! Visitors will get a 35-minuted walking tour. Each tour is open to just 25 guests. Reservations are available starting November 1 and they do go fast. To reserve, call the State Capitol Tour Office at 360-902-8880 or email tours@des.wa.gov.
17th Annual Christmas Tree Lighting Festival
December 8, 2:00 p.m – 5:00 p.m.
Tumwater City Hall and Headquarters Fire Station
The Annual Christmas Tree Lighting Festival in Tumwater includes games, holiday crafts, performances by local and school choirs, and of course, the lighting of the tree. Santa will arrive on an antique fire truck after the ceremonial tree lighting to share his joyful laugh and spread some holiday cheer. Event Parking available in the adjacent Attorney General's Office parking lot (7141 Cleanwater Drive SW). No parking at the Fire Station; disabled parking at City Hall. Please call 360-754-4160 for more information.
Santa at Swantown
December 3, 5:00 p.m – 7:00 p.m.
Swantown Inn & Spa
See Santa at Swantown Inn & Spa and enjoy hot chocolate and fresh chocolate chip cookies while you get a free picture taken. The Elf Squad who will be on hand to take your name and entertain you with activities while you wait your turn. Donations to the food bank are encourage, either non-perishable food items or cash.
Ballet Northwest's "The Nutcracker" Ballet
December 13-22
The Washington Center for the Performing Arts
512 Washington St. SE, Olympia
For many, attending "The Nutcracker" ballet is a family holiday tradition. It's a show the entire family will enjoy, no matter how many years they have watched it. The Ballet Northwest makes their performance special, with over 200 local dancers, stunning sets, and beautiful costumes, as well as guest artists from Dance Theater of Harlem (New York City) and Ballet West (Salt Lake City). Tickets are on sale on at the Washington Center for the Performing Arts website.
Relay for Life Santa Breakfast
December 14: 8:45 a.m. – 10:45 a.m.
Applebee's
525 Sleater Kinney Rd SE, Lacey
A Thurston County Relay for Life team, The Cupcake Mafia, is having a Santa Breakfast! Tickets include breakfast and pictures with Santa. There will also be homemade crafts for sale. Proceeds are donated to the American Cancer Society. RSVP on their Facebook page.