Americans are always on the go. Studies show that we move on average 11 times in our life. With each move comes packing, boxing, re-organizing, unboxing, and—if you're buying or selling a home—endless paperwork. Let the mortgage team at Heritage Bank streamline the process, whether it's your first or forever home.
Each year, 11 percent of Americans decide to move. That's 35 million individuals or 15 million families taking the next big step. Statisticians report that of those, nearly 83 percent stay within the same state. People move for many reasons but, whatever the cause, a skilled lending team can make all the difference.
"2019 has been kind of an interesting time," shares Scott Leingang, a mortgage team leader at Heritage Bank. "Property values have been higher, inventory is going quickly, and rates are historically low. It's truly a buyer's and a seller's market."
But he's a passionate proponent of home ownership. "It's always a good time to buy; it's really the American dream," he adds. When it comes to home loans, they have something for everyone and the local knowledge to find the best product for your unique needs. Born and raised in Tacoma, Leingang knows this area well. "I got into lending 25 years ago and have worked for Heritage Bank as a lender for three years and team leader for four and a half."
When contacted by a potential homebuyer, Leingang's first advice is to cement their financing. "Get financing in place, because the home of your dreams may come with many offers and you need to be prepared." He provides clients with a checklist of necessary paperwork and can provide a credit letter (good for 120 days) quickly.
Unlike other banks who outsource their underwriting and document prep to branches or facilitators off-site or out of state, at Heritage Bank it's all done in-house. Lending team members can pick up the phone and speak with exactly the right person in a matter of minutes. "This means loans are closed quickly for a shorter closing."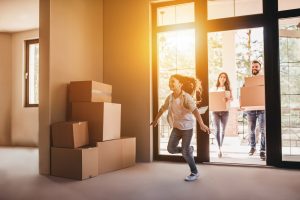 And Heritage Bank staff live and work in the communities they serve. This means Leingang will do whatever it takes to find the right loan for your circumstances. "With rates being what they are, buyers can afford a little higher price," he admits. "But I always ask 'What's the max payment you want to pay?' and structure the loan accordingly."
Founded in 1927, Heritage Bank is a valued part of the Pacific Northwest. "Being a local community bank, we have a very strong base," says Leingang. "We get a good mix of internal and external referrals with a lot of referrals from local real estate agents." Some branches can claim entire families as mortgage clients, extending for 30 to 40 years, he recalls, and covering multiple generations.
Whether you're a homeowner looking to cash in some equity through a low-rate re-financing package or just starting out, they've got you covered. There are first time homebuyer programs as well as FHA, VA, USDA, and standard conventional loans available. Options also include construction and lot loans for purchasing land and/or building a new home and jumbo loans for properties over $453,100. "If product A doesn't work, let's look at product B," says Leingang. "We're always looking for ways to say 'yes' and help customers. We find the best loan for them, not the bank."
Census Bureau research "chalks most moves up to being housing related, with 48% of moves relating directly to housing. 30.3% of moves were family related, while job relocations made up 19.4%, and 'other' was just 2.3% of all American moves." Whatever, whenever, and why-ever you move, don't forget the basics: label boxes well, change utilities in advance so you aren't left in the dark, and keep important documents handy. Most importantly, don't go it alone. Let Heritage Bank do the heavy lifting…financially, at least.
To start the process, get pre-qualified online, stop by a branch near you, or give Leingang and the mortgage team a call at 800-455-6126. There are home loan specialists based in Bellingham, Burlington, Mount Vernon, Tacoma, Stanwood, and Vancouver.
Sponsored