The loss of a loved one is emotionally and physically exhausting. If you're left to handle financial, organizational, and funeral arrangements, it helps to have a kind, knowledgeable guide. At Lacey's Lasting Touch Memorials, their staff are experts in decision-making about urns, caskets, vaults, grave markers and even pet memorials. On Thursday, October 24, they'll celebrate their fifth anniversary grand re-opening and ribbon cutting courtesy of the Thurston County Chamber of Commerce.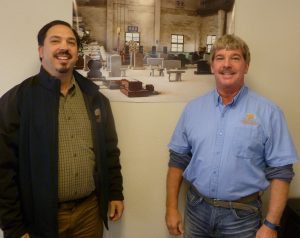 Owner Tony Ward explains that while November 2 is the actual anniversary date, he—and the shop—have been around much longer. In the industry since the late 1990s, five years ago he moved his shop from Yelm where it had been located for the previous 13 years. Before that he spent time working for some of the Pacific Northwest's largest monument companies, learning the trade of both retail and wholesale sales.
Over the past few years, he's added new employees and expanded their pre-need burial insurance services. These are for aging parents and relatives hoping to choose their legacy and memorial while minimizing financial and emotional burdens on their children. To help with this, he brought on Andrew Kill as sales employee and state licensed pre-need sales associate.
To date, only about 15 percent of people come in search of pre-need services. "But it's increased over the last five years," Ward shares. "If more people knew about it, they'd do it for sure." A licensed funeral director for more than 20 years, Kill acknowledges that he "can really speak first-hand and know about what to expect."
Pre-need plans can be tailored to any need. They typically cover burial or cremation, interment, and memorial. Through Lasting Touch Memorials, they're also transferrable within the family should a child or grandchild pass away before the beneficiary. "We're here for when the time comes," says Ward. And they're often less expensive than working directly through a funeral home or cemetery.
Ward and his team work with cemeteries throughout our region and ship markers nationwide and internationally. They've recently facilitated shipment and memorial placement as far away as Alaska, Hawaii and Samoa. They also serve fallen service members at the Fort Lewis Main Memorial Park. Locally they provide discounted products and services to the Nisqually, Chehalis, Quinault and Muckleshoot tribes including memorial stones, niche walls and urns for cremated ashes, and funeral supplies like tents, chairs and equipment.
As a long-time member of the community, Ward sponsors local youth soccer and lacrosse teams and the Scottish Rite Children's Foundation annual golf tournament. They've also provided memorial benches honoring beloved golfers to the Scott Lake Golf Course and Capitol City Golf Club.
Within the industry, Ward and Kill have seen several shifting trends. Many cemeteries now allow upright markers instead of flat, ground-set stone panels. And they've seen a rise in items ordered for beloved dogs, cats and even horses. Whether a marker or personalized paw-print memorial, Lasting Touch Memorials can create urns or customized objects to remember their life.
It's not unusual for someone to ask if a loved one can be buried with their favorite pet but, say Ward and Kill, there are rules to follow. "The state of Washington does not allow pets to be buried in human cemeteries," they explain, "but if the animal is cremated, their ashes can be included in the burial and interment."
The burial process is complicated and drawn out. Even with a detailed last will or pre-need policy, things often take longer than expected. But, says Ward, if a customer chooses one of their 100+ in-stock stones, the memorial can be carved and placed within three weeks. If a special order stone is needed, time varies from 90 to 120 days depending on shipping times. They've established ways to coordinate with other monument companies in the Northwest and strive to streamline the process from start to finish.
Lasting Touch Memorials staff also completes second inscriptions. These are necessary when a stone is pre-sold with the individual's name and birth year or for family interments in the same plot. Death years and spouse's name can be added elegantly and quickly. Stones can either be transported to the Lasting Touch Memorials shop for completion and refurbishment or a sandblaster can be sent to the cemetery with all the necessary equipment. Pre-need policies can be crafted to include the cost of eventual secondary inscription.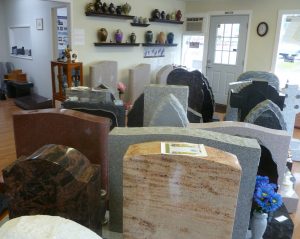 "No one likes to think about funerals, but an increasing number of adults find that preparing for the inevitable is a wise decision," reports the National Funeral Directors Association. "Today, funeral service consumers are planning funeral services that are as unique as the person who died…By making a funeral reflective of the life of the individual who died, the service can be more meaningful."
To learn more, attend their festivities, drop by the shop at 3700 Pacific Avenue SE, or call 360-458-9070 and Ward's team will be glad to assist you in any way possible.
Sponsored