If you were to make a list of the state's top high school volleyball programs over the last four years, Capital would undoubtedly be somewhere near the top.
The Cougars have simply run roughshod through their competition, posting a 48-2 record over the last three seasons with one of their losses coming in the Class 3A state semifinals to eventual champion Mount Spokane last year.
Since the midpoint of the 2017 season, Capital has gone a spotless 27-0 in regular season matchups, winning 81 out of a possible 83 sets while sweeping 25 opponents.
They won their first ever state championship in 2017, went 21-1 and finished third at state last year and are off to a perfect 7-0 record this season.
The bottom line – the Cougars have been remarkable.
And one player, Maia Nichols, has been there every step of the way.
"Maia has definitely been a huge piece of our puzzle over this last three and a half years," Capital coach Katie Turcotte said about her gifted 5-foot-8 outside hitter. "It's not very often that a freshman comes in an earns a starting position. She's a really fierce competitor and she's just getting better."
As great as she is on the court, she's even better in the sand – Nichols will play for the Arizona State University beach volleyball program next fall. Meaning her run towards a second state championship could realistically be her final time playing inside.
"It's cray to think about because I've been playing indoors since third grade," Nichols said. "I am definitely excited about the future and playing for Arizona State, but I'm also cherishing every single game I have left here."
Making that task slightly more difficult is just how dominant the Cougars have been so far in 2019. There just isn't as much time to enjoy on the court when you're hammering teams, 3-0, night after night.
Capital has been the platinum standard in the ultra-competitive 3A South Sound Conference since Nichols' arrival, and this year looks to be no different. The Cougars appear well on their way to a third consecutive conference crown as just one team, Peninsula, currently SSC's second-place squad, managed to steal a single set for Capital.
"This year in particular, it's just her consistency and just working hard to stay steady in all areas of her game," said Turcotte when asked what has stood out about Nichols this year. "She has really come into her own the last couple of weeks with her hitting and she always makes pretty phenomenal defensive plays."
It's the latter that's impressed Turcotte the most about Nichols' play.
"We all know she can jump high and hit hard, which is what really makes her stick out," Turcotte said, "but a lot of times, it's those defensive plays where she's coming in and picking stuff up where most players wouldn't be able to that really sets her apart."
Two years ago, Capital won its first-ever state championship with the Cougars' title run spearheaded by the performance of a then-sophomore Nichols.
Her play didn't go unnoticed and led to her being named the 3A state player of the year and MVP of the state tournament that season. But as the accolades started to pile up, so did the self-applied pressure inside the talented Nichols.
"There was a ton of pressure, especially going into my junior year," Nichols said. "We had six seniors graduate and I felt like I needed to fill all six spots. But as the season went on, I realized I had all these great girls around me who I could rely on."
Such players included fellow senior Maddie Mathews, a first-team all-conference setter in 2018, and juniors Devyn Oestreich and Nichols' younger sister, Madison Nichols.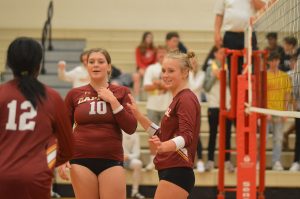 "I think this year I'm just focusing on having fun and being in the moment and playing for each other," Nichols said. "This program has just meant so much to me. This program has helped me become a better leader. It's helped me grow a bigger love for the sport of volleyball too. Every day it just keeps growing more and more."
So, what kind of player are the Sun Devils getting next year?
"They're just getting a great girl that just loves volleyball," Turcotte said. "She's going to work hard every day and be a great teammate. Those are the things she excels at."
Before she heads to Arizona State, however, Nichols is looking to add some more hardware to the Capital trophy case. The Cougars, who finished as the state runner-up in 2013 and 2014, will be looking to place at the state tournament for the sixth time over the last seven seasons this year. They will also attempt to capture their third consecutive district title.
The Cougars play their final home match on November 5 against Yelm before closing out the regular season on November 12 at Central Kitsap.