Submitted by Lynessa Stone, V.P. of Marketing and Recruiting, Advanced Health Care
Advanced Health Care welcomes two new employee to their team: Wadella Richards, RN, BSN, nursing supervisor, and Nicole Carrell, administrative assistant.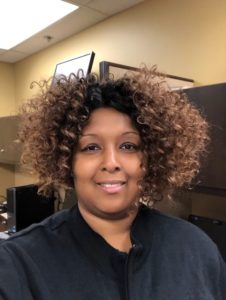 Wadella Richards, RN, BSN
Wadella joins Advanced Health Care as a nursing supervisor for the 35 year old private in-home care company. Wadella says, "I am a military spouse and we recently moved here from GA. I have 3 children (2 boys and a girl).   When I am not working, I enjoy painting various arts, crafting with clay, and experimenting with recipes. I truly enjoy beaches, but I am growing to love the trails here in WA.  Her most recent background was as a Clinical Nurse Manager at a wound care clinic in GA. She was with the company for 6 years. Prior to that, Wadella worked in a variety of settings including long term care, rehab, clinics, oncology, med/surg and local jails.  If a new job isn't enough, Wadella is also currently working on finishing her Master's Degree and will graduate in November 2019. "Since being employed at here, I really appreciate the warmth from the employees. AHC has great communication with staff and clients and I look forward to continuing that with the company."  Wadella will join the other nursing supervisors at AHC in admitting new clients that need in home care services in Thurston, Mason, and Lewis counties.  She will also supervise and oversee the nursing assistants that AHC employs, providing mentorship and training to these caregivers.
Nicole Carrell
Nicole is the new administrative assistant for Advanced Health Care.  She was hired to handle all of the front desk and reception duties for both AHC and their sister company, Procare Academy, an Olympia based CNA training school. Nicole says:  "I just recently moved here from Wenatchee, WA. I came from American Behavioral Health Systems, where I worked as a Behavioral Health Technician.  I love this area; being outdoors, walking my dog, swimming in a lake or just watching the sunset. I'm looking forward to starting a long term career with AHC. Everyone is so wonderful here and I absolutely love what we do. Helping others is something very important to me. My grandmother would have loved our services since keeping her independence and staying in her home was so important to her.
To learn more about our growing company and our careers, visit the Advanced Health Care website.