Dentists are used to putting a big smile on people's faces. You could even say, it's their job. But one group of area dentists is going above and beyond, putting smiles on lots of faces at "Shake, Rattle and Rock," a music and dance show that will be held on October 19 at the Washington Center for the Performing Arts. The show is a fundraiser that supports the Olympia Union Gospel Mission no‐fee dental clinic.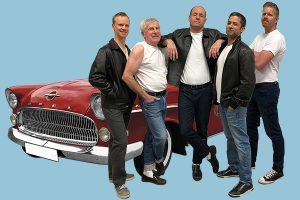 At Shake, Rattle and Rock, area dentists will join musicians and dancers to put on a rip‐roaring entertainment spectacular that is sure to knock your socks off. This year's show has a fun 50s theme, with musical numbers like Elvis Presley's "Hound Dog," Roy Orbison's "Pretty Woman," Lee Hazelwood's "These Boots Were Made For Walkin,'" and Jerry Lee Lewis's "Great Balls of Fire" just to name a few.
Performers have been planning, writing and rehearsing with the Olympia Jazz Senators to make this show special. Listen carefully to those classic tunes, as you might find a song or two that you recognize with some creatively rewritten lyrics.
The Olympia Jazz Senators, a 16‐piece band lead by music director Tracey D. Hooker, will be joined by dentists Dr. Stephen Kern, DMD., Dr. Venn R. Peterson, DDS, Dr. Kyle Winter, DDS., Dr. Suneet Bath, DMD., Dr. Steve Russell, DDS. who will perform throughout the evening. Other guests will include Debbi's Dance, and vocalists Talia Hastie, Gayla Duerr, Tommy Dinwiddie, Peter Adams. "They really rock the place," says Krina Allison, marketing and communications for the Olympia Union Gospel Mission.
Kern has been a part of the show for nearly a decade. "I believe in supporting the Mission every way I can," he says. "I donate time, services, money and now I also donate my talents on stage."
Annual support of this show is also made possible by many local sponsors, including Olympia Federal Savings (OlyFed), who is one of several legacy sponsors that has been supporting the event for many years. "This is a really fun family event that makes a dramatic and positive impact on the lives of our neighbors in need." Ryan Betz, VP, Marketing & Public Relations with OlyFed said.
The Union Gospel Missions no-fee dental clinic helps those that are uninsured or under-insured, by providing quality dental services to help minimize pain and discomfort, which often accompanies not having access to professional dental care.
"The clinic's top‐priorities are patients that are pregnant, diabetic, those with heart conditions, or anyone going into chemotherapy, by providing routine and emergency care to as many people that we can," says Allison. Sometimes people don't realize that certain medications like heart medications or chemotherapy drugs can be very damaging to teeth and without regular dental care, the damage to teeth can result in a lot of pain and even life‐threatening infections.
People are sometimes afraid to visit a no‐fee dentist, but our dentists, hygienists, and are volunteers from our local professional dental community, says Allison. They are the same dentists with private practices all around the area. "We have fabulous doctors that really care, who like what they do and want to help people," she says. Patients that use the clinic may be nervous the first time, but they leave with a smile. "One patient told me, she'd never had a dentist that was so patient, kind and reassuring."
And, in addition to volunteering at the no‐fee dental clinic, many area dentists provide chair time at their own clinics to address more complex procedures that can't be performed at the no‐fee clinic.
This year's Shake, Rattle and Rock is the latest version of an annual dental show that the Union Gospel Mission has been using as a fundraiser for over a decade. Proceeds from the show provides about 30 percent of the annual funding for the no‐fee dental clinic, says Allison. Without the annual show, many people in need around our community with painful dental conditions would have nowhere else to turn.
Shake, Rattle and Rock will be held on Saturday, October 19 at 7:00 p.m. on the Washington Center for the Performing Arts' main stage in downtown Olympia. So, don't be a square, purchase your tickets to this great event today. Tickets start at just $16 and can be purchased online or at the Washington Center's box office.
Sponsored