Submitted by Penrose & Associates Physical Therapy
M
assage therapy is no longer considered a "luxury spa service" but more of an integrated approach to wellness and feeling and moving better. In fact, with today's social media we are actually becoming more anxious and less connected to community and each other. Massage is a great way to decrease anxiety and provide healing through touch. Massage therapy lowers blood pressure, decreases pain, improves mobility and leads to healthier lives!
"The powerful tool that can help you take charge of your health and well-being is Massage Therapy" states Mayo Clinic! 
In physical therapy I have patients every day that are surprised that many times their pain is actually referred from somewhere else: called trigger points in the muscles. It is very common to have tension headaches from neck muscles that send pain to behind your eyes, your temporal region, your face and jaw. Massage is so helpful with stress, tension, scar tissue after surgeries, and maintaining mobility with arthritis.
For those of you that still think massage is for "fluff": I have many clients that arrive in a boot.  Now picture this: You have a boot on one leg and it makes that leg longer and you are to walk around in it for the next 2-4 weeks or more.  So now your hip, hamstring, knee or back hurts. Many times these patients "try stretches and exercises" but what really helps them get better is a few sessions of deep tissue massage! And as a side note if you ever arrive in my clinic in a boot I tell you about "even up" which is a device to strap to your other shoe so you are "equal" walking around so you don't even get in that situation.  You see we are all about prevention and wellness; not just treat disease and broken things.
I have many clients with arthritis that just don't move as well and often feel like it takes 1-2 hours to move better in the morning. One of the best things for arthritis is a hot shower, gentle range of motion/stretching, and a maintenance massage program. There are self massage tools that also make it easier for patients to do some on their own. However some of my neck clients really need a massage therapist to work those hard to reach areas.  Keeping your mobility and preventing more loss of motion when you have arthritis is critical to keeping your independence and limiting your pain levels.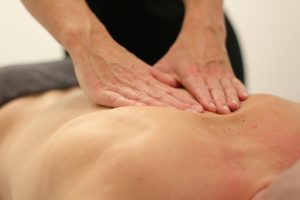 We are running a special on massage therapy right now! If you book in October 2019 you will get your massage for $50 dollars. Hurry as this won't last long with our LMT! In fact, to get to know him please listen to our latest podcast on "Stay Healthy South Sound."
On the podcast Dr. Jennifer Penrose interviews Hawk Mason, LMT licensed massage therapist who provides massage therapy services at Penrose Physical Therapy. He is a former military veteran with experience leading a team overseas as well as a history of working with disabled adults.
We discuss how "massage therapy is a powerful tool that can help you take charge of your health and well-being." And we discuss the benefits that the literature/research has been able to show as well as what we see with clients.
Penrose & Associates Physical Therapy
1445 Galaxy Dr.  Suite 301, Lacey
360-456-1444