Iron your lederhosen and practice the Chicken Dance because it's time for Oktoberfest! Oktoberfest in Olympia, Tumwater and throughout Thurston County is the perfect way to usher in fall while maintaining high spirits. There will be plenty of local craft beer and genuine German beer and food at 2019 Oktoberfest in the Olympia region.
Hoh River Brewery
Mid-September
2442 Mottman Road SW Suite A, Tumwater
Hoh River Brewing will be celebrating 2019 Oktoberfest in Tumwater with a special beer release mid-September. The week-long celebration will focus around the release of their brand-new Oktoberfest beer. Hoh River Brewing will have extended hours plus $1 off pints and $2 off growler fills of the Oktoberfest beer. Live music will entertain guests on the weekend. Follow Hoh River Brewing on Facebook for updates including exact dates of the event.
2nd Annual Olympia Elks Lodge #186 Oktoberfest
September 21
1818 East 4th Avenue, Olympia
4:30 p.m.
The 2nd Annual Olympia Elks Lodge #186 Oktoberfest is happening September 21 and is sure to be even bigger than last years! The chair of the event, Audrey Pastore, was raised in Germany and knows how to do Oktoberfest in Olympia right! The Bavarian themed menu includes bratwursts, schnitzel, hamhocks and rouladen. Each meat dish comes with traditional fixings, and a kid's bratwurst meal is offered at a discounted price. All dishes and fixings are created by the German cook Angelika Irwing, who brings 30-years of professional restaurant experience to the table, along with Josh Edmonson, the owner and operator of The Bird's Nest. Live music will play throughout the night. There will be a balloon artist for the kids, an arm-wrestling contest, Bier Krug Stemmen and authentic Black Forest cake.
Some of the proceeds will be donated back to the Olympia Elks Lodge to help pay for their roof repair, which was severely damaged during the 2018 snow storm. Tickets will sell out as there is a capacity limit, so head to the Elks Lodge ticket site to secure your spot and make your menu choices. Prices start at $10 for the kid's plate and $15 for the adult's plate. They may be able to allow people in at the door who are not wanting dinner, but would like to join the celebrations. At the door, non-meal tickets, will be $10. Visit the Olympia Elks Lodge #186 Facebook page for more information.
Allyn Town Presents 2019 Oktoberfest
September 28
Allyn Waterfront Park
18560 E State Route 3, Allyn
12:00 p.m. – 7:00 p.m.
Our neighbors to the north at celebrating 2019 Oktoberfest in Allyn with style! Just an hour drive, it's well worth it if you are looking for a full Oktoberfest Festival. They will have local seasonal microbrews, Oktoberfest mugs, German foods, and entertainment including live music. Vote on your favorite brewers and help them win the People's Choice Prize! There will also be a Committee Choice Prize for participating brewers. Tickets cost $20 and including a mug, 5-ounce sample from participating brewers. $5 for a full glass of beer. Purchase your tickets for the Allyn Town Oktoberfest on Eventbrite.
Matchless Brewing
October 4-6
8036 River Dr. SE, Tumwater
360-584-9234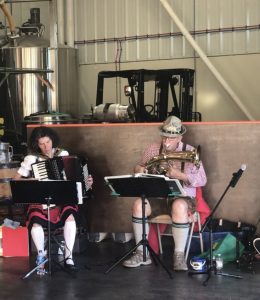 Matchless Brewing will be celebrating Oktoberfest with three days of beer and fun! All weekend there will be printed beer steins and swag, special Oktoberfest beers, German and Bavarian Style food and of course, pretzels. On Friday, October 4, listen to live music by Jeannie and Steve Berg from 7:00 p.m. to 9:00 p.m. On Saturday, music will be provided by Folk Voice Band from 6:30 p.m – 9:00 p.m. They will play a mix of German, Swiss and Austrian music, with some Scandinavian thrown in. Expect to hear Waltzes and of course the Polka! Then on Sunday from 1:00 p.m to 7:00 p.m. bring the kids for coloring activities, German food and plenty of pretzels.
Fish Brewing Company
October 5
11:00 a.m. – 11:00 p.m.
Fishtale Brewpub
515 Jefferson Street SE, Olympia
360-943-3650
Fish Brewing Company will be celebrating 2019 Oktoberfest all day on October 5 at their Fishtale Brewpub location in Olympia! This event has no cover charge, so come enjoy a taste of Germany. They will have a special menu, mugs for sale and will be decked out in German decorations to get you into the spirit of things.
Madeline's Bavarian Wurst
October 21-26
700 Capital Way N, Olympia at the Olympia Farmers Market
360-402-8866
You can head to Madeline's Bavarian Wurst at the Olympia Farmers Market for German food anytime the mood strikes you! During the week of October 21, as part of the Olympia Farmers Market Harvest Day on October 26, you can head to Madeline's for specials, along with their regular menu full of bratwurst and currywurst. Specials include hot German potato salad and Oly Kraut's kraut and red cabbage apple slaw with an all pork bratwurst. Visit Madeline's Bavarian Wurst Facebook page for specials and operating hours.