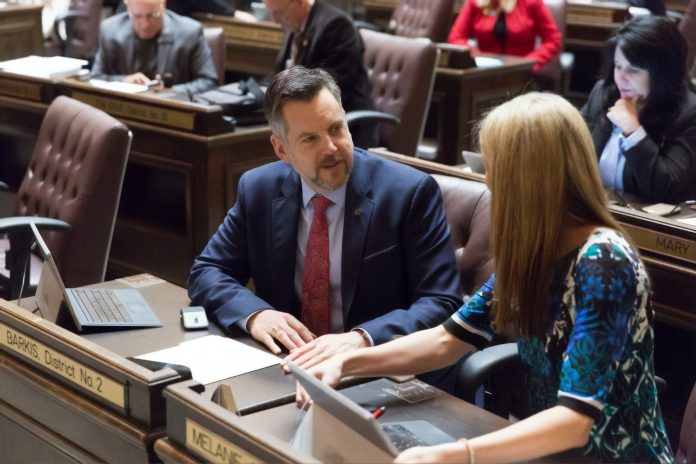 When we think of politics, it's often with a degree of separation. Laws and rules are made by mysterious lawmakers, separated from the hustle and bustle of everyday life. But in Washington, we're governed by a citizen legislature who live, work and play amongst us when not in session at the Capitol.
Because of this schedule, our legislators often work outside of political life and in a variety of industries. This keeps them in touch with their constituents, and part of the workaday life we all experience. Andrew Barkis, elected representative from the state's second district, thrives on this (sometimes) organized chaos.
During session—and often overlapping into their interim break as well—he represents a district that includes Yelm, Eatonville, La Grande and areas of Mount Rainier National Park in the Washington State House of Representatives. Owner of Hometown Property Management, he and his team handle real estate management in and around Thurston County.
Barkis grew up in Lewis County and attended college in Centralia and Seattle. It was in Seattle that he first started in the property management industry. He moved back to the Thurston County region in 1996 and was serendipitously offered a job by a property owner while out looking at a prospective purchase. In January 2005, Barkis took over Olympia's Hometown Property Management.
The future of the business is "working on systems and efficiency, within the demands of the market, embracing technology while continuing to grow." As many have noticed, housing in our area is "facing a critical supply shortage. The greatest challenge is adapting to supply." But, Barkis and his team acknowledge, business is cyclical and markets are always subject to ebb and flow. "We do things so differently here. We've built a team concept with a center focus on customer care for owners and tenants."
When not working, Barkis trades suit and tie for sweats and fleece, a three-day growth of beard, and member of his super comfy toque collection. "I love the outdoors and this area has access to some of my favorite places," says Barkis, "like camping and Mount Rainier." He also loves the sense of community and service felt throughout.
Barkis is also active with Gateway Rotary, Chambers of Commerce in Lacey, Yelm, and Thurston County, and assistant scout master with the Boy Scouts where his son is working towards the prestigious Eagle Scout rank. He also recently finished a term on the board of the Boys and Girls Clubs of Thurston County.
But the reality of government work means that 100 percent of his time during legislative sessions is dedicated to governing. "It's late at night and early in the morning," he admits, "But I have a phenomenal team at work; they run the show. As owner, I've worked to remove myself, to trust and allow my team to flourish."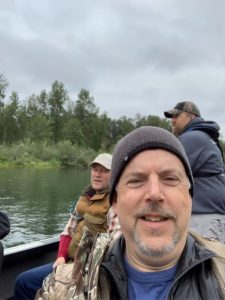 He's been surprised by how much time it takes to enact policy as—perhaps unsurprisingly—it's "not just policy but politics." On the positive side, there's tremendous "power in relationships, on both sides of the aisle, between staff, representatives, senators, lobbyists. I'm in awe at the privilege of being able to do this." And he hopes to continue for many years to come. "We'll see what the future holds. I'll stick around as long as I can continue to be effective."
If you're looking for a legislator who has seen Rush perform 12 times, plays a mean drum solo, and comes from a family that has camped at Lewis and Clark State Park every year for the last fifty years, look no further. Andrew Barkis works (and plays!) in, around, and on behalf of many families throughout both his constituency and Washington State as a whole.
Thomas Jefferson once said that: "The care of human life and happiness, and not their destruction, is the first and only object of good government." The truest representatives are those that immerse themselves in the same festivals, school concerts, restaurants, hiking trails and DMV lines as those they represent. Barkis does all that and more.
Discover more about his legislative work, committee membership and see him in action via TVW's video archives. Better yet, swing by the Capitol during session to watch Barkis and his fellow officials live. Follow the legislature's activity calendar for publically accessible hearings, floor sessions and interactive events.