The Olympia Parks, Arts & Recreation Department has a wealth of people that are not only highly-qualified instructors but are also deeply passionate about the skills they teach. Those are the instructors organizations search far and wide to recruit, and our city happens to be blessed with an abundance of them.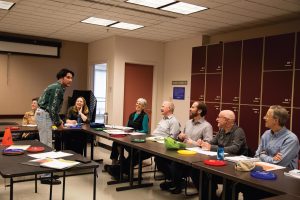 Alejandro es un apasionado de enseñar español a las personas. Do you know what I just said? You might if you've been taking his Beginning Spanish classes. Alejandro came to the U.S. in 1997. That was after he found himself in the midst of super-stardom in Mexico, as part of a group he formed that performed Techno Banda Pop, (think Mexican N'SYNC). Rubbing elbows with Ricky Martin and being driven by chauffeurs wasn't the life Alejandro wanted to lead, so he set out for America to study philosophy instead.
By 2002, Alejandro had been recruited to work for an organization called American Cultural Exchange, where Alejandro was contracted to teach Spanish to Lincoln Options Elementary students. It was the same company that granted Alejandro a scholarship to learn English at Pacific Lutheran University, which was something that for the first six years of being in the States he was resistant to. "I always tell my students that if I can learn English at age 33," Alejandro says, "then you too, can learn to speak Spanish."
Alejandro began teaching Spanish for Olympia Parks, Arts & Recreation in 2006 and has been a beloved instructor ever since. "My class fits everyone," he says, "people say I'm super entertaining." He has a unique way of teaching students in his class through a curriculum he developed that he calls ARMA, which stands for Association, Repetition, Memorization and Addition. "Arma in Spanish is a command," Alejandro says, "it means 'to assemble'." and that's exactly what Alejandro helps his students do when they come together: assemble a working understanding of Spanish language.
When Alejandro talks about his classes, his face lights up, and it's obvious that it's not just the students who are gaining here.
Eileen began teaching for Olympia Parks, Arts & Recreation the same year Alejandro came to the States, 1997. She started studying dance in Seattle at 11-years-old, through – not surprisingly – the parks & recreation department in her town. By 1989 she had relocated to Hawaii where she began studying under several hula masters, performing at venues and teaching classes.
"My primary hula instructor, George Naope, always reminded me 'Hula is the heartbeat of the Hawaiian people,'" Eileen says, "as originally, there was no written language in the islands.
Hula was how history and events were recorded, deities and individuals honored."
Eileen says dance unlocked "vital realms" for her. "Incredible instructors showed the basic tools
to work with, then nurtured those fledgling steps, building skill and self-confidence," she explains. "The focus and determination required, helped build a foundation for not only accomplishing that new, difficult dance, but well beyond that."
With enough dedication, the student can always become the teacher, and that's exactly what Eileen has done. "There are many varieties of basic hula that we study through [my classes]," Eileen explains. "Most of our dances would be referred to as modern day, 'auwana,' which encompasses the time forward from when musical instruments were introduced to the islands. Some songs feature implements such as gourds, stones and split bamboo sticks. We also study ancient forms of the hula known as kahiko."
Eileen's classes have a "come as you are" philosophy, and Hawaiian dance is gentle and easily adapted for all ages and abilities. "On several occasions," Eileen says, "students have commented to me that dance class allowed them to pleasantly disengage from things happening elsewhere in their world."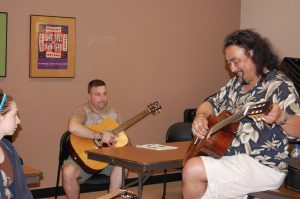 Like Eileen, Bill also talks about other realms when asked about his classes. He's the instructor of three guitar classes across all three of the Parks & Recreation Departments covering Olympia, Lacey and Tumwater.
"Community education is one of the most meaningful encouragement and opportunity resources ever created," says Bill. "A small investment of money and time can launch people into realms that were never accessible, or were denied to them by life's complexities."
Bill has a solid background of teaching people to play guitar, and has taught for South Puget Sound Community College (SPSCC) as well as The Evergreen State College, where he taught students a rigorous course in fingerstyle techniques from the Segovian method.
He joined Olympia Parks, Arts & Recreation as an instructor in 2007 and says that working with them has allowed him to bring the possibilities of guitar playing to people who are curious and cannot afford private lessons. "I love how absolute novices can support each other and somehow produce the elements of melody and harmony within three to six sessions," he shares. "It's a testament to their cleverness in a class where 'cheating' is encouraged!"
Just like in Bill's classes, the participants of Cindy's classes support each other. "The best part about instructing Family Playtime," Cindy says, "is seeing all of the children and their families having fun playing together. I love watching families form bonds with each other."
Cindy has been working for Olympia Parks, Arts & Recreation since 1997 – starting in the same year as Eileen. She's beloved by all of the children (and their grown-ups) who take her classes, and she is particularly adept at adapting her classes to the needs of the participants. "One class might need to burn off some extra energy," Cindy says, "while another class would benefit from interacting with each other in a quieter way."
It's her warmth, positive energy, attention to detail, and adaptability that participants love. And Cindy loves the work that she does, too. "Being at the community center I have met people from around the world. It has been inspiring to learn about so many different cultures and customs. Not only is my world expanding, but we are providing a space for the children to learn from each other."
The longevity of Cindy's position has afforded her the unique opportunity to watch children and families grow, and many of the participants who attend the Family Playtime activities end up referring other families. Words of Cindy's loveliness have spread among Olympians and beyond. "I am so touched and honored to be thought of so fondly," she says.
It's More Than Just A Class
The City of Olympia's Parks, Arts & Recreation Department is more than just classes. It's an experience. It's being entertained while growing confident enough to speak another language aloud, it's being met where you are while being given an opportunity to express yourself through dance, it's learning a new skill that was previously unattainable. It's making lasting connections in some of the hardest stages of your life, and cherishing them throughout the years.
It's all of these things. But just remember – it's nothing if you don't give something new a try. Head to the Parks, Arts & Recreation Department website to sign up and start your new journey.
Sponsored