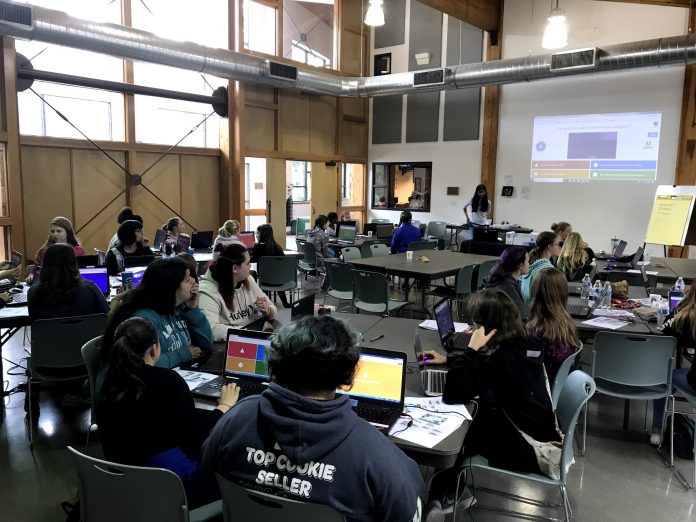 Students these days are surrounded with technology. Cell phones, Chromebooks, streaming videos and smart devices. It seems they are constantly connected. While this has its pros and cons, the real issue is that many of these children are missing out on some amazing opportunities this technology can bring into their lives. Enter DOT4Kids (Discover Opportunities in Technology for Kids). The goal: expose kids of all socioeconomic levels to STEAM careers by providing workshops and curriculum from educated, youth instructors.
"Right now, my goal is to be able to help these kids by giving them these opportunities and then be able to actually present their new skills," explains founder and Olympia High School sophomore, Smriti Somasundaram. "Teaching students especially in underrepresented areas is what DOT4Kids is all about."
What started as a competition in the sixth grade for Somasundaram has quickly become a passion that has thrown this high schooler into the world of education. "I started with the Think Big Challenge teaching kids why STEAM is important. My team won the challenge. From there I joined Think STEAM WA as an advisor and did a ton of workshops there for girls in STEAM fields. I really try to focus my teaching on HTML, CSS and Android Apps."
While the initial focus of the organization was to serve girls, the need amongst all students became apparent when presented with low income families. "These families became the focus. Teaching kids, both boys and girls, gave them a chance to begin working on skills that could help them get a successful career one day."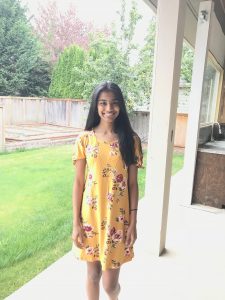 Some of these students are pushed to attend one of the DOT4Kids workshops by their parents or a teacher, making it a tricky sale. "A lot of these kids come in unsure if they want to attend the class," says Somasundaram. "I try to teach it the way I want to learn it. Make it fun by showing the outcome first. They always seem really into mobile applications so I let students play around with it before getting serious. Afterwards, they really get into it and by the time they leave, they are really excited and start working on their skills at home."
This organization cannot do this work on their own. In fact, they've teamed up with local groups including TOGETHER! Washington, Big Brothers Big Sisters of America, and their biggest backer Girl Scouts of America to bring technology to these students in need. "With Girl Scouts, they've bought a ton of laptops to help to provide technology to students that want to come to the workshop, but don't have what they need to complete the course. It has been incredibly helpful to get more students in the door. All the kids have to do is show up and be willing to learn."
One of the most impacted demographics for DOT4Kids are middle schoolers. "This opens a lot of doors for them for high school," explains Somasundaram. "One of my past students from an HTML class just made a website for her school! She's already applying what she's learned in the real world. Many of these students are going one-to-one with Chromebooks so I'm creating programs that make it so kids can go back home, use their Chromebook, and practice what they've learned in my class that day. There are even coding classes being offered at the high school level now as well. It's become more normal now because more kids want to learn how to do it."
With such a high need in our community, Somasundaram doesn't see an end to her goals in sight. "Right now, we do have some sponsors, but there is a need for more donations. I've received a few grants that have helped a lot and the more people learn about what we are doing to bring technology to kids the more interest there seems to be in funding us. So many programs pass out technology to students but don't show them how to use it productively. Our workshops are really focused on taking these devices and kids to the next level."
For more information on available workshops or to support DOT4Kids, visit their website.