Green trees. Salt water. Incredible wildlife. It's all waiting for you to discover while paddleboarding in Olympia. Check out the evolving downtown skyline from your SUP or watch for whales during a sunrise. There are several places to paddleboard in Olympia that give you a true taste of the beauty of the Pacific Northwest while on the water.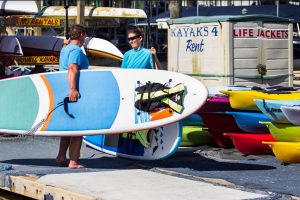 Swantown Marina/Port Plaza
Address: 1022 Marine Dr NE, Olympia and 701 Columbia St NW, Olympia
Launch Site: Paddleboards can be launched out of the Swantown Marina boat launch.
Cost: If paddleboards are placed in the water by hand, there is no launch fee. The fee for vehicle-assisted launching is $5.
Parking: Free day parking can be found in the boat launch parking lot (between the launch ramp, KGY Radio Station and Anthony's Hearthfire Grill). Overnight parking is located between GHI and DEF docks and is $3 for each night, up to 29 nights.
Along the way: Rest stops include the Port Plaza dock, downtown Olympia and Priest Point Park.
West Bay Marina
Address: 2100 W Bay Dr NW, Olympia
Launch Site: On West Bay, bring your own paddleboards and launch from the Tugboat Annie's kayak dock or West Bay Marina.
Cost: none to launch.
Parking: Daytime parking is located at the Marina and shared with Tugboat Annie's.
Along the way: Paddleboarders can stop and rest at West Bay Park, complete with a bathroom and beach access.
West Bay Park
Paddleboarding in Olympia, Washington is made easy with several low-cost launch sites. Photo credit: NorthAmericaTalk

Address: 700 W Bay Dr NW, Olympia

Launch Site: A handheld boat launch is located at the north side of the park, intended for paddleboards, kayaks and canoes. Not a traditional concrete ramp, the launch is an easy access point to the beach.
Cost: There is no fee for launching a paddleboard out of West Bay Park and no reservations are necessary.
Parking: Free daytime parking can be found in the West Bay Park lot. Park hours are dawn until dusk.
Along the way: Views along the way include the shores of Budd Inlet, the Washington State Capitol Building, and Downtown Olympia. Stops can be made at Port Plaza.
See also: The City of Olympia offers paddleboarding classes through their recreation programs. Classes are held during the summer months.
Sponsored