In addition to offering a variety of health and wellness, personal growth and arts classes, Senior Services for South Sound has been building up an impressive list of academic courses. "You help your brain when you are actively learning, sparking synapses and creating new pathways," says Sara Thiessen, education coordinator for Senior Services for South Sound. "Coming to class is a way to be socially engaged. You can share ideas and learn new ones, while forming relationships."
Academic courses are modeled after college classes, delving deeply into a very specific topic within a subject area. Courses focus on a variety of subjects including U.S. and world history, literature and writing, music and theology, and more. Each course lasts approximately six weeks and they take place during fall, winter and spring.
"These classes are interesting and engaging, covering the topic in-depth through lectures and activities you would find in undergraduate school," says Thiessen, "but there are no tests, no grades, only fun."
Seniors aren't the only ones taking advantage of these courses. Adults of all ages find themselves benefiting from the knowledge they gain in these unique class offerings. "Some of our most popular courses are the writing classes," says Thiessen, "people start to realize they have a lot to say, either in memoir or creative writing, and they want some help organizing the words on the paper."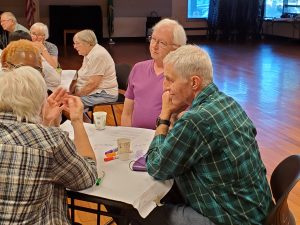 Classes are taught by retired college professors from each of the area's three colleges: Saint Martin's University, South Puget Sound Community College and The Evergreen State College. Occasionally, even current professors, or visiting professors from around the world teach classes. Classes cost between $50 and $100, with most classes priced at $68 for the general public, which represents a great savings, when compared to the cost of auditing a college level class. Senior Services for South Sound members receive a discount.A select number of scholarships are also available for seniors that qualify to reduce the cost.
Catalogs for all classes can be found online. To register for an academic course or one of Senior Services for South Sound's many other lifelong learning class offerings, visit the Lacey or Olympia Senior centers. Registration for fall academic courses begins August 19.
Sponsored