For owner of GoofyFoot Pretzels, Laura Baxter, becoming a small business owner was a family tradition. The entrepreneurial spirit ran strong, with both of her parents and all five of her older brothers each owning their own business. After beginning her career in the financial industry, Baxter started from scratch, baking flavored pretzels under the GoofyFoot name. Almost 5 years and 15 flavors later, Baxter has witnessed the power of friendship, family and the local community to aid in the growth of her snack company.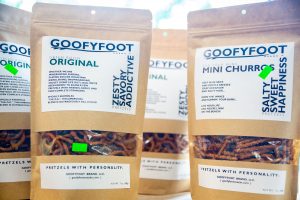 You will find over a dozen flavors, from savory to sweet, now available in store at Spud's Produce Market. With no packaging established and only a prototype, Baxter launched GoofyFoot while at the Cape Kiwanda Longboard Classic surf competition in Oregon. The idea took off and soon after, businesses and hotels started placing orders for more pretzels. That initial pretzel buzz is what inspired Baxter to come up with additional varieties.
Flavor inspiration has originated from unexpected places, including family, customers, international travel and even sometimes in the middle of the night. Baxter says that a lot of trial and error is involved before rolling out a new pretzel, but she always has willing participants to test new flavors.
"When we try a new flavor, I love to give those to existing customers and have them give us some feedback," says Laura Baxter, owner of GoofyFoot Pretzels. "A lot of close friends have been huge supporters of my business and they of course want to do all the taste testing so that's really fun, too."
When customers request certain flavors, Baxter enters into the test kitchen to make the combination work. One of the first additional flavors was sriracha, suggested by Baxter's son. GoofyFoot's churro pretzels were inspired by food court churros. A trip to Germany for Baxter and her daughter also inspired its own pretzel.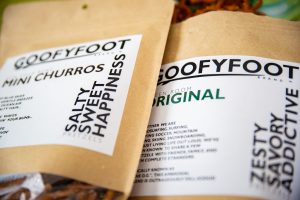 "They've got these pretzel carts all over and we were staring at this big pretzel cart," explains Baxter. "They had a big squeeze container of honey and another of mustard. And we just stood there and were like, 'oh my gosh, German deli!' And we came home from that trip and the German Deli flavor came into being."
Baxter says that it has been a bit of a learning curve entering the food service industry, as she picks up the intricacies of owning a food manufacturing business on her own. When beginning her pretzel journey five years ago, she did not find an abundance of online resources for running a food manufacturing company. "It's kind of taken a lot of behind the scenes work and help from a lot of friends and family members," she shares.
Along the way, a major motivation for Baxter has been her children and teaching them how it is possible to make an idea come to life. "Not knowing the industry and not knowing anything about building business like this," explains Baxter, "it's been really fun showing my children and having them be involved in the process. That part of it is really, really rewarding."
Spud's Produce Market and GoofyFoot Pretzel: A winning combo
Available at Spud's Produce Market, GoofyFoot Pretzels was initially connected to the grocery store through Baxter's volunteer work and the suggestion of local customers. Volunteering for a high school DECA team, Baxter's students completed a project where they partnered Spud's and GoofyFoot together and presented it at their district competition. In addition, several customers approached Baxter and recommended that she reach out to Spud's to sell her pretzels in store.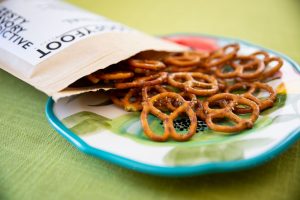 There were also consistent requests to stock GoofyFoot Pretzels at Spud's Produce Market, so eventually Baxter met with the owner, Dave Jekel to begin a partnership. "It was really funny," says Baxter. "Because by the time we finally met, it was almost laughable. We felt like we knew each other. I certainly didn't have to sell my product and Dave didn't have to sell his business to me."
The collaboration between GoofyFoot and Spud's Produce Market is a success all around, Spud's is currently GoofyFoot's highest mover of products.
A highlight for Baxter's GoofyFoot Pretzel journey has been the people who have helped her succeed. Between the support of loved ones and customers rallying to get her pretzels into Spud's Produce Market, Baxter says it's amazing to witness her community gather around a company they believe in.
"I've had such a great opportunity to meet people I otherwise wouldn't have met," says Baxter. "And in doing that, I think it brings so much joy into my life."
To learn more about GoofyFoot, their flavors and their retail locations, visit the GoofyFoot Pretzels website. Visit the Spud's Produce Market to learn more about all the great local products they carry.
Spud's Produce Market
Olympia
828 Capitol Blvd SE, Olympia
360-915-9763
Tumwater
804 79th Ave. SE, Tumwater
360-764-8915
Sponsored