Rhonda Lee Grantham is member of the Cowlitz Nation, whose family line has resided in Nisqually Territory for generations. Though Rhonda is a born world traveler, one thing has remained constant in her life: herbal medicine. Rhonda is a healer – an Indigenous midwife, herbalist, and community organizer, and is also the founder of the Canoe Journey Herbalists project, which she co-coordinates with Sophie Geist.

The project makes herbal medicine and first aid available to the more than 15,000 Indigenous people who travel their ancestral waters every summer as part of the Intertribal Canoe Journey. The now 30-year-tradition of paddling, ceremony and reverence for traditional ways is, "A really important element," Rhonda says, "in celebrating Native Pride and reclaiming healing traditions." The journey is the largest gathering of Indigenous people across the Salish Sea.
For the majority of July, Coastal Tribes paddle together, being hosted from one tribal community to the next. Tribes take turns being the host, and that's where the journey culminates with days of songs, dancing and gifts. This week, the journey will be traveling through Thurston County on Squaxin Island and Nisqually as they paddle to the Lummi Reservation, near Bellingham.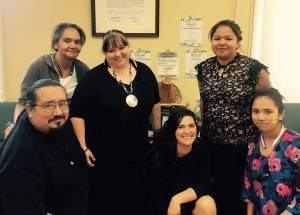 Bringing the Canoe Journey Herbalists Project to Life
Three years ago, Rhonda was fighting for Indigenous sovereignty and environmental stewardship by serving the Water Protectors on the Standing Rock Reservation as part of the Standing Rock Medic & Healers Council. While serving fellow Coastal Salish community members there, she made a promise that she would continue the care they had begun on the upcoming Canoe Journey. As a longtime participant of the Intertribal Canoe Journey, she knew that the intergenerational event also brought with it extreme challenges as paddlers traveled for days under the blazing summer sun.
Upon returning home from Standing Rock, Rhonda's vision of a roving apothecary began to take shape. She was fortuitously gifted a full-size bus, an important element in the success of her project, as the premise of it is mobility. She reached out to fellow herbalist Sophie, who enthusiastically agreed to hop aboard. With Sophie bringing a strong background in herbalism, community activism and Native allyship, the two are proud to have steadily grown the project into a mobile healing apothecary with year-round opportunities for community engagement.
This is "Many Hands Medicine"
There are now 13 medicinal herb gardens across our region that support the Canoe Journey Herbalists project. In order to serve the hundreds in need of treatment, it takes a year-round community effort. Rhonda says:
"It's important to note that every single plant has been touched by multiple sets of hands. It would be very easy to operate the project by just purchasing herbs, but growing and tending our own herb gardens offers a deeper connection to the land, our community and sustainability. When we are invited onto Native Territory to harvest, we are having ceremony and native storytelling about the plants, and we are overseeing that the stand is being tended to. It's then that we can confidently say that those medicines have been harvested rooted in those ethics."
Community Support, Herbal Internships and Apprenticeships
Throughout the year, the Herbalists host a variety of work parties. There's the growing and harvesting of herbs, and then the medicine-making that stocks the bus with healing salves, tea blends, herbal foot baths and many more remedies.
The Canoe Journey Herbalists project also invites year-round interns to earn college credit in learning how to run a non-profit, doing community outreach and capacity building – and of course, making medicines.
New this year is a piece of the project that is very important to Rhonda. She has developed what she calls an Indigenous Herbalist Apprenticeship Pathway, which opens the door for Indigenous community members (many of whom are urban Natives) to learn and reconnect with the teachings of the land.
"There are often broken links to ancestral lands, as well as access to teachers of their own tribal community," Rhonda says. "This is a way to help them come into medicine-making and healing work on the land that they're currently living on."
Another key component of the program is the "Adopt -A-Remedy" opportunity. This gives the greater community a way to support the project while experiencing the many ways to make herbal medicines. Groups like the YWCA sign up to make a remedy from start to finish, and donate it back to the project. The Canoe Journey Herbalists provide clear, written directions and all of the supplies, while community organizations craft the medicines.
"We are so grateful," Rhonda says, "for the remedies that the YWCA and many other community groups and individuals have gifted the program."
How a Simple Footbath Can Change Everything
This year, the herbal bus will make 15 stops on reservation lands, where 20-30 volunteers will be on hand providing everything from herbal medicine consults to first aid, Indigenous healing sessions to family support. Although people really enjoy the "give-outs," like salves, sunburn sprays, lip balms and teas, Rhonda says, "It's the support from caring people that seems to be the care that matters most."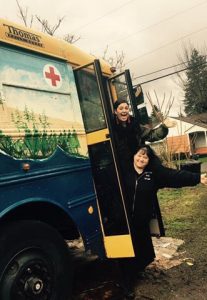 The project provides a large number of footbaths, for elders especially, which is no small task since all water must be hauled to the bus and be boiled. "It feels really important to offer footbaths because it often opens up the door to deeper care," Rhonda says. "The bath might start with sore feet or issues with circulation, but as people start to soften, they share what's on their heart and going on with their body. Often trauma comes to the surface and stories emerge, and our volunteers collaborate to provide whatever else may be needed."
"The herbal footbaths, as well as a cup of tea and kindness are truly important points of entry for supporting people in their healing journey," she says.
The Herbalists are at work year-round. If you'd like to participate in a community harvest day, or your organization would like to Adopt-A-Remedy, connect with the Canoe Journey Herbalists project by sending a message to canoejourneyherbalists@gmail.com. Their website is currently under construction, but you can follow along with them via their Facebook page. The project has received a couple of small grants, but is primarily funded through small, individual donations. If you'd like to contribute, check out the project's Go Fund Me.