A picnic is one of the best ways to take advantage of the sunny, warm days ahead. Grab the picnic basket and hit some of the best outdoor dining spots all around Thurston County. For low-cost fun in the sun, parks, trails and hidden locations are the best places for family memory making or a romantic outing for two.

On the Westside of Olympia is charming Sunrise Park. With picnic areas and a newer playground, there's fun for everyone. Bring a ball and shoot hoops at the basketball court or take a stroll through the community gardens.
Olympia Farmers Market is the place for the freshest ingredients for any picnic. Or for a low-fuss meal, grab and go from one of the many wonderful food vendors there like Our Farmers Table. Escape the busy atmosphere of the market at Gallacci Gardens tucked behind the market.
At Priest Point Park, find picnic areas and tables to have a lovely meal outside, or for a larger affair rent a picnic shelter. Wander the nature trails and beach access to experience the area's natural beauty. Enjoy a short walk on the one mile of saltwater shoreline or head to tucked away Ellis Cove with views of downtown and the Capitol. There is a playground and an area for basketball to work off your lunch calories too.
For a picnic with magnificent views of Mount Rainier, Frye Cove Park is a peaceful place for lunch. Its two covered shelters have space for 8 to 10 picnickers. Find fun in the meadow and playground or take a nature walk on the two miles of trails and 1,400 feet of beach on Eld Inlet.
At the southernmost tip of Puget Sound is the stunning Percival Landing Park. Pack a picnic and enjoy lunch with beautiful views in the heart of downtown. Grab lunch from nearby Neneveh Assyrian and enjoy traditional Middle Eastern dishes with a Pacific Northwest twist and watch the boats go by. For a later meal, the sunsets here are lovely. Don't miss the public art sculptures by local and regional artists.
Instead of a picnic basket, pack lunch in a backpack, pull on the tennis shoes, or grab the bikes and find nature at the Chehalis Western Trail. Its 22 miles feature trailheads suitable for a picnic complete with restrooms at Chambers Lake Boat Launch, Scenic Overlook at Chambers Lake and the Yelm Highway Pedestrian Overpass. Enjoy a tranquil meal with access to over 170-acres of parkland with wetlands, forests, farmland, creeks, and pristine prairies, including the Deschutes River, the Puget Sound, and Chambers Lake.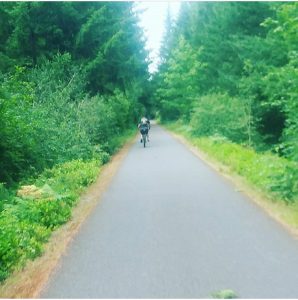 While on the Chehalis Western Trail stop at Monarch Sculpture Park. As a primitive park, there is no vehicle access, and you can only walk or bike in. View the contemporary outdoor sculpture and art complete with a sound garden in this unusual park.
For even more trails to wander and find the perfect picnic spot, the Yelm-Tenino Trail offers 14.5 miles of trails that run east-west connecting Yelm, Rainier and Tenino. The Yelm trailhead features picnic tables, restrooms and an information kiosk.
For a tranquil picnic, find serenity at Yashiro Japanese Garden. With picnic spaces and public art, enjoy a meal in an oasis complete with the sounds of falling water and singing birds.
With almost a mile and a half of paved pathway and a playground, Closed Loop Park is a peaceful picnic place. Relax and eat lunch in the gazebo or spread out on one of the picnic tables. Bring the dogs and take them to the Thurston County Off-Leash Dog Park nearby.
Black River Canoe Trips is loads of fun for a relaxing ​adventure​​​ with loved ones, kids, friends or even the dogs. Drift smoothly while snapping photos, fishing, or picnicking as long as you want and they will pick you up and bring you back. They even offer a blueberry picking adventure.
A perfect picnic includes a well-packed picnic basket. To keep perishable food cold and not soggy, use frozen water bottles. Since remote locations may not have running water, wet wipes are a great alternative. For a complete meal, make sure to bring seasonings like salt and pepper. Lay out a soft blanket for meals in the grass, but a cutting board or tray is a good idea too. Don't forget cutlery, including serving spoons. For a more upscale vibe bring some nice dishes and fabric napkins, or skip the cleanup and use disposable dinnerware. Just make sure to bring a trash bag too.
Eating outside makes food taste slightly more delicious and offers memories of summer fun when the sun is long gone. Whether it's a picnic at the beach, a meal after a bike ride or hike, or at a patch of grass at the park it's worth spending time to eat in an alfresco setting.