Saint Martin's University didn't have to look too far to fill the vacancy caused by the departure of former head men's basketball coach Alex Pribble.

While Pribble, who left the program following four successful seasons to take the role of associate head coach at Division I Seattle University, was building a powerhouse in Lacey, Aaron Landon was just down the road doing the same at nearby South Puget Sound Community College, transforming the Clippers from also-rans to champions.
Landon will now look to find similar success with the Saints as he was named the 16th head coach in Saint Martin's men's basketball history last month.
"I'm incredibly excited. My journey to SMU makes this even more special because I have grown up as a college coach in front of this community," Landon said. "I was offered the job on my 37th birthday. It's a bit surreal, but I'm full of energy and enthusiasm for this opportunity."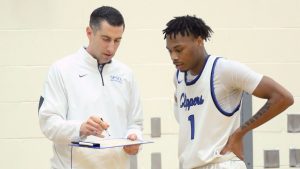 Landon inherits an SMU team that is coming off its best season in program history. The Saints won their first ever Great Northwest Athletic Conference regular season title in 2019, and parlayed that success to a second consecutive trip to the NCAA Division II Tournament, where they reached the Sweet 16 for the first time.
SMU was led last year by an incredibly talented and deep senior class, which included all-conference players in Chandler Redix, E.J. Boyce, Jordan Kitchen and All-Region guard Luke Chavez, who played under Landon for one season at SPSCC before transferring to Saint Martin's.
"The biggest challenge will undoubtedly be losing 10 players from last year's team," Landon said. "That was a really special group, and with most of them gone we will have a young team facing a tough national schedule. I love the idea of facing the fire with a young new team. That's the only way to grow up and develop together."
The Saints only return two players who were in uniform last year in 6-foot-3 junior guard Caden Smith and 6-9 junior center Marky Adams.
"The rest will be new young faces, but being young together means they'll have more time to build trust and chemistry," Landon said. "The most exciting early addition has been hiring Tyler Velasquez as an assistant coach. He has a huge role in my success as a head coach and he'll be a major asset to the development of our young players."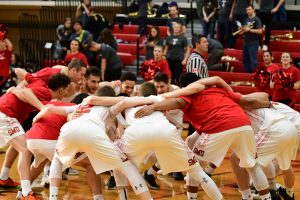 SMU finished 26-6 overall and 17-3 in GNAC play last year, defeating Concordia University (63-60) in the first round of the NCAA Tournament and Seattle Pacific University (67-62) in the second round before falling to Point Loma (60-54) in the Sweet 16.
"It's going to be a new group. And there's always an adjustment (with a new coaching staff)," Landon said, "but the core of who I am as a coach won't change and I have a clear vision of what I want to do at SMU. I know how special Saint Martin's can be, and as long as the players want to compete as much as Tyler and myself do, we'll all build that special connection."
Landon leaves SPSCC as the Clippers all-time winningest coach, posting a six-year record of 102-68 with the lion's share of those victories coming in the last four seasons. Landon guided SPSCC to a 93-26 record during his final four years with the Clippers, being named the Northwest Athletic Conference West Region Coach of the Year three consecutive seasons.
"We are thrilled with the hiring of Aaron to be our head men's basketball coach at SMU," said athletic director Bob Grisham. "I have watched as he took an SPSCC program with minimal success over the years and developed it into a perennial Northwest Athletic Conference contender with four straight 20-plus win seasons and championships."
SPSCC won three straight NWAC West Region championships and have reached the postseason in each of the last four years under Landon's guidance, earning a trio of No. 1 seeds. The Clippers enter next year with a 23-game home winning streak intact with their last loss coming in November of 2017.
"I love to compete, but I am also very focused on player growth and development," Landon said. "The one thing I have never done as a head coach is recruit freshmen and have four years to develop them. That will be a new and exciting piece of coaching NCAA Division II. The amount of time you have to develop student athletes is incredible."
Prior to arriving at SPSCC in 2013, Landon was an assistant coach at GNAC member Concordia for two seasons, helping the Cavaliers to their first winning season since 2007. He was also coached at Marina High School in California (2008-2011) and Santa Monica College (2007).
"This area and the local basketball community are so special to me because it's who embraced me as a young college head coach. For six years, I poured everything I had into the program at SPSCC and I think I have a special bond with this community because of what we accomplished together," Landon said. "I always have taken great pride in representing Thurston County and putting a product on the floor that the community could be proud of. I hope to continue that for a long time at Saint Martin's."