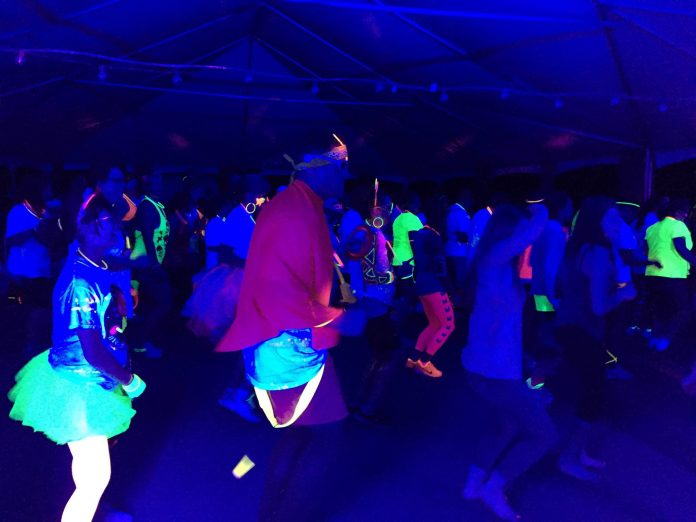 Put together your best neon outfit and get ready for an evening of glow in the dark excitement in Olympia! The Glow Run 5k, presented by Hawks Prairie Rotary Club, combines physical fitness with excitement, so much so that you'll forget that you're working up a sweat.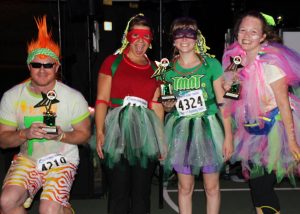 Formally the Grow in the Dark 5k, the Glow Run 5k is a unique event that the whole family will love. There are two events offered on July 26, the first being an exciting Kids Run starting at 8:00 p.m. This event is for children 10-years-old or younger on the day of the race. The total race length is half a mile, creating a great way for your kids to burn some of their boundless energy in an environment that's hard not to get excited about. Be sure to deck your kids out in their favorite neon outfit as prizes will be distributed for the most spirited looks that glow the brightest on the course. Ribbons will also be distributed to all participants.
The second event is aimed for adults, although children of any age many also participate if accompanied by someone over 17-years-old. This course is a three lap, 5k beginning at 9:00 p.m. There are four Glow Zones along the 5k course. At every Glow Zone, prepare to dash through a different glow environment. For those feeling adventurous, take a quick detour to get splashed at the Glow Water Station. As runners complete each lap around the course, they'll receive one card. Once they've received three cards, runners then proceed to the finish line where they'll join the Post-Race Party featuring music by Party Medics DJ. There will also be free food, beverages and prizes! As with the Kids Run, wear your brightest and most colorful glow in the dark outfit for a chance at a prize. Bright white and neon tend to glow the brightest under the lights, while LED lights and glow sticks are always encouraged.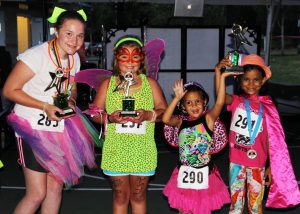 Although this is the second consecutive Glow Run, this event marks the Hawks Prairie Rotary Club's 7th annual fun run event. "What's so unique about this event is that it's a glow in the dark night time run," explains Terry Taylor, chair of the 2019 Glow Run 5k. "Additionally, it's an official timed race so even though it's highlighted as a family fun run, it's a legitimate certified run for those more competitive and looking to track their run times."
Running for a Cause   

                                                      
The Hawks Prairie Rotary Club is a community service organization. Proceeds from every race go towards programs for North Thurston School District teachers, students and their families, and also for several global programs. The race supports 4 $500 high school scholarships to help advance education in the community; 200 bags of food to benefit Homeless Backpacks, which provides food over the weekends and school breaks to help homeless kids in Thurston County; peer-nominated teacher recognition awards; global polio eradication to help save children and families; international clean water projects to help eliminate diseases and blindness; and, new this year, funding to build neighborhood mini libraries to advance education and give locals kids a better chance at succeeding in life.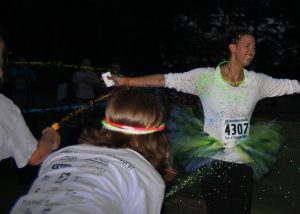 Funding these critical programs assists the local Thurston County community and makes a difference for others through Rotary International. This year's Glow Run sponsors include Costco, Olympia Federal Savings, Wells Fargo, Versoria, and many others.
"Last year's Glow Run was a huge success and we're looking forward to this run being even better," states Taylor.
The Glow Run 5k and Kids Run will both take place on July 26 at the Regional Athletic Complex located at 8345 Steilacoom Road SE in Olympia. The cost for the Kids Run is $15, while the 5k is $35 per participant. Included in the registration cost is a glow in the dark t-shirt (while supplies last), swag bag and glow stick. If you would like to save $10 off the 5K day of race price, be sure to register as soon as possible through the 2019 Glow Run 5k website. Registering online pre-race day will not only save participants money, but also save them time on the day of the race as runners can head directly to the pre-registered pick-up area. For more information regarding the Hawks Prairie Rotary Club Glow Run 5k, email hprotaryevents@gmail.com.
Sponsored