Jazz music is an intensified feeling of nonchalance, said French playwright Francoise Sagan. The same air of easy unconcern could describe warm, lazy summer days and long, balmy nights spent outdoors with family and friends. Thanks to hosts like Yelm's Pizzeria La Gitana, enjoy exceptional food, music, and ambiance at the third annual Jazz in the Park.
Yelm mayor J.W. Foster is excited to partner with local businesses on events like these. "Creating free, family-oriented activities in Yelm has been a focus of mine as Mayor," says Foster. "We are a small community still and I want to keep that feeling alive even as we grow. Improved parks, better playground equipment, a plan to extend the Yelm-Tenino trail east to eventually cross the river – all things we can do to support families. Jazz in the Park was created with that same idea in mind."
This year's music takes place from 6:00 p.m. to 10:00 p.m. on Friday, August 2, and 5:00 p.m. to 11:00 p.m. on Saturday, August 3, at Yelm City Park. Bring a picnic blanket and lawn chairs for relaxing or hit up the beer and wine garden and on-site food vendors while enjoying free serenades from local musicians.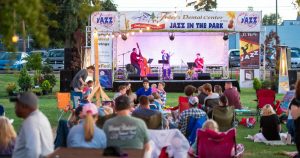 The evening is hosted in part by Pizzeria La Gitana's owners Marian and Lumi Licxandru. "It is one thing that we strongly love about United States, especially the area we live in. People are close and respond to what is happening in the community," says Marian. "I just love it. It is an event for the community that we at Pizzeria La Gitana are organizing with City of Yelm. The community is participating and making it be successful."
"Marian brought the idea to me shortly after I came into office and I immediately recognized it as the kind of event I'd like Yelm to be known for," explains Mayor Foster. "The first two years proved so successful, we decided to make it a two-day event, giving folks plenty of opportunity to enjoy great music."
Both men are excited about this type of fun, free way to bring people of all ages together. "We get great support from our local businesses when we ask them to help on these projects, because they love supporting the folks who support them," says Foster. "And by creating these events, we turn Yelm into more of a destination place than just another town to drive through on the way to somewhere else. All roads lead to Yelm! So, you can see that we're all about bringing community together, because that's what makes us a community!"
Licxandru agrees. "Mayor Foster is extremely helpful and dedicated and it is a pleasure to team up with him. We have a great support from local businesses and other businesses that operate here." Neighboring business owners volunteer, spread the word, and contribute their time, goods, and services.
After a hard day of work and play, a little al fresco music is delightfully refreshing. "It is not a regular Jazz in the Park event," says Marian. "We make it cozy and memorable. We run string lights in the entire park. We have a dancefloor where the community dances. We have propane fire pits in several areas, surrounded by hay bales so guests can sit and enjoy this music. We have flame patio heaters on both sides of the stage and floral arrangements to make everything look out of this word. The kids will be able to play in the new splash park created by the city and local food vendors will be present. Also the wine and beer garden will have a modern propane fire pit to keep everyone warm."
Whether you come to relax by the fire, snuggle with your sweetie, or dance under the stars, there's something for everybody. Invite family, friends, and neighbors and make this an annual midsummer tradition. But don't forget to pick up an artisan pizza, delicious salad, or home-made dessert from Pizzeria La Gitana on the way. Their mouthwatering menu has exactly the right pairings for such an intensely nonchalant weekend.