A horse whinnies as it steps forward. The carriage begins to roll forward, away from Three Meter, hooves click-clacking as the horse heads toward its final destination in downtown Olympia. The wooden keg of beer it's carrying is precious cargo. It's Leopold's #1 Lager, and the barrel is ready to be tapped for the first time…
Though it may seem antiquated, this story does not take place in 1896. It's firmly-rooted in 2019, where the long-fermented history of brewing excellence in Olympia from our pristine artesian waters continues at Well 80 Artesian Brewing Company.
On July 21, at 1:00 p.m. a wooden keg in a horse horse-drawn carriage will depart from the Schmidt House (Three Meter) in Tumwater and arrive at the Well 80 Brewhouse in downtown Olympia at 2:00 p.m. It'll be greeted by a brass band, and a Leopold Schmidt impersonator will be on the scene for a ceremonial keg-tapping of a beer that was created by two Pauls: Paul Pearson, Well 80's brewmaster and Paul Knight, former brewmaster of Olympia Brewing Company (1974-1997).
Well 80 is exactly its namesake. In a 1939 survey of artesian wells in downtown Olympia, 96 wells were identified and well number 80 happens to bubble up through the floor in the back of the Well 80 Brewhouse at 514 4th Ave E. Well 80's goal as a brewery "is to follow in the footsteps of Leopold Schmidt, Paul Knight, and all the other pioneers that made great beer from some of the best water in the world."
At Well 80, it's still the water – and they are absolutely making great beer – as all of their signature beers are brewed on-site using the same artesian waters that Schmidt used. In the nearly year-and-a-half they've been open, the Two Pauls, (Pearson and Knight) have collaborated on four different brews: Original Lager Year '64, Original Dark '66 Lager, Original Bock '96, and now Leopold's #1 Lager, using the knowledge Knight accrued from his years as brewmaster and Pearson's contemporary mastery of today's craft-brewing scene.
In 2003, the last "Oly" beers were brewed from our waters, and in the years since, our community has been missing our iconic brew. Well 80 now dutifully quenches that thirst, and beer-lovers no longer have to cry their salty tears into non-artesian brews. Olympia beers brewed from the pristine waters of the Tumwater Sand aquifer are back.
Creating Leopold's #1 Lager
Knight recalls that the entire time he was the Brewmaster for Olympia Brewing Company, there was a closet with "several old ledgers and documents in it, but there was this little black book…"  The book was designed to fit in a shirt-pocket and had hand-written entries in it, consecutively labeled one through twenty-seven. "It gave the month and the day of the entry," Knight says, "but no year. Occasionally I'd go in, if I had a minute, walk by that little book and pick it up and look at it. I finally figured out it was Leopold's beer book because it was hand-written in German – with a little English in it – and I could tell it was a beer recipe." Knight says over time he grew confident enough to write "1896" on the book, as he knew that Schmidt's first brew in Tumwater was on October 1, 1896 at the Capital Brewing Company, which became known as the Olympia Brewing Company in 1902.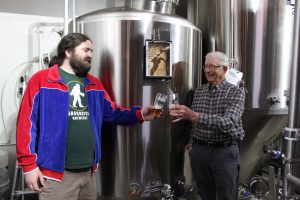 Knight says the little black book was still there when he retired. "Kind of odd because it was a pretty valuable historical document," he shares, pointing out that the closet didn't have a lock on it and was accessible to employees day and night. "But it stayed there – undisturbed, until the Brewery closed. And somebody, I don't know who – scanned it. They scanned every page of it, and now there's thousands of those copies around."
Pearson points out that he had never seen a translated copy, and Knight says a lot of people who've seen it "wouldn't know what was there" since the entries are in German.
Knight volunteers weekly with the Olympia Tumwater Foundation at the Schmidt House, and the Foundation's curator, Karen Johnson, helped connect Knight to Dorothy Somers, a German emigrant who is quite proficient in the German language. Somers helped Knight translate the words written in two different dialects of German, most of which meant nothing to her since they were brewing terminology. But, to Knight and Pearson, the words were gold – or golden, like the lager they subsequently produced from it.
Knight says that for him, creating Leopold's #1 Lager with Pearson was just like brewing any other of their four collaborations. It wasn't until Well 80 owners, Chris and Bob Knudson pointed out the significance of what they had achieved that Knight began to realize that brewing from this recipe was truly something special. "It was Bob's idea to get the horse and carriage," Knight adds.
Well 80 – "Well Made Beer"
On July 21, and thereafter until it runs out, Leopold's #1 Lager will be available at Well 80 Brewhouse. For the time being, it'll take the place of the Original '64 currently on tap, next to the other 8 "well made" brews.
Pearson recently won an award for his South-German style hefeweizen, "Volle Pulle!" and brought home his first Silver Medal from the Washington Brewers Association. With nearly a decade-and-a-half of experience, Pearson has the capabilities to push the envelope – or paddle – in brewer-speak, to brew up some really unique creations.
He's currently barrel-aging a few of his brews in whiskey and wine casks and creating deliciously complex flavors only attainable through the barrel-aging process. There are currently three IPAs on his beer menu, one aptly named "80 lbs of Hops" where each 20-barrel batch is stuffed full of 80 pounds of hops in celebration of, you guessed it – Well 80.
For his "Farmer Paul's Pale Ale" he collaborated with WSU's Barley Breeding Program on a Pale Ale brewed with 100 percent Barley cultivar 12WA-120.14 grown in Lewis County, and there's also "Muffin Man's Thai Farm Saison" on tap, which he brewed up with local home brewer Mike Matson in a pro-am (professional-amateur) creation.
Creating Community
Just as the artesian water continues to flow, and the vintage-revivals of our region's most celebrated beer continues to pour from the taps at Well 80, Chris Knudson and his cadre continue to fluidly create community. Whether it's in collaboration on a beer, or hosting community events such as Trivia Night or Detox + Retox (Yoga + Beer), Well 80 Artesian Brewing continues our community's long-standing tradition of bringing people together over beer.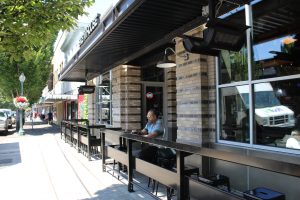 The July 21 event will be raising money for the Olympia Tumwater Foundation by auctioning off an antique piano where Knudson hand-stamped "It's the Water" and a dollar from every pint sold that day of Leopold's #1 Lager will be donated to the Foundation.
"I can see some parallels between the Knudson's and the Schmidt Family," Knight concludes. "The Knudson's want to be really involved in the community, and that was always a Schmidt family value. Both families want to help the community, stay involved, and take care of their employees. It's been a good fit for me, and I've been really happy to participate."
If You Go
Well 80 Brewhouse is family-friendly.
Their full-menu of traditional pub-fare is highlighted by house-made pizzas and excellent burgers featuring nationally-acclaimed beef from Pat LaFrieda Meat Purveyors in Brooklyn and Martin's Famous Potato Rolls from PA.
There's a kid's menu for the littlest connoisseurs. Kids are supplied with colored pencils and hand-drawn coloring sheets by the artists of the Well 80 staff.
The beer menu is an ever-evolving wonderland of Pacific Northwestern brews, more than half house-brewed and guests on tap from our area or just outside it.
Well 80 boasts two outdoor seating areas. Growler fills are available to-go.
Well 80 Brewhouse
514 4th Avenue E, Olympia
360-915-6653
Sponsored