Submitted by City of Yelm
One of the toughest and most important jobs of the City of Yelm Public Works is reuniting our furry friends with their families, or to find homes for abandoned and abused dogs. It doesn't matter what time of the day it is, our compassionate team will respond, beginning the process of getting that loved one back to their home.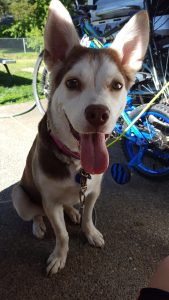 "We understand that dogs are not only lost family members but could be service animals and it is so important that we get them back with their family" Public Works Administrative Assistant Jennifer Beauchamp said. "Every time we are dealing with a lost dog, I think of my own and imagine how panicked I would be if she was missing."
Care and compassion for animals is a priority for the City as we increase our presence in online animal rescue groups to reunite lost family members and to find homes for neglected dogs. Along with the City's partnership with local nonprofit adoption agencies, multiple City employees have taken it upon themselves to provide loving homes for dogs that don't get adopted, including Beauchamp.
When the on-call Animal Control Officer received a call that a distressed, injured dog was wandering around the Safeway parking lot at midnight in the middle of winter, he was there to provide care. Little did anyone know this dog, a brown and white husky mix, later named Sasha, would become the latest family member to Beauchamp.
Upon returning to the kennel at the Public Works Shop, Sasha showed visible signs of distress and anxiety. As the employee prepared to move her from the portable kennel to the larger, more comfortable one, Sasha bit the animal control officer for incidentally getting too close to her neck, which was sliced ear to ear by a collar that was put on when she was a puppy and never adjusted as she grew.
"Our employee was my main concern but my heart just broke for this poor dog," Jennifer said.
When a dog — especially without any information — bites an employee, the priority shifts to the well-being of that employee. The Public Works employee was encouraged to visit the doctor while Sasha was considered "aggressive" and transported to Thurston County Animal Services (TCAS) where she would be evaluated, and tested for rabies and other diseases.
TCAS called back six days later and reported that Sasha was healthy, happy, and most importantly, she was deemed as "nonaggressive," meaning she would be eligible for adoption.
There was no question in my mind that I was going to adopt her," Jennifer said. "I'm not even a dog person, I've never even had a dog in my adult life but I just knew Sasha was coming home with me."
About two weeks after the initial call, Sasha was released to Jennifer under the condition that she would take care of the stitches on her neck and follow-up with the rehabilitation of Sasha's injuries sustained from the collar.
It was found that the collar had not only created a gash around Sasha's neck but also caused her eyes to bulge, creating blindness in her right eye. Despite the blindness in her right eye, Sasha is otherwise a healthy pup that loves to play in the snow and chomp at the water from the garden hose.
Once introduced to the family, the Beauchamp's began involving her in every activity, including hiking, camping, and even kayaking, of which she has her own boat that they tow. Jennifer's 15-year-old son, Tyler has taken special interest in the newest family member, having the dog he always wanted.
"Sasha is everything in a dog that I never knew I needed and Tyler just adores her," Jennifer said. "I couldn't be more grateful that our family was able to give her a second chance."
If you do notice or suspect a lost, neglected or abandoned dog, or if your dog has gone missing, please contact the Public Works department immediately or leave a message on the animal control hotline at 360-458-8438. Please note: Currently, animal control only picks up dogs.