Since its inception in 1938, TwinStar Credit Union has played a role in helping teachers realize their financial dreams. Therefore, it comes as no surprise that with its 80+ years of success, TwinStar has found opportunities to give back to the community via education. This has been achieved by the creation of the TwinStar Community Foundation, a non-profit dedicated to easing the financial burdens of students and their families by paying off school lunch debts in local elementary schools.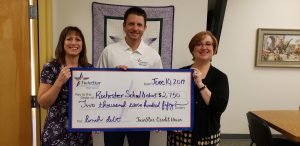 "The [TwinStar Community] Foundation was founded in 2015 in order to direct our community commitments in a more profound and impactful manner," says Matt Devlin, Chief Marketing Officer of TwinStar Credit Union and TwinStar Community Foundation board member. "We support hundreds of community causes through TwinStar Credit Union, and will continue to do so, but we wanted to have more input on the direction."
This direction was refined even further in 2017 when the Foundation adopted a new mission statement, declaring: "We believe well-fed kids create well-fed minds. We work to end hunger in school aged kids in the communities we serve."
In 2018, Governor Inslee signed into law the Hunger Free Students' Bill of Rights Act just in time for the 2018-2019 school year. "Because of Washington's new Hunger-Free Students' Bill of Rights Act, every student is guaranteed a hot meal, regardless of whether or not they bring in money," says Amanda Stevens, Community Development Manager at TwinStar. "This did not mean that their lunch was free, but that they would receive the same lunch as their peers. The bill did not provide funding, so parents have to pay the school district back. This lunch debt will follow the student, and potentially families could be sent to collections, or graduation could be withheld until all fines are paid. For those families struggling, schools are guiding them to apply for the free/reduced price lunch program, but that does not dissolve debts already incurred. The intention of the bill is that no student is lunch-shamed. But without the dollars backing it up, now parents are having to pay the price."
This is where the TwinStar Community Foundation came in. In 2018, the Foundation completely eliminated school lunch debt at elementary schools in Thurston County. In 2019, the Foundation's reach expanded to pay down $59,000 of lunch debts in elementary schools in Thurston, Lewis and Grays Harbor counties.
"We want every kid to have the best opportunity to learn, and being hungry at school or even on the weekends makes it much harder," says Devlin. "Taking care of school lunch debt provides security for at-risk kids while also helping our school district partners with a new and unpredictable expense."
This dedication to creating positive impacts for students doesn't end there. The TwinStar Community Foundation offers a host of high school scholarships, higher education scholarships and the Cheri Kennedy Child Daycare Scholarship, which recognizes single working parents who are also pursuing a higher education degree or vocation. The Foundation also helps teachers as well. The ever-popular Classroom Cash is a great way for teachers who are members to get a little funding for their classrooms.
"The TwinStar Community Foundation is a way that we can have a greater impact in one area of our community, and it gives everyone, member and non-member alike, the ability to participate in giving back," says Stevens. "Every dollar donated to the Foundation will go directly into the areas we serve to feed hungry youth."
For more information about the TwinStar Community Foundation and how you can help, click here. Monetary donations are accepted at any TwinStar location. For a complete list of locations, click here.
Sponsored