Haylee Ward admits she's competitive, pushed by her drive to win.
"Yeah, I'm competitive," she admits with a smile. "Even with board games. I hate to lose."

Whether she's on the soccer field, where she played on Timberline High School's varsity soccer team the past four years, or in the classroom, Ward has one goal. To do her best and to win.
So, this past spring, Ward, along with two of her senior classmates – Marshall Byington and Cameron McWilliams – had the same competitive attitude when they qualified for the state competition for the Future Business Leaders of America (FBLA). FBLA is a nationwide program that trains students to be leaders in the business industry of tomorrow.
They wanted to do the best they could.
And they all did exactly that. Consider it mission accomplished. They all qualified for the national FBLA competition in San Antonio, Texas, which runs from June 27 to July 3. It's the fourth straight year someone from Timberline has qualified for the national FBLA competition.
"So, the students are stepping up to the plate," said Rachael Ward, the FBLA club advisor at Timberline for the past six years. "They are competing in lots of different events and I'm super, super proud of them."
Each of them brings a special talent for the subject of their choice to compete in. First off, they're all wizards in the classroom. Byington and Haylee Ward both have 4.0 grade point averages and McWilliams has a 3.9 GPA. Byington and Hailee last had a "B" on their report card when they were in grade school. They're perpetual "A" students.
For the last two years, McWilliams has been in Running Start, taking college classes at South Puget Sound Community College. He'll almost be a junior in college when he enrolls at the University of Washington this fall. But he hasn't let Running Start eclipse FBLA. He's a four-year member of FBLA, signing up for it every year since his freshman year.
So, McWilliams splits his time with Running Start and Timberline. But he has the smarts and the want-to to get the job done.
"He is also very intelligent," Ward said. "I'm sometimes amazed how smart he is. He'll challenge AP exams and get almost perfect sores. Very intelligent."
Byington learned the importance of studying early on. Since grade school, his parents were always quick to ask if he had any homework before he could turn on the TV.
"He's super smart," Ward said. "He's taken a lot of AP classes. He felt it was important to branch out so he felt like FBLA was the place he'd like to spend his time. So he's really, really blossomed."
Byington gives credit to his parents for their support and their reminders to get his work done.
"They're very supportive," Byington said.
At nationals, Byington will compete in journalism, Haylee Ward will compete in project management, and McWilliams will compete in business calculations. Just like at state, the national competition will involve a 100-question multiple choice test and they have 60 minutes to complete it. Ward said her best learning experience was being the vice president of the state FBLA, organizing and helping people.
"That really taught me a lot," she said.
All three – Byington, McWilliams, and Ward – bring special talent to FBLA. But Ward has a special reason for joining FBLA. Her mom directs the club. That makes the FBLA experience even more special for them.
"I actually love it," Haylee said when asked what it's like having her mom direct the club. "Me and my mom are very close. I hang out with her a lot."
Haylee is even her mom's teacher's assistant for a first period class at Timberline. And Haylee eats lunch with her mom every day. Because Haylee joined the FBLA as an eighth grader, she got an extra year for that special mom-daughter friendship. And for all these years, Haylee thought it was helpful to have someone at school that she could talk with no matter what.
"She's like my advocate, not like I get in trouble," Haylee said. "I know that she's always there rooting for me."
There are times when Haylee and her mom just sit and chat, enjoying each other's company. And there's another reason why mom enjoys having her daughter in FBLA with her. It's because she knows she can count on her daughter, who is willing to carry an extra load.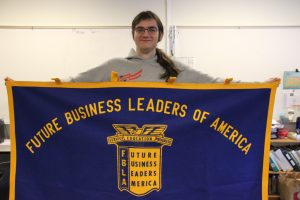 "I feel like that there were times I was a little hard on her and I was making her do more than the team, but she always rose to the occasion," Rachael Ward said. "I have no regrets. I think she's awesome, as are the other two, Cameron and Marshall. I love FBLA. I really do. I get to see kids grow into young adults."
Last fall, Byington accepted Ward's invitation to try FBLA and now he's glad he did. It's been a learning and growing experience for him.
"I like this club because it gives you an opportunity to show off your skills and develop more skills," Byington said. "Depending on what events you use. You can definitely learn from them. I know I have."
Byington, who wrote for the Timberline's school paper, The Blazer, is interested in the role and impact of journalism. But it's not a career calling. When he attends Brigham Young University in the fall, he's not sure what he'll major in yet. But his calling could be in management.
"He's a quiet leader," Ward said when she was asked about Byington. "He has taken on some leadership roles with the school paper."
With high school behind them, college is next for these three. With Byington heading to BYU, McWilliams is headed to the University of Washington, and Ward is going to Centralia Community College to play soccer. After two years there, she's hoping to head George Fox University. She wants to major in communications and possibly double major in marketing.
"This year I realized my true passion," Ward said. "I feel it took me a long time for me to know what I want to do." She realized that people are her passion. "Interacting with other people and making people happy," she said. "That's what I want to do."