Submitted by Westport Winery
Westport Winery and the Roberts family invite the public to join them for the latest sculpture unveiling at their garden resort. The winery's annual Fleur de Lis Festival is Saturday, June 15 from 12:00 p.m. to 4:00 p.m. Tokeland artists Xosef Adams and Jeffro Uitto collaborated on this outdoor art installation to commemorate the winery's new reserve wines. Known as MV (for motor vessel) the wines are named after a few of winery founder Blain Roberts' boats that he operated when he owned Lahaina Divers on Maui.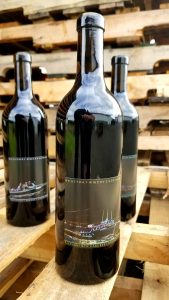 You can meet the two artists in person at the unveiling at noon in the Patriot Garden Jeffro Uitto is an internationally renown artist who works predominantly with driftwood. Xosef Adams is a gifted and intricate artist who uses found objects in his designs. Together they created the bow and bowsprit of a wrecked boat on the rocks. The female figurehead was created using everything from shipping contai
ners to clutch gears. The ship's bow was planed and then hand hewn. Over the years Uitto has created three other sculptures within the winery's 15-acre display garden. Last year Adams graciously donated three small sculptures to the Bubba Mullikin Memorial Disc Golf Course located on the winery grounds.
Blain Roberts said, "We have over seventy amazing pieces of art in our gardens created by local artists. But this one is my favorite. It is world class." This sculpture aligns well with the three new barrel-select and vineyard designated wines it commemorates that were crafted by his son Dana Roberts. Each wine is Cabernet Sauvignon but eachwere harvested from three separate vineyards.
The winery will release the three new reserve wines on Saturday for their first public tasting. Milo and Kay May's Discovery Vineyard is in the Horse Heaven Hills AVA is where the MV Nomad grapes were grown. (Kay May is a graduate of Aberdeen High School.) Joe Hattrup's Elephant Mountain Vineyard in the Rattlesnake Hills AVA is the source of the MV Endeavor fruit. The MV Argonaut grapes were grown at Conner-Lee Vineyard near Othello in the Columbia Valley AVA.
It was during construction of the Endeavor at Westport Shipyard in 1988 that Blain met Kim Irving who was working at the shipyard. She moved to Maui to work with him in his dive business with the promise that they could someday return to Grays Harbor. Upon returning they founded Westport Winery in 2008. Along with their adult children Carrie and Dana they are opening Ocean's Daughter Distillery on the same property later this year.
Westport Winery Seaside received the 2019 Rising Star Award from the Seaside Chamber of Commerce. Westport Winery and the Roberts family were honored with Seattle Business Magazine's Community Involvement Business of the Year for 2018. In 2017 the Westport Winery Garden Resort was named Greater Grays Harbor Business of the Year. USA Today named the Sea Glass Grill at Westport Winery Garden Resort one of the top five winery restaurants in the nation. The business has been voted Best Winery by King 5 Evening Magazine.
In 2016 Westport Winery was honored as one of the top twenty most-admired wineries in North America by Winery & Vineyard Management Magazine. The business earned Best Winery, Best Wine Shop, and Best Boutique Winery for 2016 by South Sound Magazine. They received the Grays Harbor Environmental Stewardship Award in 2015. They are finalist to the Best Washington Family Business competition by Seattle Business Magazine. And in 2011 they garnered Washington Winery to Watch by Wine Press Northwest.
In Oregon, Westport Winery Seaside and Seaside Kites are open daily from 11:00 a.m. to 6:00 p.m. To book Westport Winery Seaside Retreat (a three, king suite vacation rental) go to https://abnb.me/wm8iVGkHCT.
Family-friendly Westport Winery Garden Resort is located on the corner of Highway 105 and South Arbor Road halfway between Aberdeen and Westport. The Sea Glass Grill at the resort is open daily or brunch, lunch, and dinner from 8:00 a.m. to 7:00 p.m. For more information or reservations call 360-648-2224.