Sometimes the best thing about hiring a professional—besides years of dedicated training, hard-work, and skill—is their magical toolkit. With the title comes access to high quality supplies, equipment, and know-how.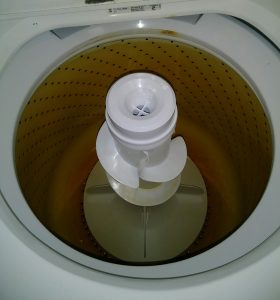 But at Elite Cleaning of Washington, team members use products available to anyone and everyone. Owner Scottiejo McNulty's employees clean both commercial and residential properties with a mix of Shaklee Basic H2 Organic Super Cleaning Concentrate and Basic-G Germicide. This blend is especially helpful during the long cold and flu season.
"That's standard," says McNulty. "We've been doing it for years." The Basic H2 is an all-purpose cleaner adept at bringing your home back to life. "The bottle's the size of a soda can," she explains, "but makes almost 50 gallons of cleaner when diluted."
Not many products can do it all, but Basic H2 conquers windows, mirrors, furniture, appliances, stainless steel, granite, marble, bathrooms, pots, pans, floors, and fabrics. Basic-G is a germicide. It'll not only defeat germs from sneezing kids with dirty, school-sticky hands, but food contamination, bacteria, fungi, and viruses. It's ideal for people with pets and will even kill the highly contagious canine parvovirus.
By using the two parts Basic H2 and one part Basic-G, household messes are a thing of the past. But if a little extra elbow grease is called for, Scour Off Paste does the trick. This thicker cream removes rust, cleans ovens, and tackles copper, grout, cement, and ceramic with ease.
Consider Elite Cleaning a flu shot for your home. Store-bought bleach wipes are great for small messes but MIT research shows that one human sneeze can send germs 200 feet. Hire a pro and know that your home isn't working against you in the fight to stay healthy.
Call Elite Cleaning of Washington at 360-529-2277 for your free estimate today.
Sponsored