Four large tents encompassed most of Heritage Park last Tuesday, as Mud Bay held their version of an annual all-day company meeting called Mudstock. It was also their yearly celebration of their origins as an Olympia small business that has grown to be the largest independent pet retailer in the Pacific Northwest.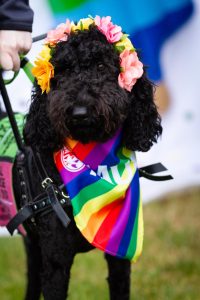 Unlike other companies, Mud Bay staffers—called Muddies—don't spend the day in an auditorium listening to speeches. Instead, Muddies spent the day talking with the nearly 500 Muddies and 130 dog and cat product manufacturers from across the United States. It's a day filled with food trucks, live music, costumes and plenty of conversations about pet nutrition, new products and dogs and cats in general.
In order for all Muddies to attend, Mud Bay closes all of their stores and pays for their employees to travel from as far north as Bellingham, Washington and as far south as Bend, Oregon. It's all part of the unique way Mud Bay helps its employees become confident dog and cat nerds who can easily help people find that right toy or food for their pets.
"Muddies spend a lot of time talking with our manufacturing partners, asking them questions about how products work and what solutions they provide," said Mud Bay Co-CEO, Marisa Wulff. "We invest like crazy in giving Muddies the kind of deep education in dog and cat physiology, nutrition and the pet food industry that enables them to really help owners choose the right foods for their animals. Mudstock is part of our educational program, but it's even more a way to thank Muddies for their hard work. And it's a lot of fun for all of us."
"For me, it's a great time to re-connect, chat with old friends, and meet new people from other locations," confirms Mudlet Store Manager and eight-year Muddy, Eric Benson.
Eric has a unique position at Mud Bay because he manages a not-for-profit Mud Bay located inside of the Seattle Humane Society that donates its profits back to Seattle Humane. It's a unique store with a limited amount of space and the smallest group of staff, and Eric likes to trade tips with fellow Muddies about how to best help the people who visit.
Like most Muddies, Eric also spends most of Mudstock talking to many of the pet product vendors who come to Olympia every year to talk about their products. "It really adds value that product," Eric Benson explains, "to get more familiar with the inner-workings of it, and to be able to ask questions to the manufacturer."
Mudstock's unique blend of fun and learning is emblematic of the company that believes that education and happiness is the key to a thriving business, not high-pressure sales tactics. Muddies spend months learning about dogs and cats, and later build on that knowledge with advanced learning surrounding products, leadership and the culture of their shared company. It can be an overwhelming amount of knowledge to master, but Mud Bay's emphasis on relationships and community is designed to help Muddies thrive in this unique business born in Olympia.
"Employee-ownership, an emphasis on education, and our overall leadership style and leadership program are the cultural centerpieces of our company," added Al Puntillo, Chief Merchandising Officer for Mud Bay. "And one of the things that ties it all together is definitely Mudstock."
By popular vote, this year's Mudstock theme was 'Peace, Love & Happiness.' To celebrate the theme, as well as the 50th anniversary of Woodstock this summer, many Muddies and vendors showed up wearing their best tie dye and other throw back fashions from the 1970s.
The theme of this year's Mudstock also seemed to dovetail with Mud Bay's focus on natural food and science-based information has catapulted them into becoming one of the top 20 pet retailers in the United States. The keystone of that overarching success may lie in Mud Bay's genuine pursuit of happiness. The health and happiness of the pets the company serves and those who care for them, and certainly, the happiness of Mud Bay employees.
"The heart of Mud Bay is our Muddies," Lars Wulff, Mud Bay co-CEO said. "Open-hearted people who love cats and dogs and love helping those who care for them.  Muddies are what make Mud Bay special, and I think Muddies are why so many pet owners trust us to provide them with the foods, supplies and advice their animals need."
Need advice about your dog or cat's play type or nutritional needs? Stop into one of the four Mud Bay locations in Thurston County and talk to a Muddy! For more information, visit the Mud Bay website.
Mud Bay
Olympia
2410 Harrison Ave NW
360-352-4700
Tumwater
704 Trosper Rd SW
360-810-8580
Lacey
8909 Martin Way E
360-459-9200
Lacey Crossroads
5500 Corporate Center Ln SE
360-810-8880
Sponsored