Submitted by The MayDay Foundation
Fresh lettuce, juicy tomatoes and ripe squash are just a few examples of the delicious, locally grown produce that will grace the dinner tables of Thurston County families this summer.
Subscribers to GRuB's weekly produce box are well aware of the benefits of eating fresh produce, grown here in Thurston County.  Now, seven local families coping with a cancer diagnosis, and supported by The Mayday Foundation, will also enjoy this bounty.
"Cancer patients hear about the benefits of eating more vegetables to improve treatment outcomes and survival rates, but the cost can often be prohibitive when also dealing with loss of income and increased medical bills," said The Mayday Foundation's Executive Director, Amy Rowley. "The extra stress of trying to manage these competing priorities should not be something families need to juggle along with cancer treatments."
"This partnership is a great opportunity to get sustainably grown, fresh from the field food to families that are in the midst of a life changing experience," said GRuB's Farm Manager, Heather Rudich. "Being able to nourish our family is one of the most basic of needs, and to make that easier for people dealing with cancer feels like a gift."
GRuB's commitment to the community extends well beyond the new partnership with The Mayday Foundation. "Hundreds of people interact with the food we grow on the GRuB farm," said Rudich. "Kids visit with field trip programs to help make compost and plant lettuce. Young adults in our GroundED program who, while working on their GEDs here, also spend hours and hours on the land planting, watering and weeding the crops. And, we have a solid group of volunteers that join us to keep the plants healthy and thriving." Rudich adds that anyone is welcome to join the volunteer farmers on Wednesday afternoons.
Along with the GRuB partnership, The Mayday Foundation provides immediate, practical financial support to local families. "It's consistently been our goal to help families with household expenses while coping with cancer and raising kids at home and grocery cards are an important part of our distributions," continued Rowley, indicating about 16% of Mayday funds go toward grocery cards. The Mayday Foundation also pays rent to landlords, sends mortgage checks to banks, covers utility bills and other household expenses for families in Thurston and Grays Harbor County coping with cancer while raising kids at home.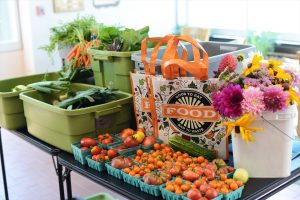 "It is a goal of GRuB to make good food available to all people, especially those that might otherwise have a challenging time accessing it," said Rudich. "We provide shares to seniors, low income families, and youth in our program. We are happy to expand the reach of the GRuB farm food to the Mayday community and are looking forward to the partnership this summer."
To learn more about The Mayday Foundation, visit The Mayday Foundation website. Read stories about the families supported by The Mayday Foundation's generous donors here.
Information about GRuB can be found by visiting the GRuB's website. To sign up for your own GRuB farm share, click here or view GRuB's event calendar for work party dates.