In the United States, average life expectancy is 78 years. That means most of us spend just over 9,000 days, or 25 years, of our life asleep. With hectic schedules, technological interference, work, play, and family, sleep doesn't always come easy. But on a natural latex mattress from Holy Lamb Organics, you'll eagerly await those cherished nighttime hours.
At Holy Lamb Organics, they stock all manner of locally sourced or organic wool bedding, comforters, fleece, and more. In February 2019, they expanded into mattress sales and in April released their own in-house crafted natural latex mattress for sale to a waiting public.
Owners Mindy and Jason Schaefer "had a lot of people asking for mattresses and we wanted to offer a better, more realistic price-point. People wanted Holy Lamb quality in a mattress. Organic shouldn't have to be a luxury." These new mattresses are crafted in their Oakville location and are delivered approximately one to three weeks from the date of order.
The Schaefer's admit that "people think latex is a synthetic process" but their 100 percent natural Dunlop latex uses far fewer additives than many others. "In our process they tap a rubber tree, whip it up, and bake it in a mold," explains Mindy. It's the most durable type of latex and warrantied for 20 years, though it will last 30, says Jason.
It's then wrapped in their eco wool and covered with a zippered canvas cover. The wool acts as a natural flame retardant as well aids fighting off mold and dust mites. "You can take a blowtorch to it and it won't ignite," says Jason. Though it's a firm sleep-surface, they offer an assortment of mattress toppers. You can add quilted wool, organic latex, a combination of both, or fleece knit.
Dunlop latex is hypoallergenic and resistant to mildew, fungus, and bacteria. With this in mind, it's a great option for those of us with annoying—or debilitating—allergies. It's also fair-trade and harvested from organically fertilized trees which can produce the sticky sap for up to thirty years.
For the past few years, the current mattress trend has been memory foam. But it is petroleum-based and breaks down much more quickly than natural latex. "They're designed to be used for five to seven years," says Jason, "but you'd be lucky to get three." Memory foam often forms valleys where you typically sleep and can be too hot for some people to rest comfortably.
Most Dunlop mattresses start at $2,200. But the locally sourced and crafted Holy Lamb mattresses begin at only $1,600. If you sleep on it for just the warrantied 20 years that's less than a quarter a day in cost or one coffee drink each month.
Go for the ultimate sleep trifecta: mattress, topper, and pillow. Then let the Schaefer's load you up with robes, towels, sheets, duvet covers, pillow shams, baby supplies, and the cutest felted animals to decorate your home.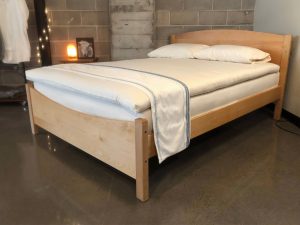 Visit their historic Little Bit showroom and manufacturing hub in Oakville or drop by the downtown Olympia location at the vintage Steam Plant. If you're as addicted to downtown fairs, festivals, and community get-togethers as the rest of Olympia, drop in during Arts Walk or other exciting events. At Spring Arts Walk 2019 alone they hosted short films for the Olympia Film Society, displayed the art of rock star employee Lauren Burroughs-Haines, and offered painting and felting lessons to guests.
Statistics show that Americans typically replace their mattress every 9 years. And though we shop for most products electronically—62 percent of us would reportedly consider buying a mattress online—the majority prefer visiting an in-person retailer. C'mon, it's one of the few places that bouncing on the bed is encouraged!
Try before you buy when shopping locally at Holy Lamb. Sleep recharges all your senses, use them all when shopping too. Read about products on their website or Facebook then come touch, squeeze, smell, and even pet the products that fill their showroom. Your next 25 years of sweet dreams await.
Sponsored